It's not everyday that there is some good news on the plant based front. Yet the news coming from ProVeg International that the European Parliament, the European Council, and the European Commission rejected Amendment 171 is something to celebrate. After all the massive EU dairy industry, basically one of Europe's biggest bully, was defeated.
Veggy Malta was proud to give it's support to ProVeg's campaign. I believe this is a win for activism. It shows that as a united European front we can stand up to the bullying tactics done by the meat and dairy lobbies. In fact nearly half a million Europeans signed a petition against this nonsensical amendment.
The build up to this was intensive. The campaign involved direct citizen appeal, but also letters from leading NGO's, food companies. There even were some representatives from the dairy industry itself pitching in and a letter from 34 MEPs. It is a pity that none of the Maltese MEPs had the political courage to stand up against this. They had the opportunity to support respect to consumer intelligence, the environment & European commitments to sustainability and also healthy diets.
In the words of Jasmin de Boo, Vice President, ProVeg International, "Europe has spoken. The climate crisis is its top priority and it will not allow an anti-competitive, environmentally reckless policy, introducing a raft of new restrictions to plant-based alternatives to dairy (already the most highly-restricted food category in the EU). AM171 would have set a dangerous precedent but Europe has sent a clear message to the rest of the world and chosen the planet over politics."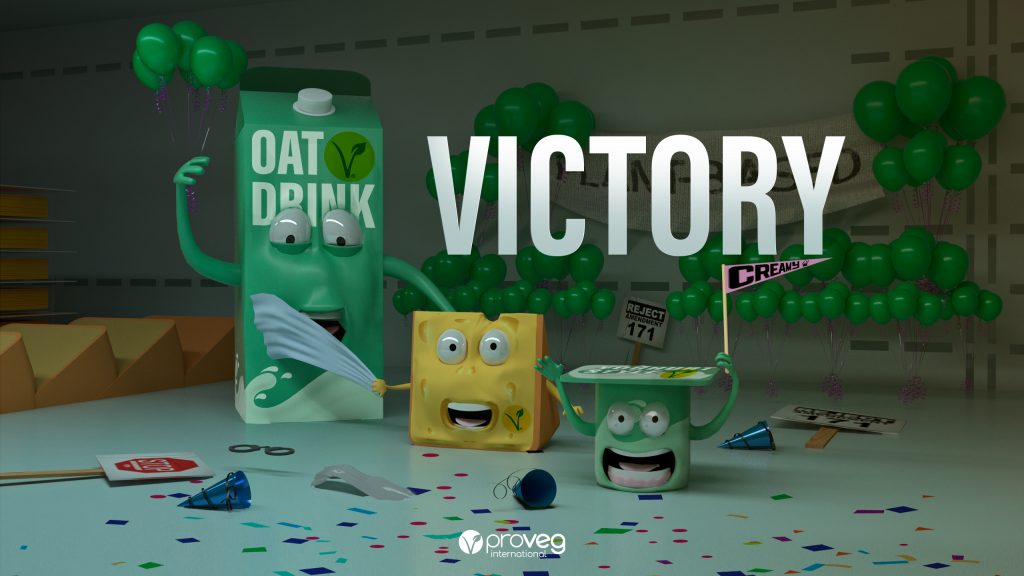 The dairy industry is still preferred
Although we won this battle, a battle that shouldn't even have been there to fight in the first place, there still is a long way to go. Even locally the government supports the local milk monopoly with a shower of EU and local subsidies. Last December the Maltese government gave 3 million Euros to local milk farmers. It was reported that this was because they suffered losses during the pandemic and COVD aid.
The question we should ask is, how many other local monopolies were given 3 million Euros during the pandemic? And if this practice infringes any state aid EU regulations? After all let us not forget that the local fresh milk industry is a monopoly. A state aided monopoly which competes against imported milk and imported plant based . In a further twist of irony, animal NGO's and sanctuaries, those who work against animal cruelty and do not profit from animals, collectively received far less assistance.
And whilst the the big boys milk 3 million Euros and more from government aid, a small local and traditional dairy industry gets the raw end of the stick when sheep herders try to have the traditional gbejna given an EU label. Replying to questions sent by The Times of Malta, the Malta Competition and Consumer Affairs Authority "said that following public consultation, it had decided that the word ġbejna had come to be used across the board to refer to cheeselets and not specifically those made using traditional ġbejna techniques."
A polluting and cruel industry
There is no doubt that the dairy industry is a one of Europe's self created, dirtiest problems. It is supported by EU subsidies (the Common Agricultural Program CAP) and local state and regional subsidies. The dairy industry is one of the most environmentally polluting industries and it that has sucked tax payer money. All this to benefit itself to the detriment of the environment, human health and animal welfare.
All these subsidies mean that Europe is flooded with milk. A product that the majority of Europeans have an intolerance towards. And yet, going against the EU led tide of endless subsidies to the dairy industry, consumption of plant based milks are on a constant rise. Even locally, we are seeing an unrelenting growth of plant based milks. More brands entering the market, more price competition and more choice.
If this attack by the dairy industry has shown us all anything at all, it is that the future is plant based and that future has started already.