Another edition of Malta Meat Free week is starting soon. The challenge starts Monday 17th October and goes on till the 24th of October. Doing the challenge is easy. All you have to do (after joining) is go one week zero meat as part of the Malta Meat Free Week challenge organised by VeggyMalta.
This is the fifth year running for the challenge and this is the biggest challenge ever, targeted at increasing the growing local community of vegans, vegetarians and also flexitarians (people who consume very little meat). Some 50 brands are making offers inside participating supermarkets, which offers start one week before to give participants the chance to purchase food for the week. We have the largest number of influencers supporting the challenge from vegan influencers, to animal influencers to even people in politics.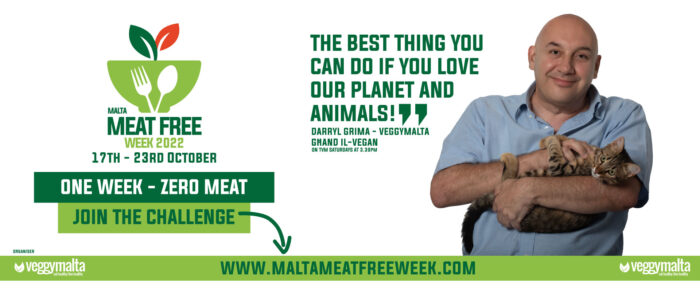 Again this year one lucky participant will win a weekend break at the Radisson Blu Resort St Julian's for 2 people. Joining the challenge and making a difference is easy, one just needs to go on www.maltameatfreeweek.com and register. Individuals then need to go one week without eating any meat (or fish) and share, email or send the photos of their meals.
This year's campaign is three pronged with an environmental message as the main message, but we have also made a link to animals and health and fitness. This is reflected in the three main images of the MMFW22 campaign also found on the billboard campaign done for MMFW22. Malta Meat Free Week and VeggyMalta Founder Darryl Grima (il-Vegan) said we want people to make the association between climate change and the meat and dairy industry. That is why our message with Lana Berty Spiteri from Extinction Rebellion Malta clearly states that your diet change can help solve climate change." He added " in fact there are few actions an individual can do that have such a wide reaching positive effect on the environment, biodiversity and animals."
It is calculated that meat and dairy production contributes around 14% of the total greenhouse emissions generated. This is equivalent to all the greenhouse gasses generated by all means of transport put together, including cars, planes, trains and ships. This is why a change in lifestyle can have such a positive impact. Along with this is the massive amount of habitat loss that this industry that creates which in turn is causing biodiversity loss.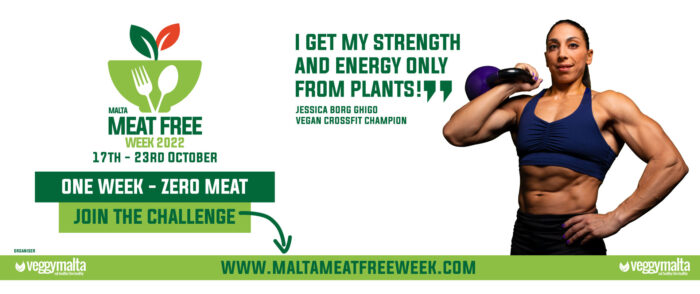 Another key message for MMFW22 states "the best thing you can do if you love our planet and animals". We need to love all animals not just our pets. With a simple action of going one week zero meat (and fish) you are saving so many animals not only from death but also from a life of torture and misery.
Finally the third main message is linked to fitness and health with local vegan CrossFit champion Jessica Borg Ghigo stating that she gets her strength and energy only from plants.
The initiative is only possible thanks to the financial help of our sponsors. The campaign is sponsored by Alpro and Kit Kat Vegan and Tulliera Farm Deli as main sponsors and Sheese (a vegan cheese) and Linda McCartney and Birds Eye Green Cuisine (vegan meat alternatives), Biona, Nature Addicts and Good Earth as sponsors.
A number of organisations, groups and blogs have supported this initiative including Animal Liberation Malta, Island Sanctuary, Extinction Rebellion Malta, Real Animal Rights (RAR), Friends of the Earth Malta, Veg Fund, ProVeg and also has the support of three local programs Ghand il-Vegan, Pass ta' Nemla and Animal Diaries.