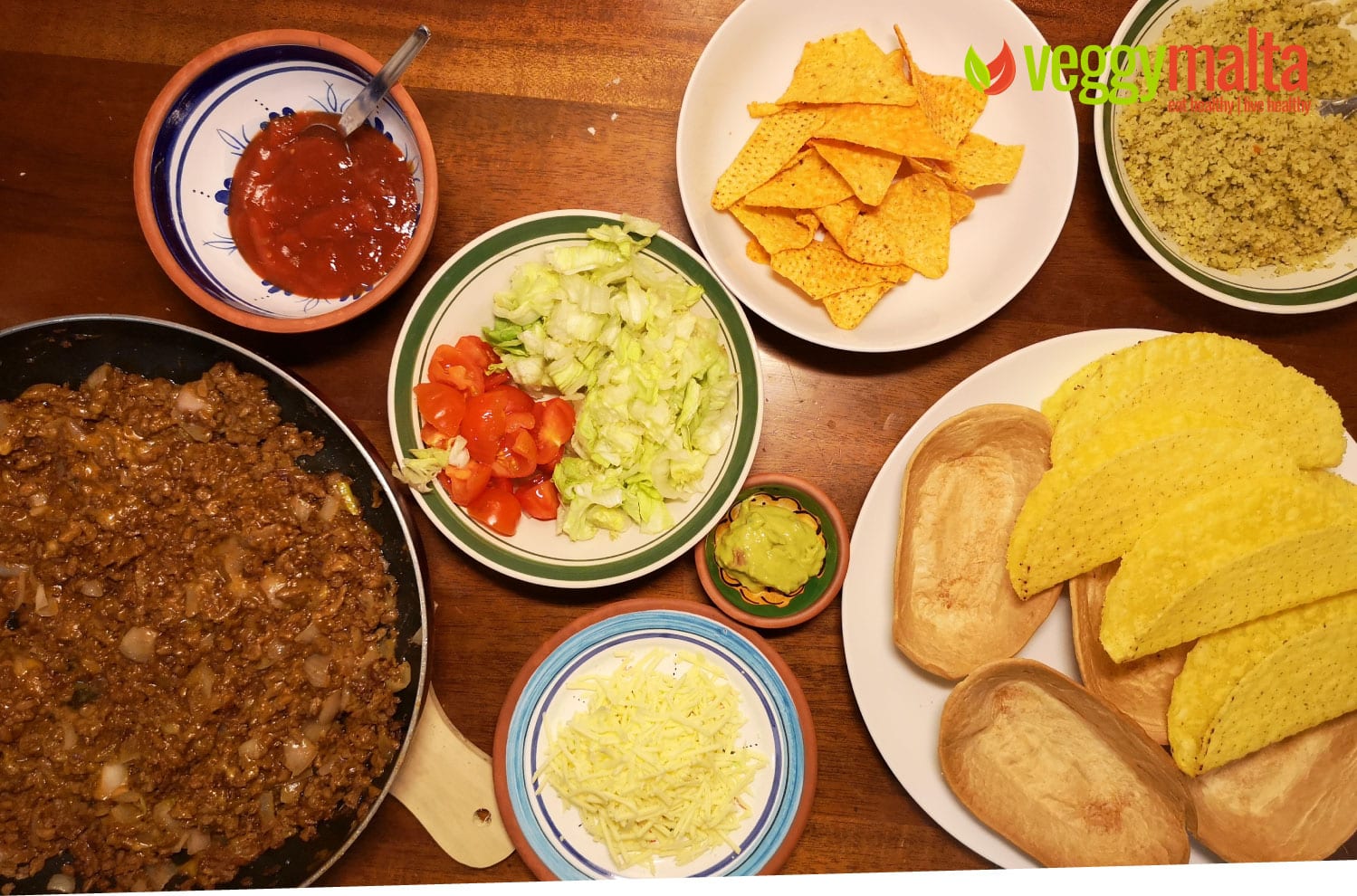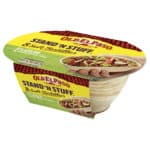 VeggyMalta tried out Old El Paso. After all who doesn't like Mexican food. So it was time to have a vegan Mexican night and enjoy the food eaten by our compadres from behind the wall. (Maybe it's time to dig out the pancho).
We used the Old El Paso Taco kit (sweet paprika & garlic) and the Stand 'n Stuff (boat like) tortillas. Although the Taco kit box has a bull's head on it and advises people to use 500 g minced beef and 125 g grated cheese as a recipe mix, there are healthy and vegan alternatives to these, which is what we used.
The Old El Paso Taco Kit comes with a packet of seasoning mix which one adds to the mince during the preparation. Given it is a vegan Mexican night we used some veggy mince (you can even add some vegan burger and vegan meat left overs into the pan) and diced onions and then added the seasoning mix. It doesn't take long to prepare. Thanks to the veggy mince you still have a protein rich meal.
The Taco kit topping sauce is mild so no worries but if you and your amigos like your food caliente then you should add some extra spice. After all it depends on how spicy and Mexican you want to go.
To fill the tacos we prepared some fresh chopped tomatoes and lettuce, some vegan cheese (depends on the flavour you like, you can also find some spicy vegan cheese), couscous and some guacamole along with the veggy-mince. Add some nachos as well (to use with the sauce / dip). I particularly like the tortilla (boats) as they are very easy to layer and eat (with a less chance of having a disaster beneath where you are eating). First cover the base with some guacamole, then add the veggy mince and chopped veg, cover with some sauce and finally add some vegan cheese over it (and some chilli sauce). The end result is a 100% vegan Mexican meal. Simple to make and fun for all the family.
A box of Old El Paso Taco Kit costs €3.99 and the packet of Old El Paso Stand 'n Stuff with 8 soft tortillas costs €3.75.