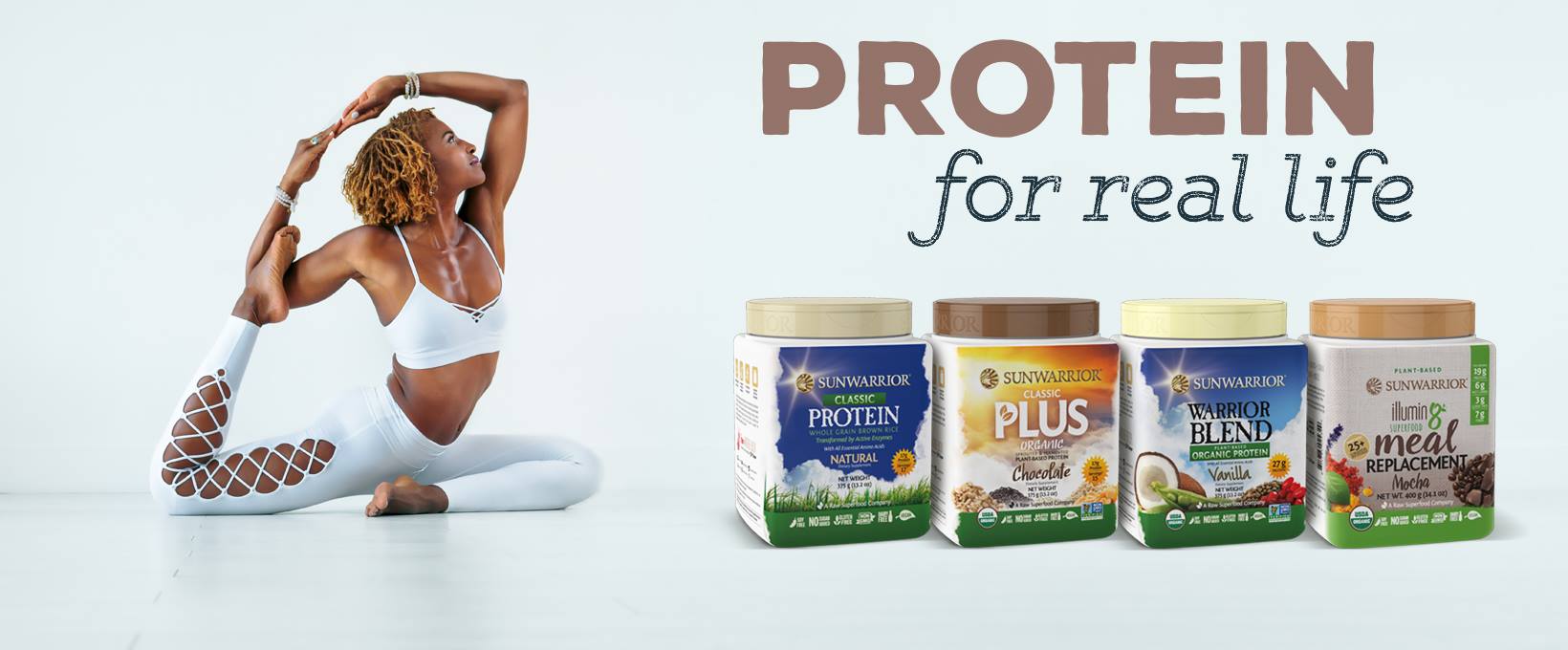 VeggyMalta looks at Sunwarrior, a new superfood and protein food being introduced in Malta. Based on a concept that plants provide the cleanest and most powerful foods, rich in antioxidants, vitamins, minerals, enzymes, and phytonutrients. [1]
The Sunwarrior range is both vegan and also organic (USDA organic certified) and obviously America made. You will also find other labels on the products, including soy free, no added sugar, gluten free, non gmo and dairy free.
The range includes Meal replacements in 800 g tubs and also 40 g sachets. The good thing about the sachets is that you can use one to try it out before buying a larger tub. Let's look at one of the range, illumin8 superfood meal replacement mocha. This is made from over 25 superfoods from organic brown flax seeds, cocoa, chia seeds, white grown coconut, guar gum, baobab, red algae, kelp and more. It also includes probiotic Bacillus subtiilis (1 billion CFC),Vitamin K2, Vitamin B12, Enzyme Blend. Plus a range of vitamins and minerals. Using the product is easy. Mix, shake or blend (1 packet or 40 g) with 0.35 ltr / 12 oz of your favourite beverage. Refrigerate and use the prepared product the same day.
There also is a Protein Warrior blend which includes both tubs and sachets. The Warrior Blend is a fusion of several rich protein sources into one. Sunwarrior emphasises that being plant based, Warrior Blend is easily digested along with being nutrient filled. It also contains MCTs (medium-chain triglycerides) which are considered as the rocket fuel for your brain. [2] Along with this there also is the Classic + blend range.
The range includes the Sol Good protein bars in various tastes. I'm looking at a salted caramel. Worth emphasising that this protein bar provides 19 g of protein on it's own. Which as stated on the label is 38% of a the daily values needed for someone on a 2000 calorie diet. Additionally it provides 18 g of fiber (72% of the same daily values). All this in just one bar.
From where can you buy Sunwarrior?
Sunwarrior is available from Sattva Health Shop. The Meal replacement jars cost €43.95 and the 40 g sachets cost €3.50. The Warrior blend jars costs €39.95 and the sachets €2.50.