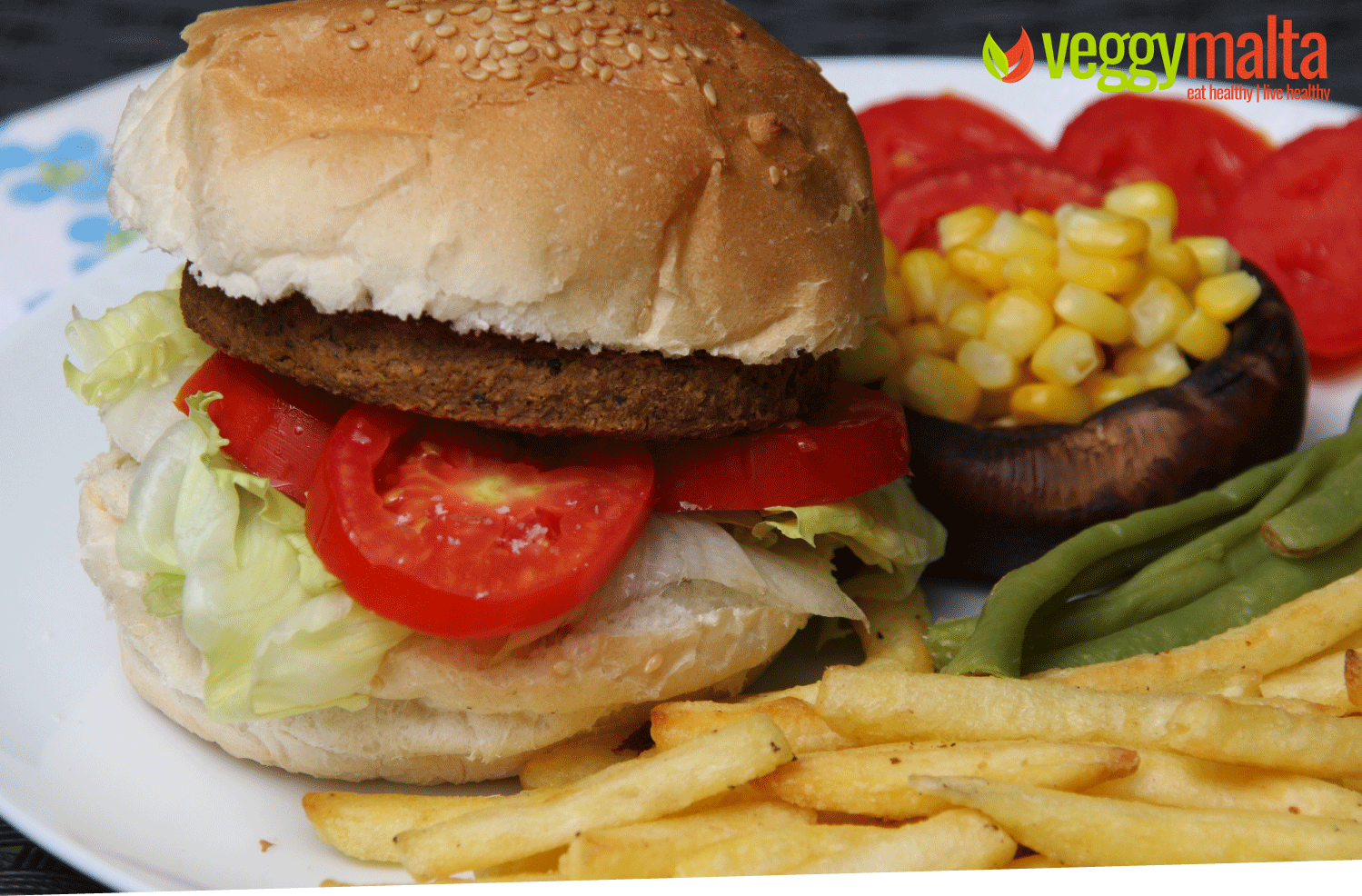 Veggy Malta tried out Amy's Kitchen All American Veggie Burger. After all there are times when all you want to do is dig your teeth into a burger. 
Well dear flexitarians, vegetarians and vegans, Amy's Kitchen All American Veggie Burger gives you the opportunity to do that without the guilt feeling (and health concerns) you would have if you were to eat a meat based burger! This dairy free, vegan burger made from grains and vegetables should satisfy the taste buds of any burger fan.
I chose to bun my burger with some fresh lettuce, tomatoes and onions plus a mix of brown sauce (and yes I admit it) some ketchup. Some fries on the side along with some green beans and some cut tomatoes. Grilled a mushroom and filled it with sweetcorn. And lunch is served.
When it comes to the energy values, each All American Veggie Burger has 13 g of protein. That's a decent amount of protein. When it comes to calories it only has 140 kcal per burger. The bun I put the burger in probably had more calories than it!
Cooking the All American Veggie Burger doesn't really take long (and is no rocket science). The fries take longer than the burger to get ready since the burgers are fully pre-baked. I put them in the oven for 8 minutes, flipping sides once. You can choose to heat them in a microwave or even on your BBQ (maybe at the beach). 
Interestingly Amy's Kitchen state that 72% of the agriculture ingredients in the burger are produced in accordance with the rules of US organic production.  
How much does Amy's Kitchen All American Veggie Burger cost?
A pack of four burgers will cost you €0.00. Amy's Kitchen is imported locally by Rimus Trading Agency.