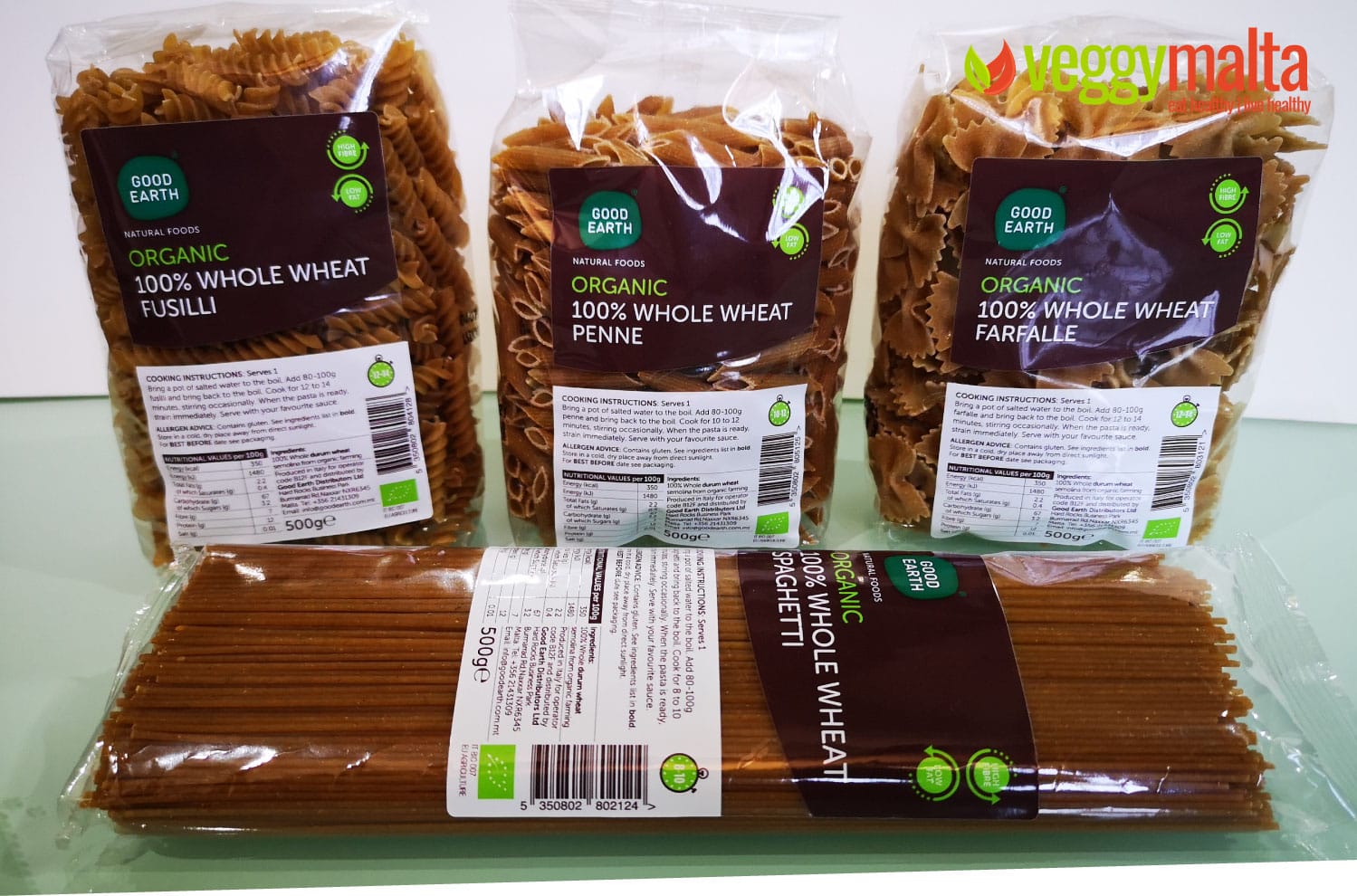 VeggyMalta checks out Good Earth's new range of whole wheat pasta.
Good Earth has four different types of pasta in this range; fusilli, penne, spaghetti and farfalle. Each packet is 500 g. Let's start with the main aspect of this range, the fact that it is 100% whole wheat. This basically means that all the product is whole wheat pasta and not a percentage of it.
Organic product
Another key feature about Good Earth's range is that it is organic. It carries the EU organic label (a leaf with stars on a green background). Reading the label you will see that the product is made in Italy since it states IT BIO plus the product is from EU agriculture (which means that the raw ingredients that make this product were grown with the EU and not imported from outside the union).
There are a number of reasons why someone might wish to consume whole wheat pasta. As a starter it is rich in fibre and low in fats. But furthermore it is a good source of protein. In fact Good Earth's 100% Whole Wheat pasta provides 12 g of gluten protein per 100 g. Quite a good punch!
6 Benefits of durum wheat
Durum wheat is a good source for many nutrients needed in a balanced diet.
It is rich in B-complex vitamins, especially folate and thiamine.1
Rich in essential minerals like selenium and iron.2
It contains potassium and is low in sodium.3
The high level of fibre helps keep your digestive system healthy.
has a high protein content.
Products made from durum flour are digested slowly helping you fell full longer.
If you are lost on what to cook, have a look at this Balsamic roasted vegetable fusilli recipe by our Ramona Debono using Good Earth's 100% Whole Wheat pasta. Additionally you can also watch our video on the range as well.
Disclaimer: The information and content on this site is intended to be of general informational use. It is not intended to constitute medical advice, medical diagnosis, or medical treatment. They are not intended to replace a one-to-one relationship with a qualified health care professional. You should always consult your doctor or other health care professional before making any changes in your diet, exercise pattern or lifestyle.