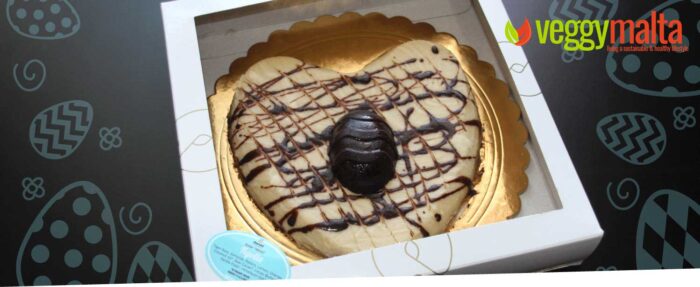 Easter, the biggest celebration for Roman Catholics, is round the corner. The religious celebration is linked to a number of food traditions from the figolla, bajda ta' l-Ghid (Easter egg), kwarezimal, karamelli tal-Harrub (Carob syrup sweets) and qaghqa tal-appostli (Apostle's ring bread). Veggy Malta met up with Adriana and Alan from Anurakti to see what vegan plans they have for this Easter.
Easter is a beautiful time in Malta, as the island celebrates Jesus's resurrection with festivities across the whole islands. It is our tendency to celebrate our major church festivities with food. Easter comes just after lent, a period of fasting and is therefore understandable that it would be a period of feasting.
So lets have a look at two of the traditional Easter pastries, the figolla and the kwarezimal. Anurakti are offering a raw vegan version of these two this Easter. The word figolla is probably derived from the word figura, which means the image of a shape. This makes scene when one considers that the traditional figolla was in the shape of religious symbols like a fish. Most of today's commercial figolli use icing and sugar to cover the figolla. This would have been unheard of before as sugar was a very expensive product. This means that they would have had to use naturally sweet ingredients to sweeten it.
I guess this brings us to Anurakti's figolla which is also devoid of icing and added sugar. The sweetness comes from the ingredients tiger nuts, raisins, raw cacao, coconut oil, cacao butter and vanilla pods. Instead of icing there is a layer of home-made raw white chocolate. The Anurakti figolla has on it a vegan Easter egg made from raw cacao. The added plus of this vegan figolla is that it doesn't give you the sensation of bloatness after eating, as a normal one does, but a sensation of satisfaction.
On the other hand the kwarezimal (qua-re-zee-mull) is a pastry normally consumed during lent. It is believed that the kwarezimal was developed during the times of the Knights of Malta, and the word is derived from quaresima (the forty days of lent). The traditional kwarezimal has a honey coating (thus making it non-vegan). It was also made without sugar, which back then was as costly as spices.
Anurakti's kwarizimal is made from almonds, tiger nuts, orange, lemon, raw cacao, cinnamon, nutmeg and coconut oil. Since it has tiger nuts (a tuber not a nut, sweet in taste but very  low GI) eating this kwarizimal will increase your fibre, magnesium and potassium intake. Not only are the almonds inside the mixture, but also on top, making it loser to the original and traditional kwarezimal, rather that the modern version loaded with sugars. AND for those that have decided to cut down on the sweets this lent, well a sugar free kwarezimal is still in line!
As in all products produced by Anurakti they are gluten free, dairy free and refined sugar free, making them ideal for those with lactose or gluten intolerance. Adriana said, "our figolla and kwarizimal are healthy versions of the traditional products, yet still as tasty."