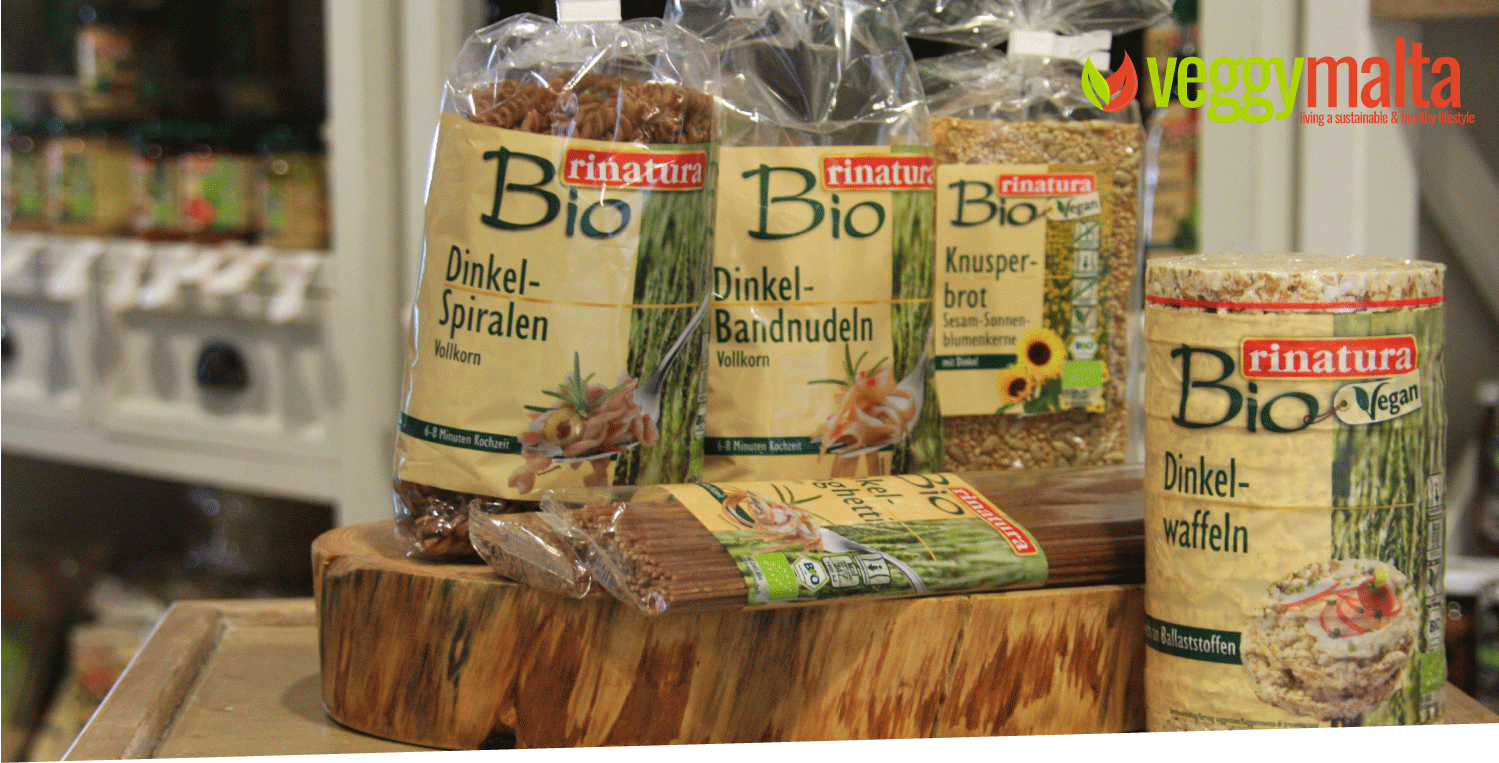 Veggy Malta tried out Rinatura Bio, a German range of certified organic products with various products for vegans, vegetarians and others that are gluten free, lactose free and egg free. In fact there is a wide range of products to choose from and are all well labelled.
Of particular interest is the range of spelt products. There is greater awareness on the health benefits of consuming spelt versus products made from regular flour. Clearly spelt is back in demand. The fact that spelt has a tough husk protects both the nutrients and protects it from insects.
Within the spelt flour range Rinatura Bio have three different types of pasta locally. There is spelt spaghetti, spirals and the noodles.  All three available in 250 g bags. For correctness sake the label does not claim it to be a vegan product as egg is also processed in the factory. Though one can consider it as a vegan product.
The pasta takes 6-8 minutes to cook, depending if you like it al dente or not. The pasta only has 347 kcal per 100 g coming from the fact that spelt has less calories than regular wheat. Furthermore amongst the advantages of eating spelt is how it aides digestion.
One should always note that while spelt products are healthier they are not gluten free as spelt does contain gluten. Some individuals with mild intolerances (not celiacs) may find that they can eat spelt products (yet one should always consult with a doctor / nutritionist).
Interesting to note that the product is 100% EU Agriculture and not imported and processed within the EU.
The Rinature Bio ranges has more spelled products including spelt patties organic, spelt bio, spelt bran bio, spelt quick-boiling organic, spelt puff organic, spelt waffled organic and spelt spaetzle pasta.
How much does Rinatura Bio spelt pasts cost?
Rintura Bio pasta costs around €1.75 and can be found in leading supermarkets and health shops. Dical Ltd is the local agent for Rinatura Bio.