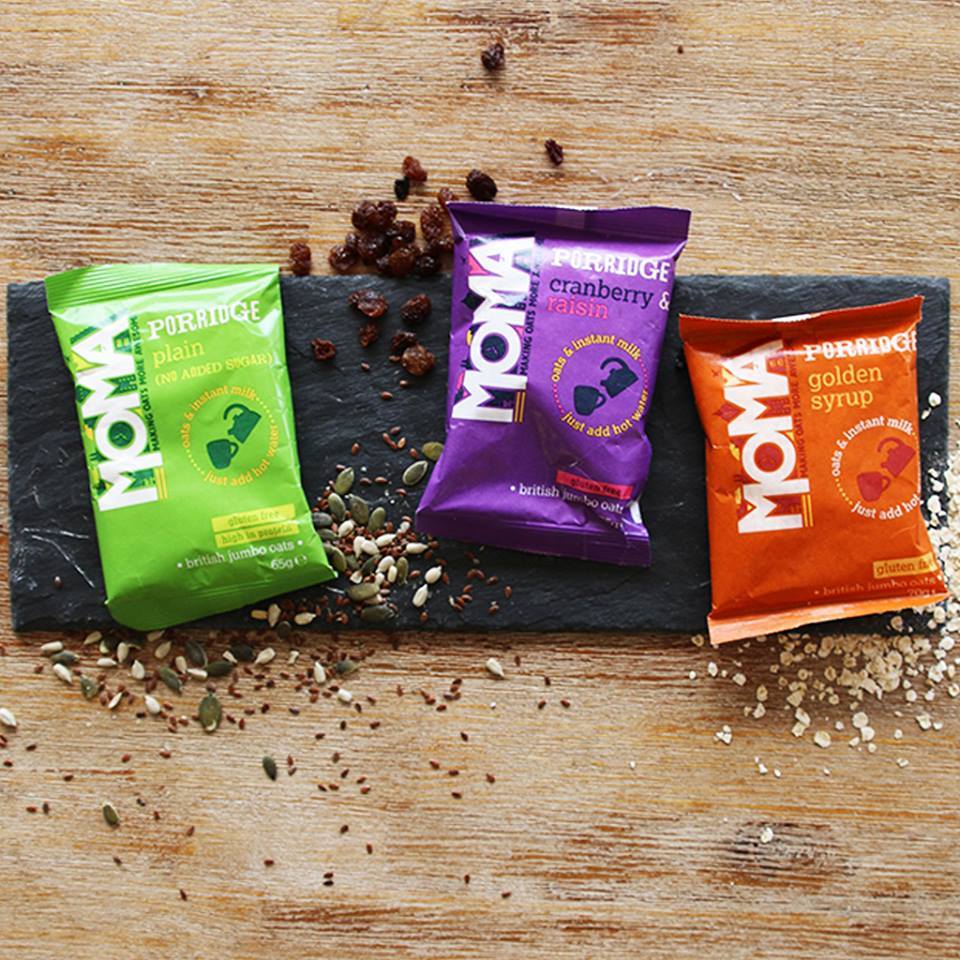 For whoever has never taken oats for breakfast (or as a snack), oats are incredibly nutritious. It's always a good idea to start the day with a bowl of oats (and maybe add some fresh fruit). Some actually consider it as one of the healthiest foods you can take.
Oats are rich in dietary fibre (containing more than other grains) and protein. They are also attributed with having a range of healthy cholesterol-lowering properties. They will help in digestion and constipation. They also contain antioxidants like avenanthramides which may play a role in keeping blood pressure low. 1
MOMA – Making Oats More Awesome!
Introduce yourself to the world of oats with MOMA and be spoilt for choice and taste. If like most of us you're short on time and need a grab and go meal, MOMA is just perfect for you. All you need to consume all of MOMA's products is just hot water and a bit of patience.  The result will be a creamy yet chunky textured gluten free porridge to enjoy at home or at your desk.
These oats come in different formats and flavours. You can choose from pots or sachets! From the fruity Cranberry and Raisin to the nutty Almond Butter and Salted Caramel, all MOMA's porridge is made with REAL fruit, nuts, and seeds!
MOMA also produces some fantastic low sugar granola by using Chicory root. This provides natural sweetness making it possible for MOMA to offer granola which has less than 5% sugar! This small percentage of sugar is naturally occurring sugar found in the oats and seeds used. This granola comes in two delicious variants: Cacao, Coconut & Ginger as well as Cherry & Almond.
Why you will LOVE all MOMA products:
Gluten-Free
All the products in the MOMA range are Gluten-free.
High in protein
Slowly but surely, everyone is learning why consuming protein is so important. Just in case you are not aware of this, protein is an important building block of bones, muscles, cartilage, skin, and blood.
Suitable for vegetarians (and many also suitable for vegans)
We don't really need to add any further comment for this right?

Wholegrain Oats
MOMA uses only wholegrain oats, which contains 3 parts of grain which together provide fibre, carbohydrates, fat, vitamin and minerals.
Vitamin B & Folic Acid
Oats are a source of Vitamin B, which plays a big role in the production of energy in the body. They are also a source of folic acid that supports your immune system.
High in Fibre
Oats have more soluble fibre than any other grain, so they are perfect for the digestive system. And well, we all know when fibre comes in useful day by day.
Cholesterol Reducing
Oats contain a soluble fibre called Beta Glucan which helps to maintain normal cholesterol levels and has to be shown to lower cholesterol.
To discover the range of MOMA products available locally thanks to J. Calleja Import & Export Ltd, just click here: http://www.jcallejaltd.com/en/moma
For further information, feel free to send an email on info@callejaltd.com or call on 21523865/80.