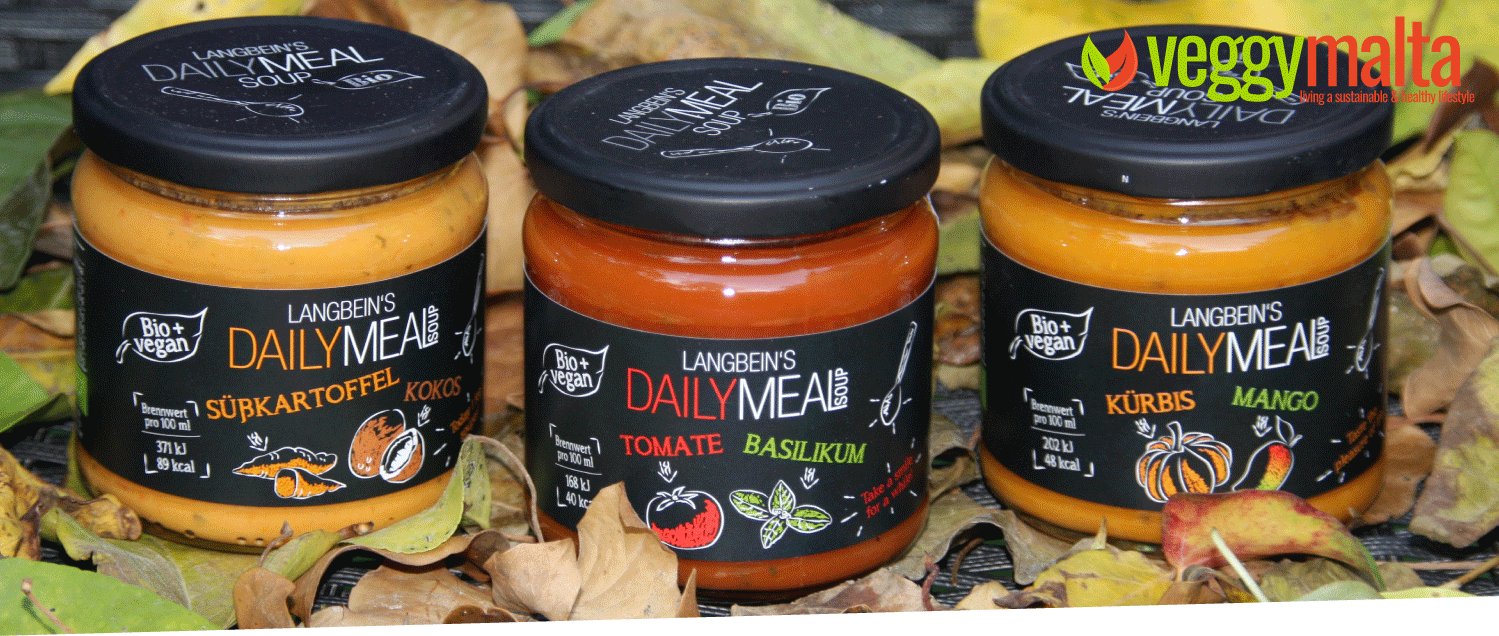 Veggy Malta tried out Langbein's Daily Meal Soup, an organic vegan soup in a glass jar.
The main thing behind the Daily Meal Soup is how simple and convenient it is. All you need to do is shake the jar, open it and heat it for 2 minutes at 600w in a microwave and enjoy. That is your lunch served in a jiffy.
I actually tried out all three soup flavours. The tomato basil soup, the pumpkin mango soup and the sweet potato soup with coconut milk. All three organic and vegan soups have a great taste. The Daily Meal Soup is a good food option for those who want to have a quick and easy (tasty) meal without resorting to junk food, and all the calories that can come with that. On the contrary, the pumpkin mango soup (full jar) is 168 kcal, the tomato basil soup is 140 kcal and the sweet potato soup with coconut oil is  312 kcal. Plus with a choice of three different soups you can change your meals.
This is the type of product to have in your larder and in your drawer at work. I would add that the emphasis shouldn't be on vegan but taste. Langbein's Daily Meal Soups offer taste and comfort at an affordable price as well.
There are three other important things to say about Langbein's Daily Meal soups apart from them being 100% vegan. First they are certified organic and carry the EU bio/organic logo. Secondly they are gluten free, which open's this up to those who have a gluten intolerance. And thirdly, it is lactose free.
How much do Langbein's Daily Meal cost?
A jar of Langbein's Daily Meal costs around €2.99 and the range can be found in leading supermarkets and health shops. Dical Ltd is the local agent for Langbein's Daily Meal Soup.