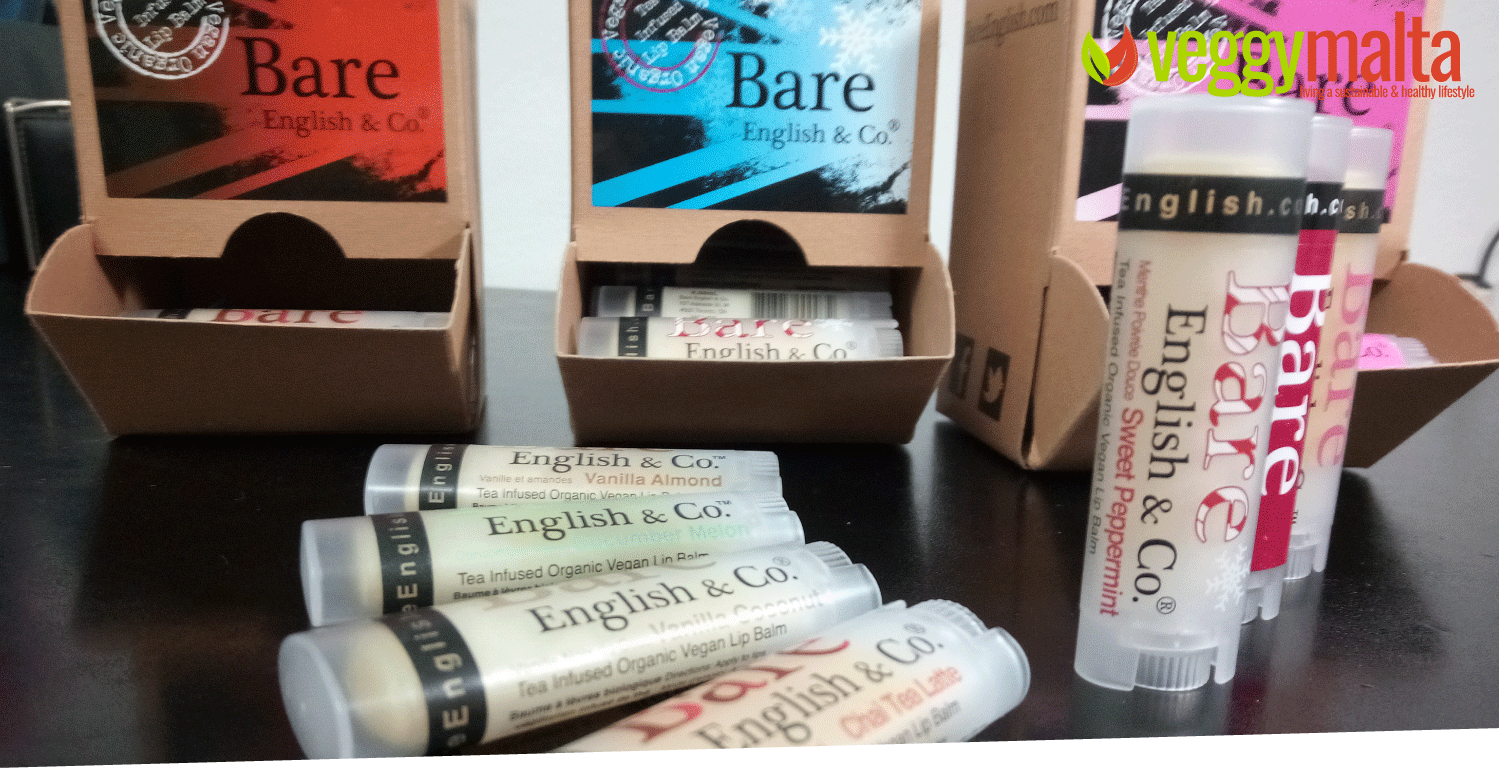 Veggy Malta met with Sarah Crockford to talk about Bare English & Co Lip Balm. In short this is an organic, vegan, tea infused lip balm. It is after all still cold, although spring is just round the corner.
So what's the story behind these lip balms? Sarah said that her cousin in Canada (a vegan chemist) started off in the kitchen fiddling about with ingredients. She infused a mix of oils with green and white tea. One tweak after another and this eventually led to developing a vegan and organic lip balm.
The teas give the lip balm it's anti-inflammatory and antioxidant properties. This is because white tea and green tea contain high concentrations of catechins, which are antioxidants that help the body fight against the damage caused by free radicals. Added with this is Jojoba oil, a natural moisturiser that is friendly even on the most sensitive skins. Jojoba oil contains vitamin E, B, zinc, copper and iodine. It also adds it's natural antimicrobial properties to the mixture.
For texture Bare English uses Candelilla Wax, which is a plant based wax (coming from the candelilla plant ..err dah!). Now add on other ingredients like almond oil (antioxidant and anti ageing), cocoa butter (moisturiser), olive oil (skin shine), coconut oil (moisturiser), castor oil (natural emollient) and Vitamin E.
As you can see the product is plant based and absolutely vegan. So much so that is is PETA approved and a member of PETA's Beauty Without Bunnies Program, so basically not tested on animals and cruelty free.
Sarah emphasised that the absence of chemicals like parabens, silicones and synthetic fragrances is an important feature of Bare English. Absorption of chemicals from the lips is high given that the skin at the lips is thin. Which is why having an organic and chemical free lip balm is a plus.
From a practical perspective, Bare English lip balms do not have the stickiness effect that is so common with many lip balms. It is neither too waxy nor too wet. Unlike most lip balms that are round in shape, Bare English is elliptical. This should reduce the chances that the lip balm can slide out of your back pocket. Also if you leave it on your desk, it will not roll over to the most inaccessible spot just to enjoy making you sweat and swear (…does this only happen to me?)
How much Bare English Lip Balms cost?
Bare English & Co Lip Balms sell for €3.95. The products  can be found from Charing Pharmacy, St. Julian's Pharmacy, Remedies Sliema and Casa Natura. For trade enquiries contact the local Facebook page.