Goodfella's recently put on the market a new pizza, totally plant-based, their Vegan Falafel Pizza. Without any doubt we had to give it a bite and check out the taste.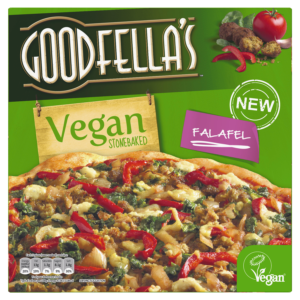 After tasting this pizza, I would nearly say that it is happened to be vegan, because I believe Goodfella's focused on creating a tasty (Mediterranean style) pizza which happens to be completely plant-based. Anyone who thinks that a plant-based pizza isn't rich in taste should dig their teeth in this one.
When looking at the ingredients it states that there also is a hummus drizzle on the pizza. Now falafel and hummus are a wonderful combo so imagine both of them on top of a pizza! When tasting, I think the taste of the falafel is greater (also because there is a substantial amount of falafel topping), whilst the hummus is more subtle. There is a nice colour mix also coming from the red peppers and the spinach. For those who don't like spinach much, it doesn't have a over-powering spinach taste (on the contrary).
The crispy pizza base, something one should assume from a Goodfella's pizza. As I already said the falafel is a dominant flavour, but added with it there is a mild to medium spicy kick which really helps the overall taste of the pizza. After you try it as is, you can sometimes change and play with the taste a bit by adding some vegan cheese on top (or any other topping you wish… no meat :-)).
Overall this is a good pizza to have in your freezer and makes a good change from the normal pizzas.