Thank you, next.
Over the past few years, we have seen a slow but rising trend in vegan and vegetarian offerings in the local food scene in Malta. However, I feel that there is still much to be desired and I think we will continue to see cool, trendy and vegan-friendly places pop up across Malta in the coming years.
The demand is there and while you do find veggie or vegan options in most restaurants nowadays, it is normally an afterthought. If you're lucky you'll find maybe 1 or 2 options, and more often than not the same unimaginative dishes you see repeated on menus everywhere. Pasta Pesto?  Mushroom risotto? Thank you, next!
Let's also talk about another struggle: finding a good place that will satisfy plant-based eaters and omnivores alike. Practically impossible right?
So when I got invited to try out a new trendy place in Marsascala, I was curious to see the menu. I was quietly hopeful…could this place be the answer to our prayers? I was surprised, easily 80% of the menu is vegan or vegetarian BUT they also have a few meat options available.
With my interested piqued, I made my way down to Marsascala on a Wednesday evening in April. What I really liked about the place is that though it has been given a facelift, they still kept enough of the old coffee place that was there for many years before, to give the place character while looking fresh and trendy of course!
The story behind the Foam and the Fork
Upon entering the Foam and Fork we were greeted by Matthew, one of the 2 young owners and the one who's responsible for the Foam. Later that evening, we also had the pleasure of meeting Rytis, the 21-year-old chef (I know right?) creating delicious vegetarian and vegan dishes.
The story of the Foam and Fork started years ago when Matthew was living in London and working in the hospitality industry. At the time he had a vegan partner, and being a carnivore himself it was a struggle to find places to eat where both of them were happy with the options available to them. This experience made him understand the big gap in the market and realise that he could do something about it! And so the seed of an idea was planted.
Fast forward a few years and here were are. The menus are cool and young and tell the story of the Foam (think delicious coffees, creative cocktails, and carefully selected Craft beers) and the Fork (no explanation needed, just grab your fork and dig in!).
You can't be too much of a prude here especially with cocktails named Porn Stars and their famous burger coined Balls of an Asian. But what is immediately apparent is that at Foam and Fork the owners want their punters to have an experience. They just want you to have a good time, drink something delicious and eat good, home-made, creative food.

Tapas, Porn Stars and Beer.
We sit at a cosy little table and browse through the menu (not one predictable dish in sight!). There are just too many choices and so we decide to leave the food choices to Matthew and Rytis, who serve us a tasting menu of their best vegetarian dishes.
Upon affirming that yes, we do drink alcohol, Matthew starts us off with a delicious cocktail. Porn Star. It is tangy, fruity and just delicious. I don't even have time to inquire what went into it because the tapas arrive and demand our full attention!
Eating tapas is essentially a social event and that is what makes it the perfect food to have with drinks and with friends. It demands to be shared, it encourages conversation and invites you to deep dive into the experience of eating.
The guys present us with a tapas tasting of: Beet falafel with BBQ sauce, Hummus done 3 ways, Homemade nachos with loads of cheese (you can make it vegan cheese), Deep fried Szechuan aubergine, and a typical Lithuanian Black Rye bread with garlic sauce. You should definitely not miss the Black Rye bread, it is garlicky and cheesy (vegan cheese also available) and nothing like anything I have had before. (All tapas range between 4 and 5 euro per plate).
Matthew explains every dish as it comes out and lets us know that most things we are being served are made from scratch, including the nachos and their own take on Maltese galletti. They also get their vegetables fresh from a vegetable truck around the corner.
Throughout the evening Matthew comes over to our table with more drinks, this time beer. We taste a number of craft beers, each of them come with their own story of origin and all of them are unique, selected and particular. I must admit, I am more of a wine person, but these beers are not to be missed, and even I could tell I was drinking pretty good beer.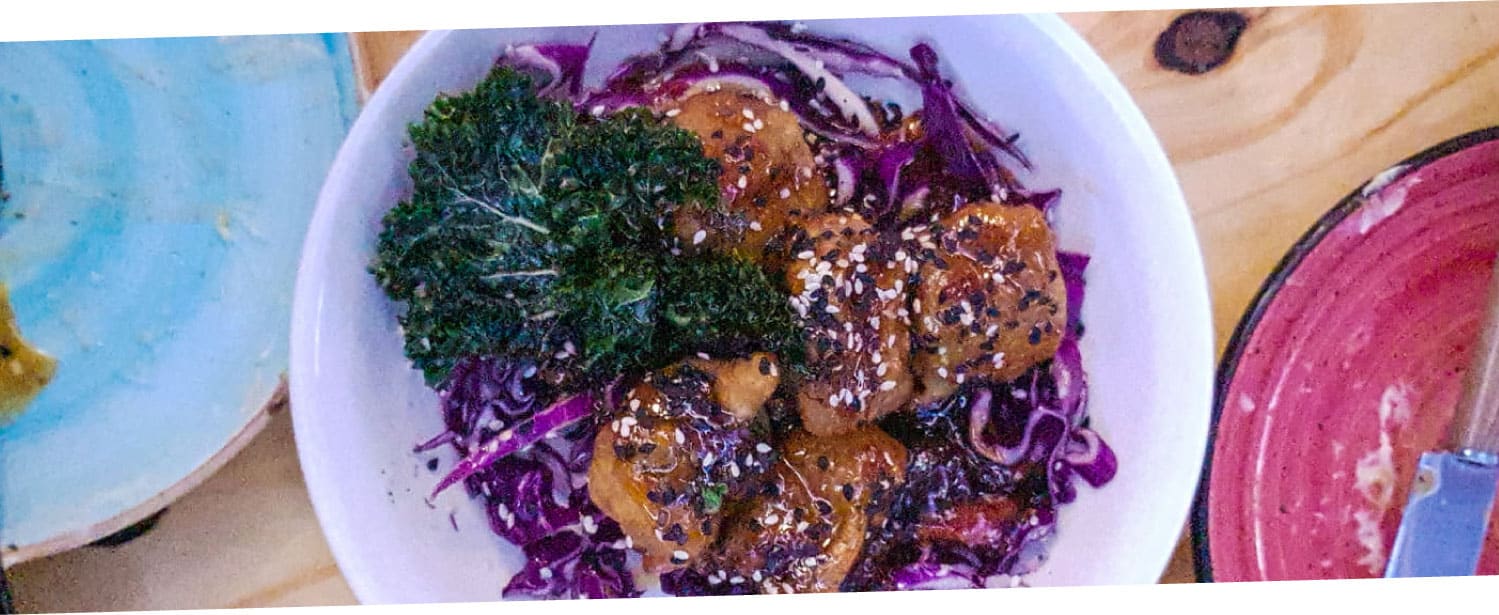 Saving the best for last
While we are still working our way through the delicious tapas, Rytis comes over to our table to tell us about the mains. We abandon the rest of the delicious tapas and brace ourselves for the next dish.
The zucchini noodle salad (7 euro) is heaven. The zoodles (zucchini noodles) are smothered in an Asian inspired sauce that is the perfect balance of flavours. Each bite fills my mouth with an explosion of taste. Mixed nuts add a satisfying crunch that brings the whole dish together. Perfection! I would really recommend you try this, it is truly delicious!
The finale is here. The crescendo is building. And suddenly, there it is, we see the peak of the enormous burger, Balls of an Asian. It is built so high that in a moment of food-induced delirium, it almost resembles the tower of Pisa. Impossibly majestic.
Rytis talks us through each home-made layer with pride. A base of home-made mayo covers a soft bun, topped with Taiwanese salad, sweet potato strips, a lentil, and rice patty, home-made kimchi (at this point, I start to drool) and lastly, vegan cheese, served with a side of hot crispy fries.
My partner and I look at each other, pull up our sleeves and get ready to dig in. We only manage half each, before we admit defeat and call it a night.
The Verdict
Matthew tries to entice us to have coffee and dessert. They have CAKE! How could we refuse CAKE?! While tempted, we just cannot manage any more food.
So I leave him with the promise that I will return, with an empty stomach and a mind open to endless, delectable possibilities.
I invite you, dear reader, to do the same. Foam and Fork is more than a veggy friendly place. The menu and ambiance have all been designed in a way that invites you to remember what you already know, what you have already experienced but have perhaps forgotten in this new fast-paced life we lead; that is that the essential nature of food is to unite friends and family around a table, to share it, discover it, taste it and experience it. Oh and don't forget the beer. Lots of it.