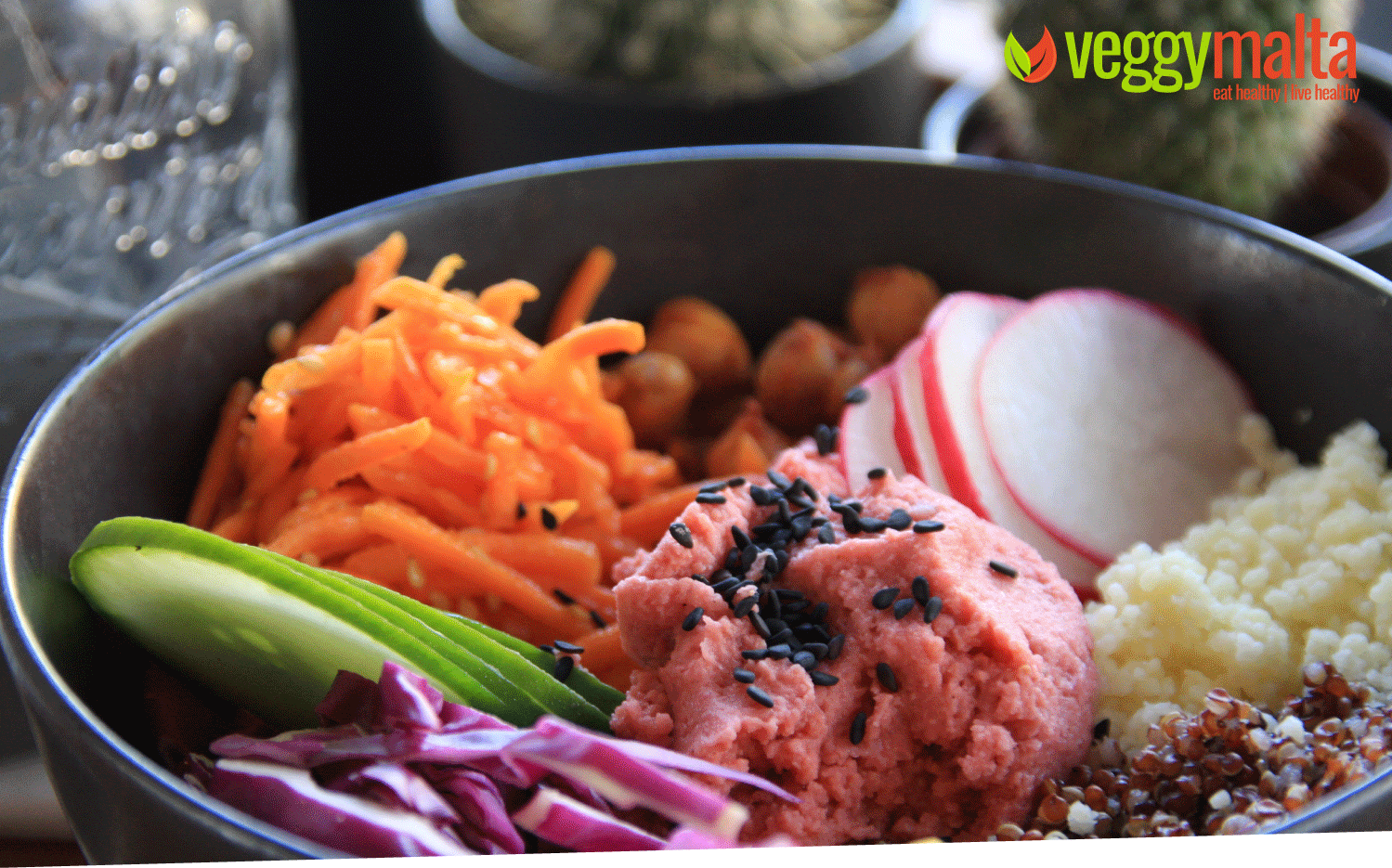 Veggy Malta went to Emma's Kitchen in San Gwann and had a chat with Emma Warrington about the choice of plant based food (and vegetarian) there is on the food board. After all you would expect a good selection of vegan options with half the staff being vegan!
Emma, an architect by profession, seems to have found her passion in the kitchen. (I don't blame her… looking at the state of our country).  In October 2016 she opened the restaurant. It is strategically located in the corner going up towards San Gwann centre. If you have never been to the restaurant, you certainly have passed in front of it a number of times.
Some Vegan and vegetarian choices at Emma's Kitchen
Yet let's have a look at some of the choices on the menu (that interest us).
Avocado toast | breakfast with sourdough toast having a spread made from avocado and tahini served with chilli and a wedge of lime @€4.50
Falafel Pita | which is baked not fried with cucumbers, rocket leaf, couscous and yogurt @ €6.50
Falafel salad | with falafel, beetroot hummus, cabbage, rocket leaf, couscous, mustard dressing and a bowl of yogurt @ €7.80
Buddha Bowl | having chickpeas roasted in paprika, red cabbage, cucumber, radish, carrots marinated in sesame oil, quinoa, couscous and beetroot hummus @€8.00
Tofu Poke | sticky rice with tofu seasoned in yellow Thai curry, cucumber, radish, carrots, wakame, wedge of lime and some slices of chilli @8.20
There are more options to choose from and there are specials which can be vegan. If a tea or coffee is what you are after, they do have vegan milks. Alternatively they have a choice of smoothies and juices, with optional coconut and almond milk.
I visited the shop at around 3.00 pm and it was still brimming with customers. Probably thanks to the choice of plant based foods.
Emma's Kitchen opening hours
If you want to eat at Emma's Kitchen here are the opening hours. It is open Monday to Friday between 8.00 am to 8.00 pm and on Saturdays between 9.00 am and 8.00 pm. The kitchen opens at 9.00 am. Whilst you will see the location as linked below via google maps, do not be misled by the façade as the shop was still not open when the google maps car passed from in front of the shop.