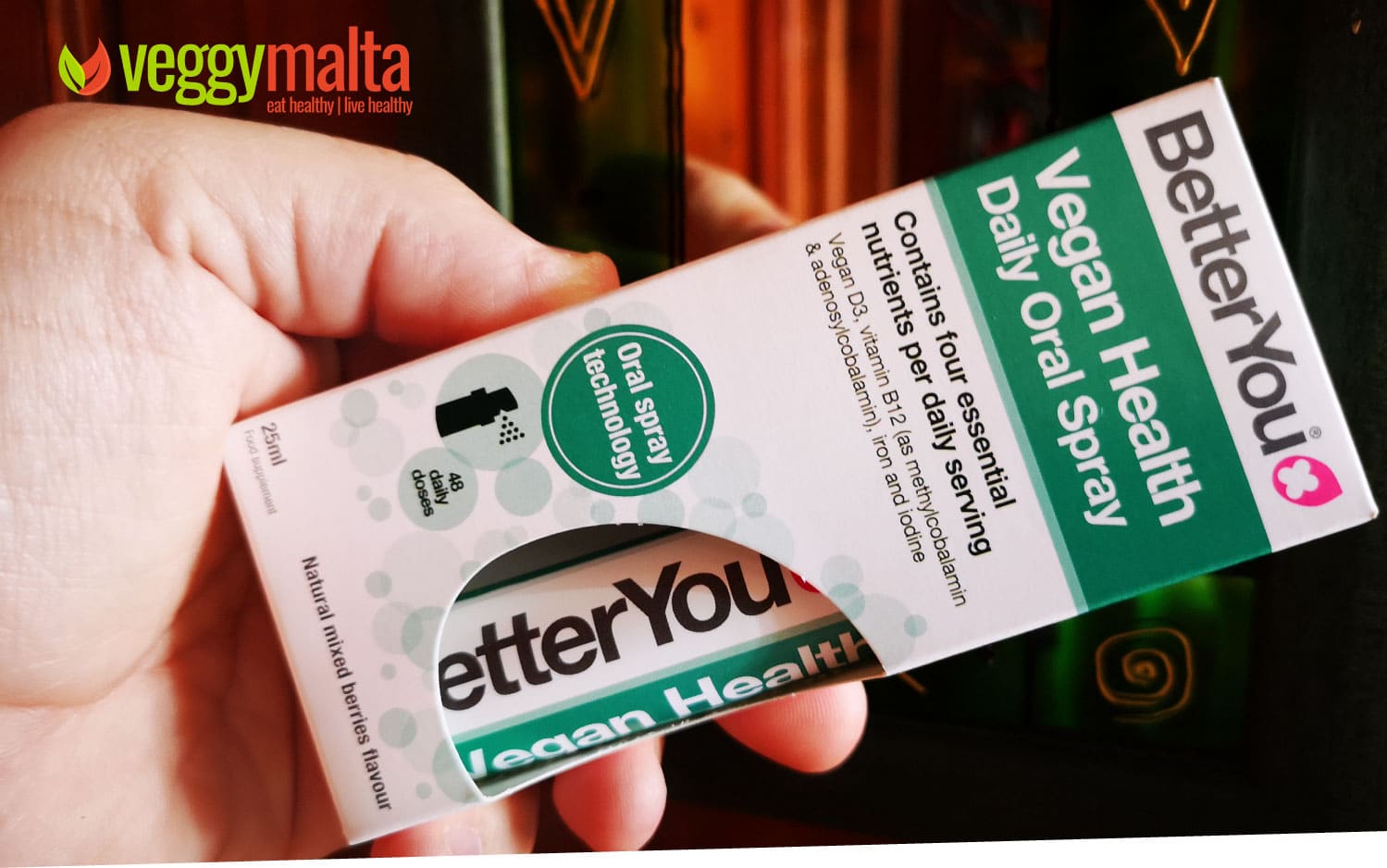 VeggyMalta tries out BetterYou Vegan Health Daily Oral Spray. Whilst most days I believe I consume a good volume of veg and fruit, I personally am very positive about taking vitamin and mineral boosts.
Most of us have a hectic lifestyle and not everybody manages to plan their meals ensuring the correct balance of all vitamins and minerals, plus 15 minutes of sun exposure (when the sun is directly above you) and some exercise. This is where some extra help kicks in. So for the next 48 days I used BetterYou's spray.
If  you want a short abridged snapshot of this product:
it contains vegan Vitamin D3, Vitamin B12, Iron and Iodine
it is formulated to support vegan and vegetarian diets
it's spray format is a convenient alternative to tablets and capsules
it is Vegan approved by The Vegetarian Society
last a month and a half (48 daily doses exactly)
tastes of mixed berries
it's packaging is made from Ocean Waste Plastic
More about BetterYou Vegan Health Daily Oral Spray
I also asked the company which represent BetterYou to send me some more information on the product, which I could share. One question we asked was, why a spray? What's the advantage?
"The spray has been specially formulated to deliver 4 essential vitamins and minerals directly into the bloodstream, bypassing primary processing by the gut. The tiny droplets within the spray absorb quickly into the buccal membrane of the inner cheek, providing fast and effective nutrient uptake. This allows the formulation to quickly enter the bloodstream for optimal absorption."
Importance of Vitamin D, B12, Iron and Iodine
The spray contains Vitamin D or rather Vitamin D3V®, a 100% plant-origin Vitamin D3. (important for a normal immune system, and bones, teeth and muscle wellbeing). It has Vitamin B12 using both Methylcobalamin and adenosylcobalamin forms of B12, (a vitamin harder to find for someone on a vegan lifestyle). Plus Iron (which reduces tiredness and fatigue and supports the formation of red blood cells). And finally Iodine (which contributes to skin health and normal thyroid function).
The spray targets these 4 as they represent the supplements are more difficult to replace in a vegan diet given the absence of consumption of meat, fish and dairy. The spray costs €16.00 and can be found in pharmacies and the following health shops in Malta: Good Earth Sliema, B'Kara, San Gwann; Casa Natura Sliema; Nutreez Naxxar and Sattva San Gwann.
#healthywithmk