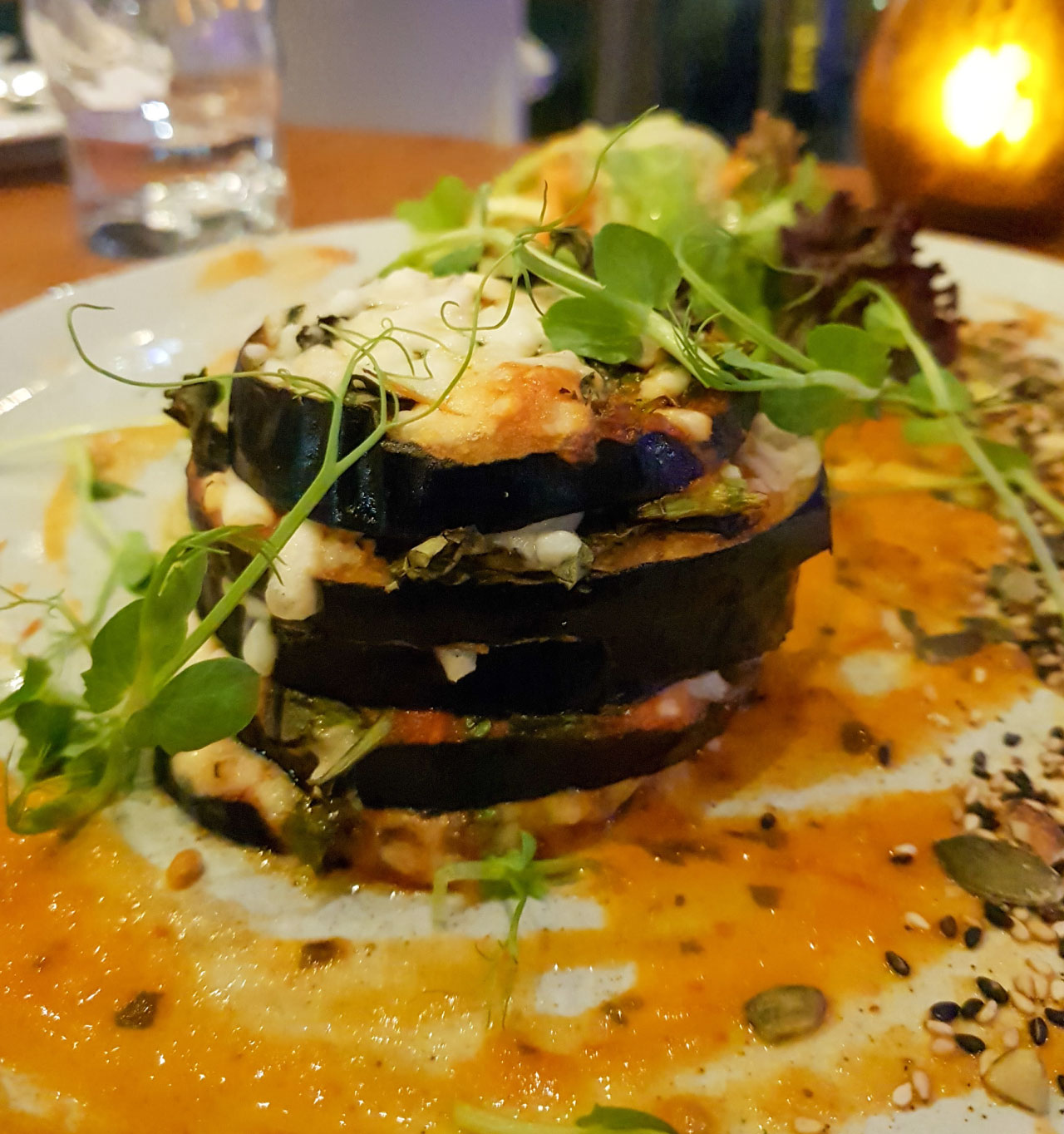 Going vegan and going green
A few weeks ago I was kindly invited to try out the all-new vegan menu at Naar in Balluta. Yes, Naar has launched a whole vegan menu! They still have their regular menu however the Head Chef has decided to branch out, this means that vegan diners (or reducetarians who want a vegan option) are now spoilt for choice as opposed to having to scout out that 1 nearly vegan dish and ask the kitchen if they can make it vegan. Mel, the Head Chef was inspired to try out a vegan diet herself after going through some health issues this year. Being a chef, meat is traditionally thought to be the star of the dish, so for her, it was not an easy transition even though she felt physically better on a plant-based diet. The vegan menu at Naar is a reflection of the journey that Mel is on. Learning to love vegan food by adapting her favorite meat dishes and making them vegan.
Another reason to visit Naar is that they are making a conscious effort to reduce waste and be more environmentally friendly. Apart from reducing plastic use inside the restaurant, they also pay extra to have glass collected separately and recycled. Mel tells us that there is no help available from local councils when it comes to waste separation, meaning that most restaurants do not separate any waste. This highlights a major problem in our system. Most waste is not generated by households but by businesses and if no help is given to them by local councils and government initiatives then our island will soon start suffering these consequences.
What's on the menu?
Naar is located at the beautiful Balluta bay, directly opposite to the iconic Balluta church. Directly overlooking the water is a lounge area with garden furniture, ideal for sharing a bottle of wine and a vegan platter!
We are shown to a table with an amazing view of the bay and told that the chef had prepared 4 signature dishes from the menu for us to taste. As I browse the menu I silently thank Mel for having made the choice for me. The menu is so vast and full of amazing dishes that I would have had a hard time choosing myself. The menu is well balanced and it is clear that the dishes are all designed to be vegan. You'll find no half measures here! The menu includes a small selection of starters and salads, as well as a choice of 2 full vegan platters which I have no doubt,  would go down well with a couple of cocktails. There's also a selection of snacks and bar food to choose from.
On to the main course section of the menu, the Head Chef has put together a vast selection of dishes to choose from, including pasta, risotto, curries, pies, pizzas and more. But the dish I am just dying to try is called Mushroom Madness. It's a mushroom pot pie served with homemade buttery mashed potatoes. I secretly hope that Mel has prepared this dish as part of our tasting menu.
Start as you mean to go on
The manager presents us with the first tasting dish called Beets and Sweets from the starter section. The dish is simple, elegant and wholesome. Segments of bright orange and roasted sweet potato, perfectly counter the earthiness of the beetroot.  The crunchy walnuts and fresh baby spinach add another texture to the dish to make this a perfect start to a delicious meal.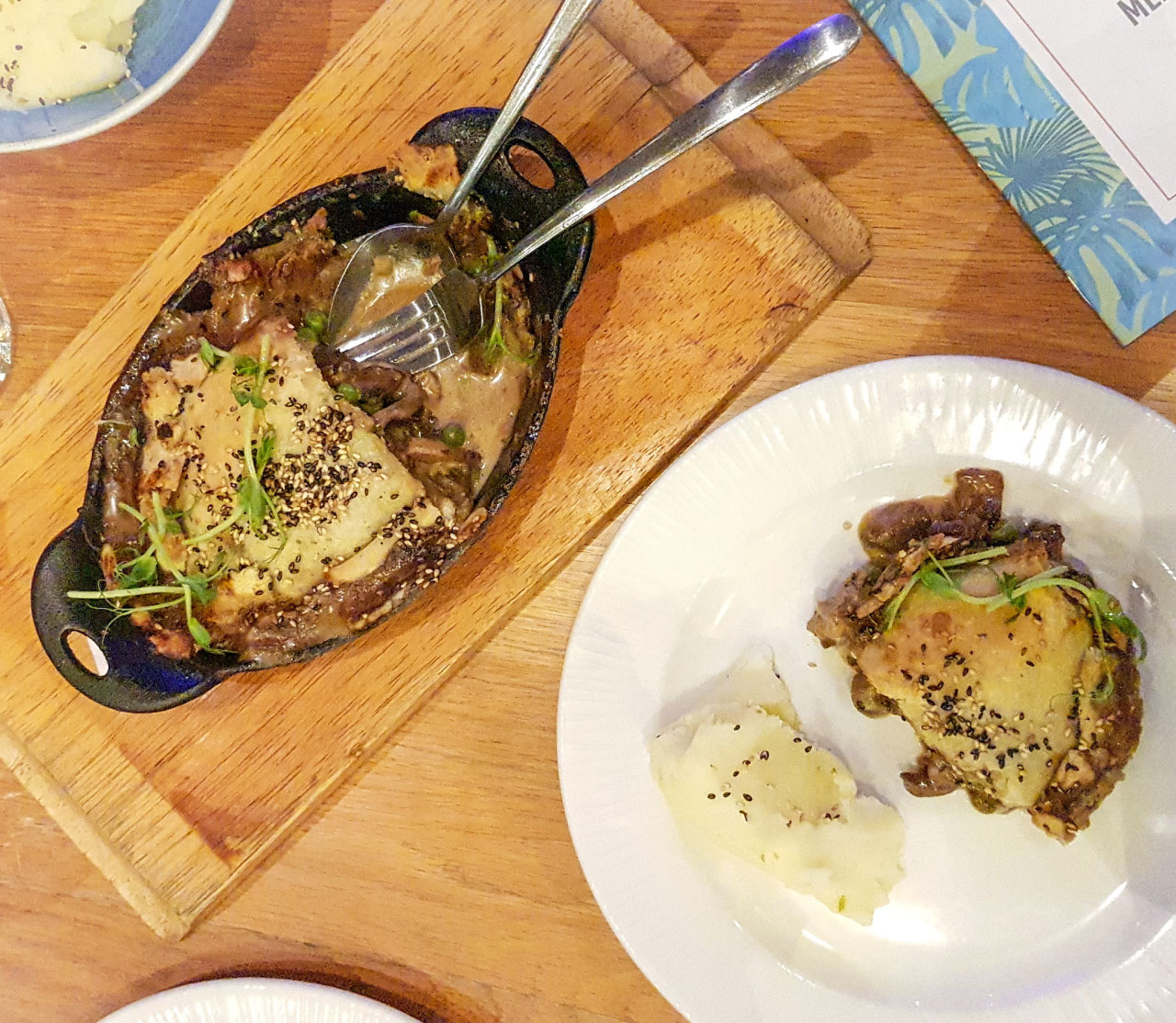 Flirting with madness
To my utter delight, our next dish is the one I was hungrily eyeing up while browsing the menu. Mushroom Madness meet Ann. Ann meet Mushroom Madness. My expectations are high at this point, with a great starter under their belt, Naar is set to impress with this next dish and I am eager to dive in. So let's take a second to talk about pastry. A good pastry should have at least 3 things, the right colour, the right texture, and the right taste. Head Chef Mel hits all those boxes with this pastry, but the texture is just perfection. As I spoon the pot pie onto my plate the mouthwatering aroma hits me. The mushroom filling is hearty and rich, swimming in gravy. The mashed potatoes are fluffy and seasoned perfectly. This is the perfect pot pie. I challenge even meat-eaters to say that this pot pie is not perfection itself. The chef outdid herself, everything from the presentation, the filling, the gravy, pastry, and mashed potatoes come together to create an unforgettable dish.
Posso fare la scarpetta?
The pie was so good that my partner and I needed a few minutes to savour and honour this dish before moving on to the next one.
Next, we are presented with a Puttanesca Parmigiana. My partner, being Sicilian, is a bit of a connoisseur when it comes to anything made with aubergines. So we eye the dish speculatively and dig in. As I look across the table and see the surprised look on my partner's face, I know this dish has earned his seal of approval. And that is saying quite a lot. While not as rich as the traditional parmigiana, this version is bright, warm and cheesy. The tomato sauce is fresh and brings a lightness to a traditionally heavy dish. If I had just one improvement to make, I would suggest that the dish is served with a fresh chunk of bread to scoop up any remaining sauce on the plate. That sauce deserves the Italian Scarpetta!
Green goodness
Lastly, we are presented with a beautiful plate of risotto. By this point, we are both feeling rather full, but when we spy this next dish approaching our table, we decide to make the necessary sacrifice and make some space. The risotto is creamy due to the green pea puree and bursting with vegetable goodness. This is definitely a wholesome dish that will guarantee you your 5-a-day and satisfy your cravings for comfort food!
We turned down the dessert menu (yes…they have a vegan dessert menu!) but promised to return to try some more delicious food soon. A promise I am not likely to break!
Into the future
I truly hope that more local restaurants and businesses follow in Naar's footsteps. While understanding trends is necessary to stay in business, it is also important to recognise that consumers nowadays want businesses that do business ethically. We have one planet and we are all responsible for its future and our future. By choosing businesses that care about animals and our planet we are supporting positive change!