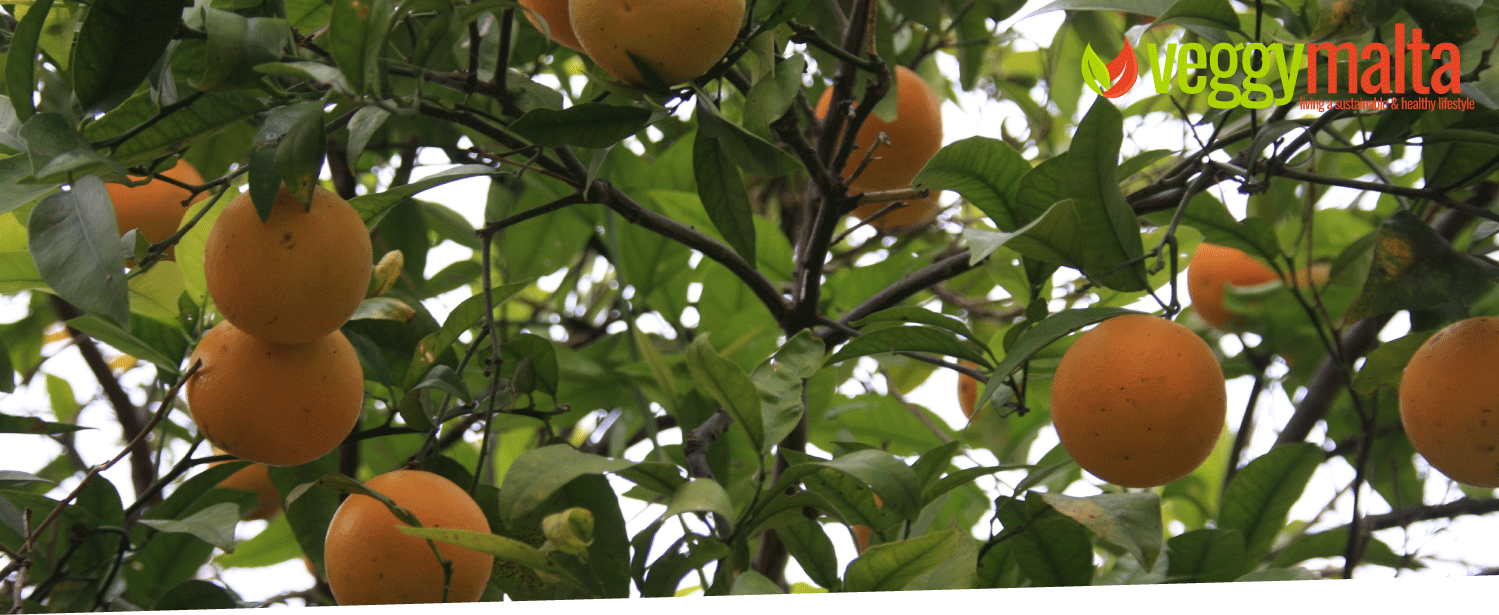 It's December and in Malta it's orange season. The garden oranges will soon start to mature. They mature just in time to provide a healthy boost before the winter influenza comes around.  Nature's way of helping us, if we are willing to listen.
Oranges are a great fruit. So great that the fruit named the colour. But although we have always known about the power of oranges, nowadays we have the scientific research to tell us!
10 health benefits of oranges explained
Veggy Malta prepared an infographic (see below) that explains the ten health benefits of oranges not only for vegetarians and vegans but for everybody.
protects the eyes
boosts immunity
 lowers cholesterol
helps prevent cancer
kidney support
rejuvenates the skin
anti-inflamatory
helps the heart
digestive health
alkanizing

Oranges in Malta
In a publication by the Plant Health Directorate, it is stated that "the origin of the Maltese citrus industry is estimated to date back to around 870 A.D. during the period of Arab rule. Later, under the Knights of St. John, Malta was particularly renowned for the superior quality of its citrus fruits which used to be exported to various European countries. The most common citrus varieties grown in the Maltese Islands are the ordinary round orange, the large oval orange, the Malta egg orange, the Malta egg-blood orange, the Bahia or navel orange, and the vanilla orange which is a sweet type of orange." ¹
Maltese oranges have remained an object of interest. In recent times the late Mabel Strickland OBE used to send a box of Maltese oranges to her Majesty the Queen.
Another interesting thing about oranges in Malta is the word itself. The Maltese word is derived from the Italian arancia.  At some time, the locals added the article to the word making it laringa. Funnily nowadays we still put the article in front of the word, il-laringa (the orange), when technically it already has an (inbuilt) article.
Choosing and Storing 
The larger the navel of the orange the sweeter it will be.
Fresh oranges are bright in colour and have no wrinkles on the skin. They also feel heavy for their size.
You should avoid very soft oranges with spots and mould.
They can be kept in room temperature for around a week, but last twice as much if kept in a refrigerator.
Keep aired and loose in a fruit container and store in a cool place. Avoid excessive moisture.
If you will not be consuming it immediately, you should store freshly squeezed orange juice in the freezer.
Furthermore if you can buy organic oranges it is always better. If you grow your own organic oranges in your garden, and avoid pesticides and have your own organic produce. Also if you wish to use orange zest, I would recommend using the skin of organic oranges. Otherwise there are a number of places where you can buy organic oranges in Malta found on www.veggymalta.com .