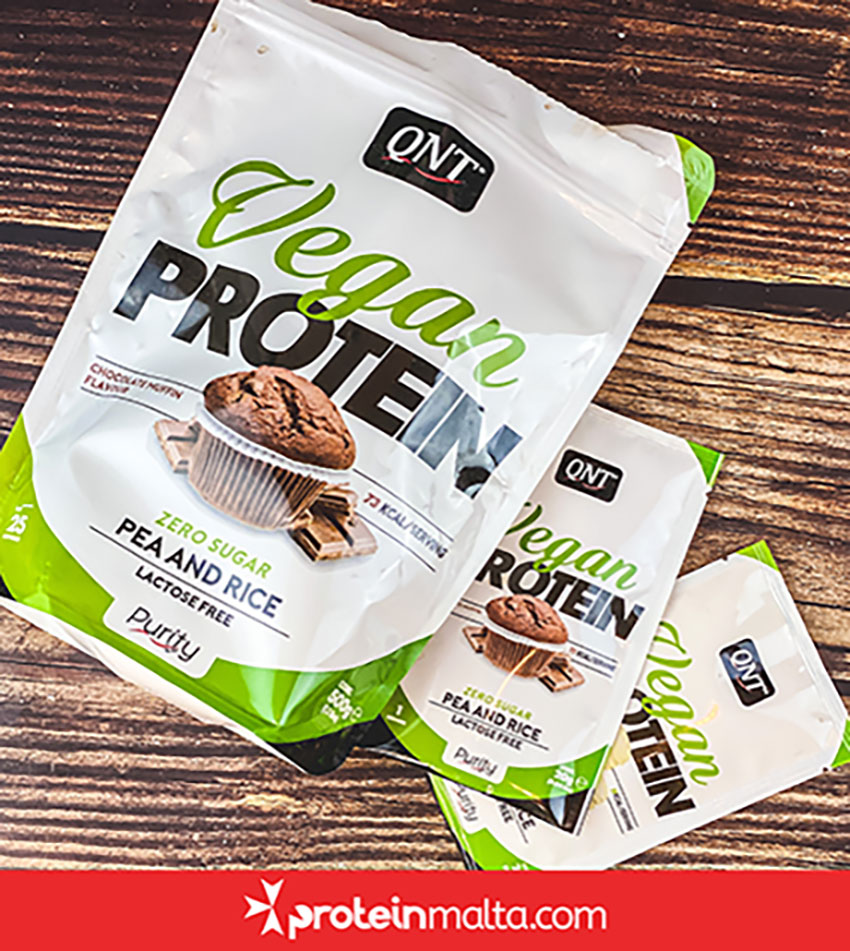 A common misconception is that meat is needed to build protein. That lie has been debunked a number of times yet it unfortunately has been pushed into people's mind. Thankfully so many athletes are coming out and stating how healthier and fitter they feel after switching to a vegan diet.
The choice of vegan products is also starting to fill up even the shelves of fitness sections in supermarkets and also in gyms. A case in point is QNT's Vegan Protein Chocolate Muffin. This comes in two packet sizes, the 500g packet (for 25 units) costing €16.99 and the single unit 20g packet costing €0.99.
Now QNT's Vegan Protein Chocolate Muffin isn't just vegan. It is gluten free, lactose and dairy free, nut free, soy free, egg free and caffeine free. the main source of protein is pea protein isolate which makes up 64% whilst rice protein makes up 27.4%. The single unit of 20g will provide you with 15.43g of protein. Obliviously the great plus with vegan products is that it automatically is good for people with lactose intolerance or dairy intolerance (around 20% of the population) since it is not made from milk like whey proteins.
Apart from mixing with 250 ml of water daily, before or after training QNT also provide a simple recipe for making Vegan protein brownies and if you follow the recipe and add peanut butter you are only adding onto the protein count. Their recipe says:
40

g Vegan Protein (chocolate muffin)

1

cup starch of choice (banana, sweet potato, pumpkin…)

1/2

cup peanut butter of choice
At choice, you can add 1/4 cup of raw cocoa powder to make the chocolate taste of the brownie more intense.
The QNT Vegan Protein range comes in three flavours Vanilla Macaroon, Chocolate Muffin and Red Fruit Party. QNT can be bought from gyms, supermarkets and also directly from proteinmalta.com where you can find a wider range of vegan and plant-based protein.