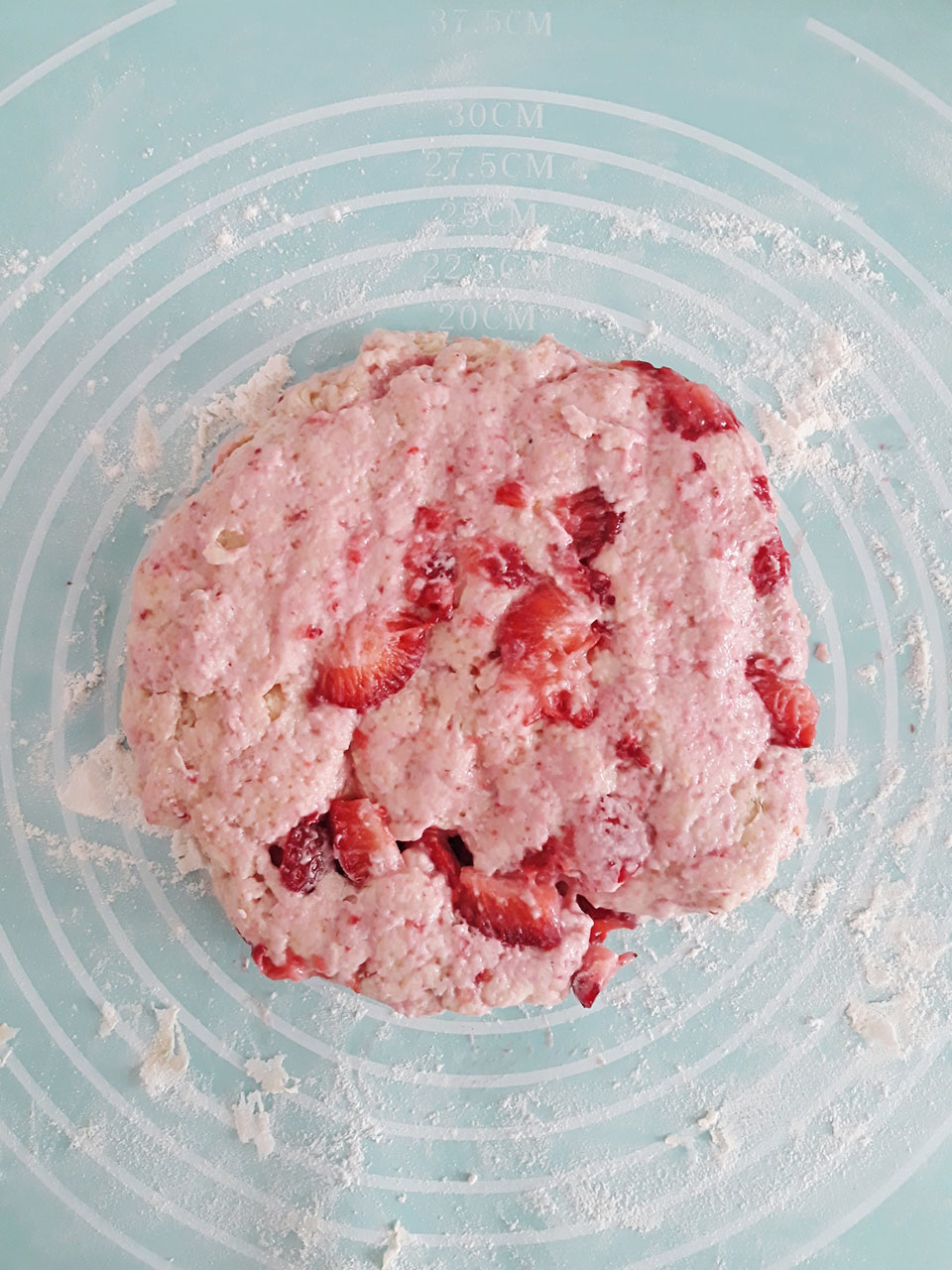 Hands up how many of you love scones! Still warm, topped with some melting butter and jam….yum. This English delight is an irresistible item for me, which was a bit of a challenge when I used to work in a cafe 😀 This recipe is vegan although you would never guess it because it totally tastes like a regular bakery scone. Top it with healthy strawberry jam which takes not more than 10 minutes to make and you have yourself a perfection.
Ingredients for the scones:
2 cups self-raising flour
1/4 cup brown sugar
2 tbsp lemon juice
1/2 cup plant milk – I used Valsoia light soya milk
1/4 cup coconut oil, melted – I used Good Earth
1 tsp lemon zest
1/4 cup strawberries, cubed (fresh or frozen)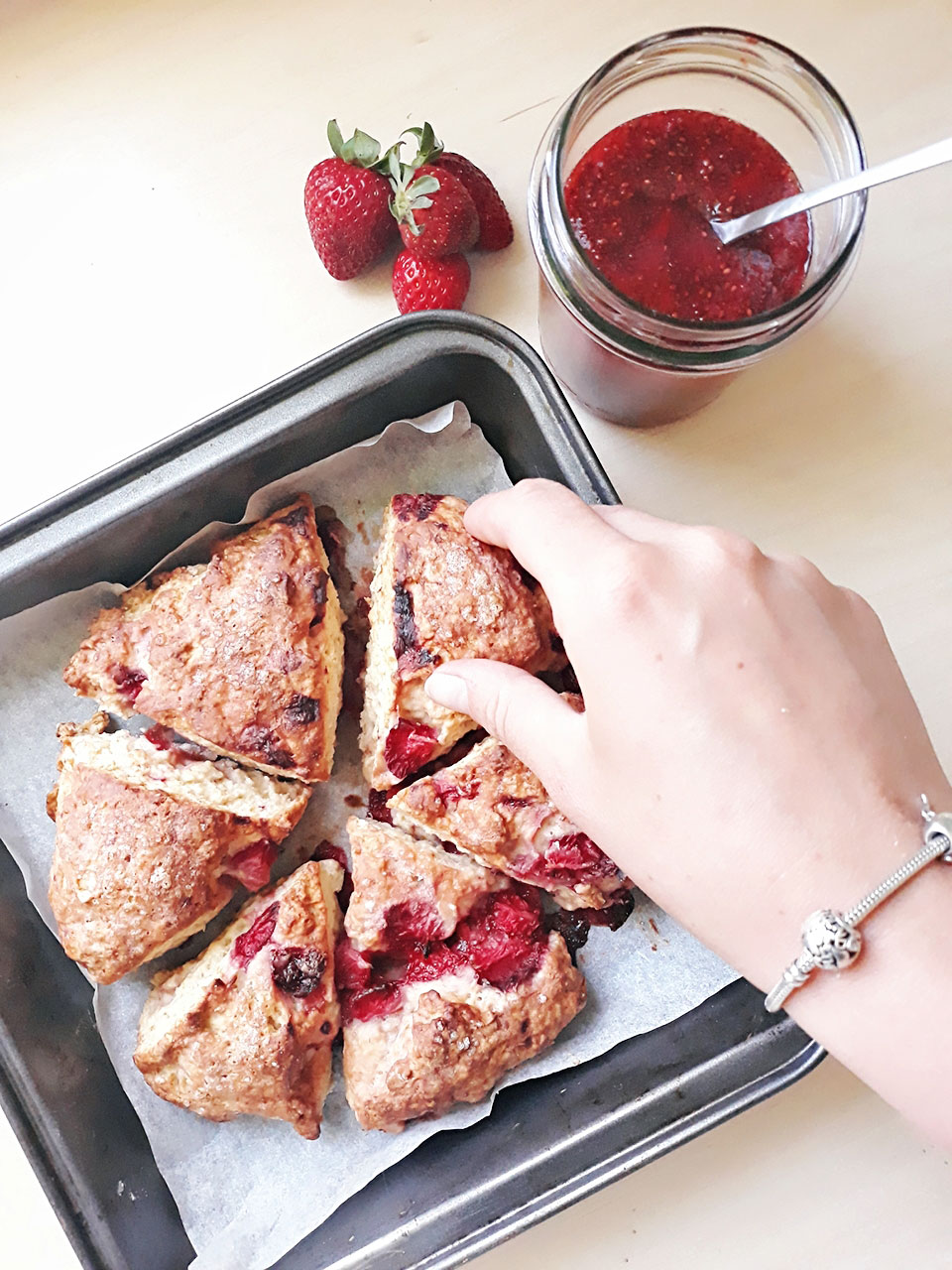 For strawberry chia jam:
2 cups strawberries (fresh or frozen)
2 tbsp chia seeds
1 tbsp lemon juice
2 tbsp maple syrup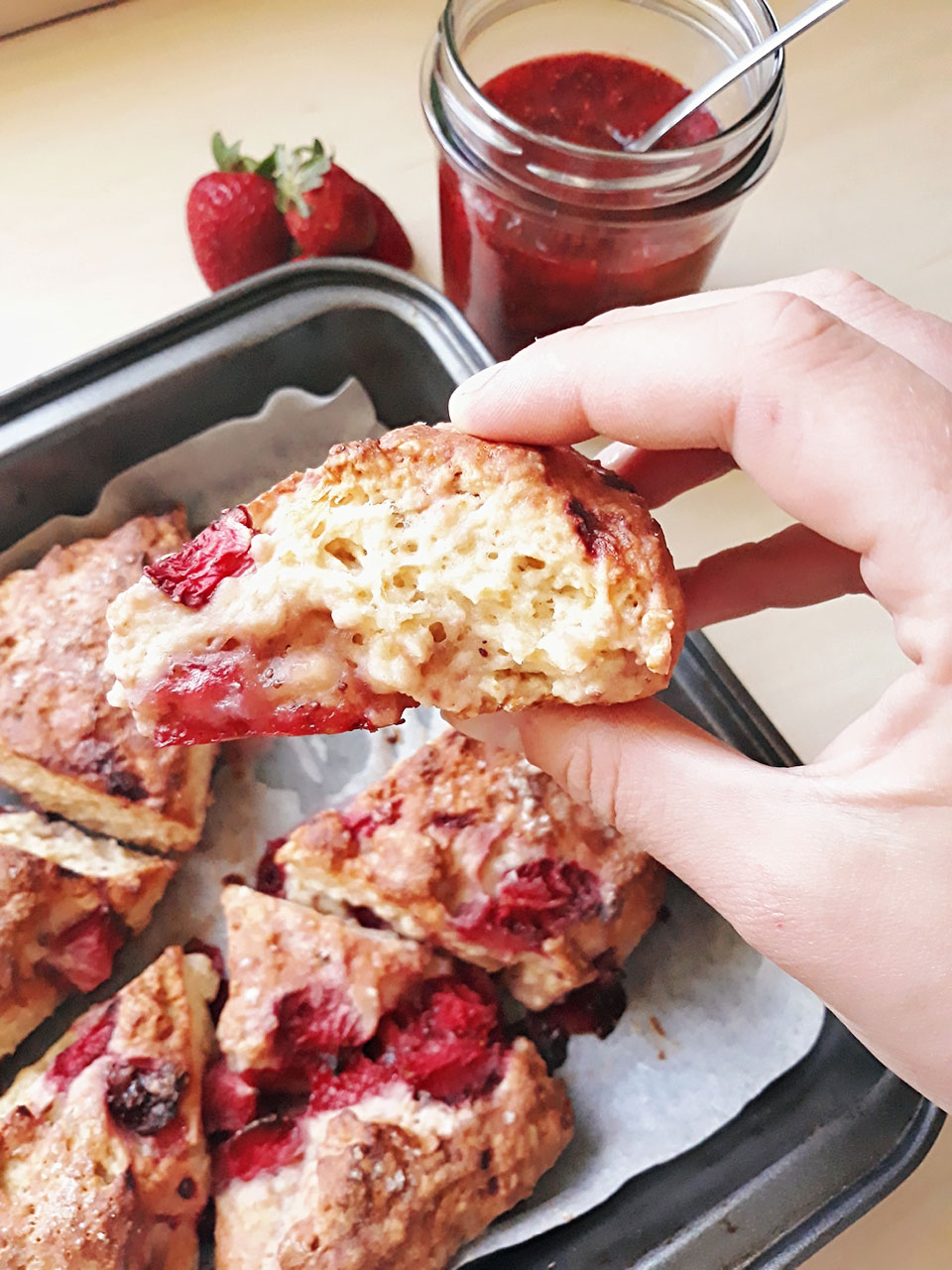 Directions:
In a large bowl mix flour, sugar, lemon zest and combine. If you don't have self-raising flour, simply add 1 tbsp of baking powder and 1/2 tsp of salt into 2 cups of all-purpose flour.
In a separate bowl, mix together lemon juice, plant milk and melted coconut oil until smooth. Add this mixture to the dry mix.
Mix with clean hands until dough forms. Toss in strawberries ( I recommend coating them in 1 tbsp of flour if using fresh) and gently fold in, so they don't break too much*. It will be a bit messy, but it will go together.
Lightly dust the board with flour and shape the dough into the circle, flatten and cut into 6 equal triangles. Transfer to the lined tray, brush the top with coconut oil and sprinkle with sugar.
Bake for 15-20 minutes on 180

°C

 until golden on top. Remove from the oven and let cool slightly before serving.
To make chia jam, put 2 cups of strawberries into a small saucepan over medium heat. Mash it with fork to desired consistency. When it starts to bubble, stir in chia seeds and lemon juice until combined. Taste and stir in maple syrup if needed. Remove from heat, let cool for 5 minutes and serve with your freshly made scone.*
Nutritional value (1 scone with 1 tbsp of chia jam):
1205kJ/288 kcal   9g Fat, 46g Carbs, 3g Fibre, 6g Protein
*You can use any other frozen fruit, such as cherries, blueberries, blackcurrants…
*Storage tips: Scones can be stored in an air-tight container up to 2 days or in refrigerator up to one week. Chia jam can be stored in sealed container in refrigerator up to one week or in freezer up to 3 months.