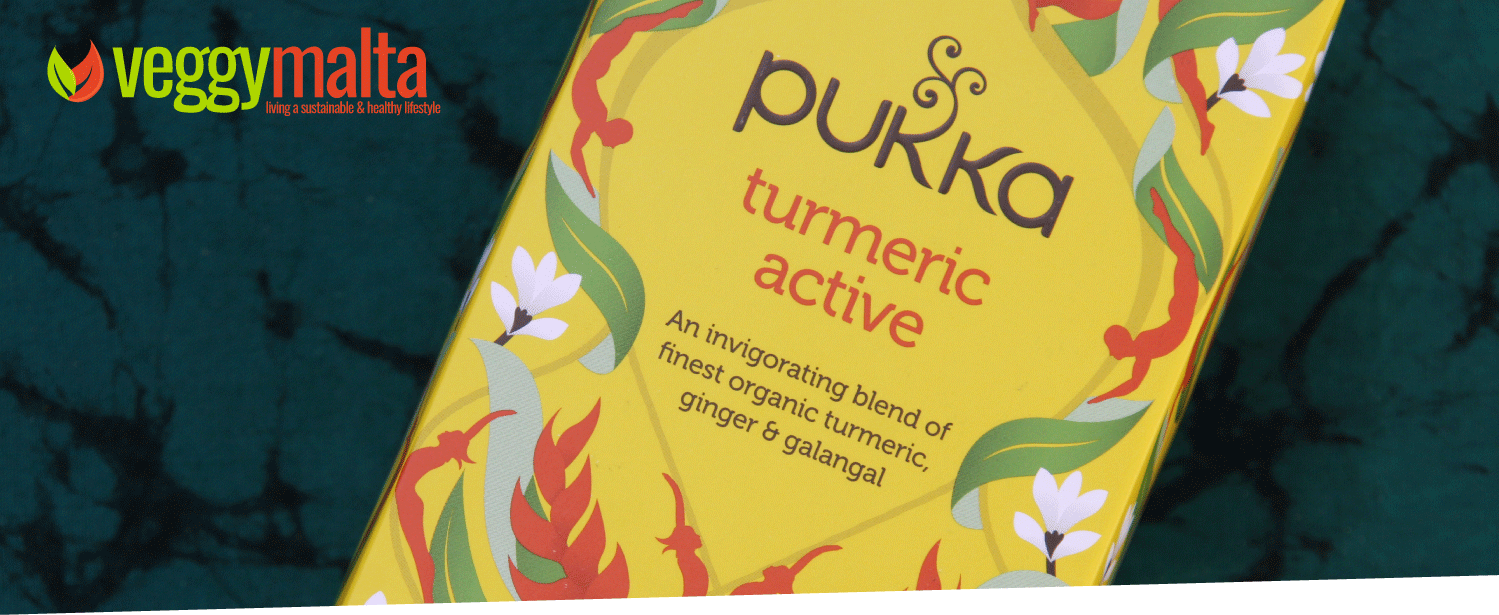 Veggy Malta tried out Pukka Turmeric Active, an organic herbal tea. This is one of Pukka's 42 blends of herbal teas. All organic.
The Pukka Turmeric Active, as the name implies is targeted towards those individuals with an active lifestyle and would benefit from a turmeric supplement. If you go out jogging or power walking, or do some other regular exercise Pukka Tumeric Active is a convenient herbal tea ideally suited for your active lifestyle. This is because of the anti-inflammatory (and other) properties of turmeric. Though this herbal tea actually combines three spices being turmeric, galangal and ginger. All three are rhizomes and look very similar and are very complimentary. But there is more to this tea. There is liquorice root which gives it a subtle taste of natural sweetness. Orange essential oil flavour which adds to the taste. And a mix of three Indian triphala fruits that further link this tea to the east.
Making the tea is simple. Simply add hot water and there you have your tea. The comfort and ease of use is an important factor, especially when you weigh in the fact that you are drinking a 100% organically grown product. And let's not also forget that it is caffeine free.
Some other worldly facts about this product. It is a Fair for Life accredited product which is a Fair Trade programme also linked to social-economic benefits for the producers. It carries a FairWild accreditation, the EU and USDA organic certification label and is part of 1% for the Planet (meaning they give 1% of their turnover to environmental and social causes).
What about the taste! The mix of turmeric and ginger can be felt, yet there is also a feel of citrus (and other fruits). It's turmeric content gives it a yellowish colour. Whilst the warmth comes from the ginger. It definitely is a pleasant tea to drink.
What does it cost?
A box of 20 tea bags only costs €3.90. That's less than 20c per tea. It can be found in leading health shops and supermarkets. Pukka teas are imported locally by Health Plus Malta.