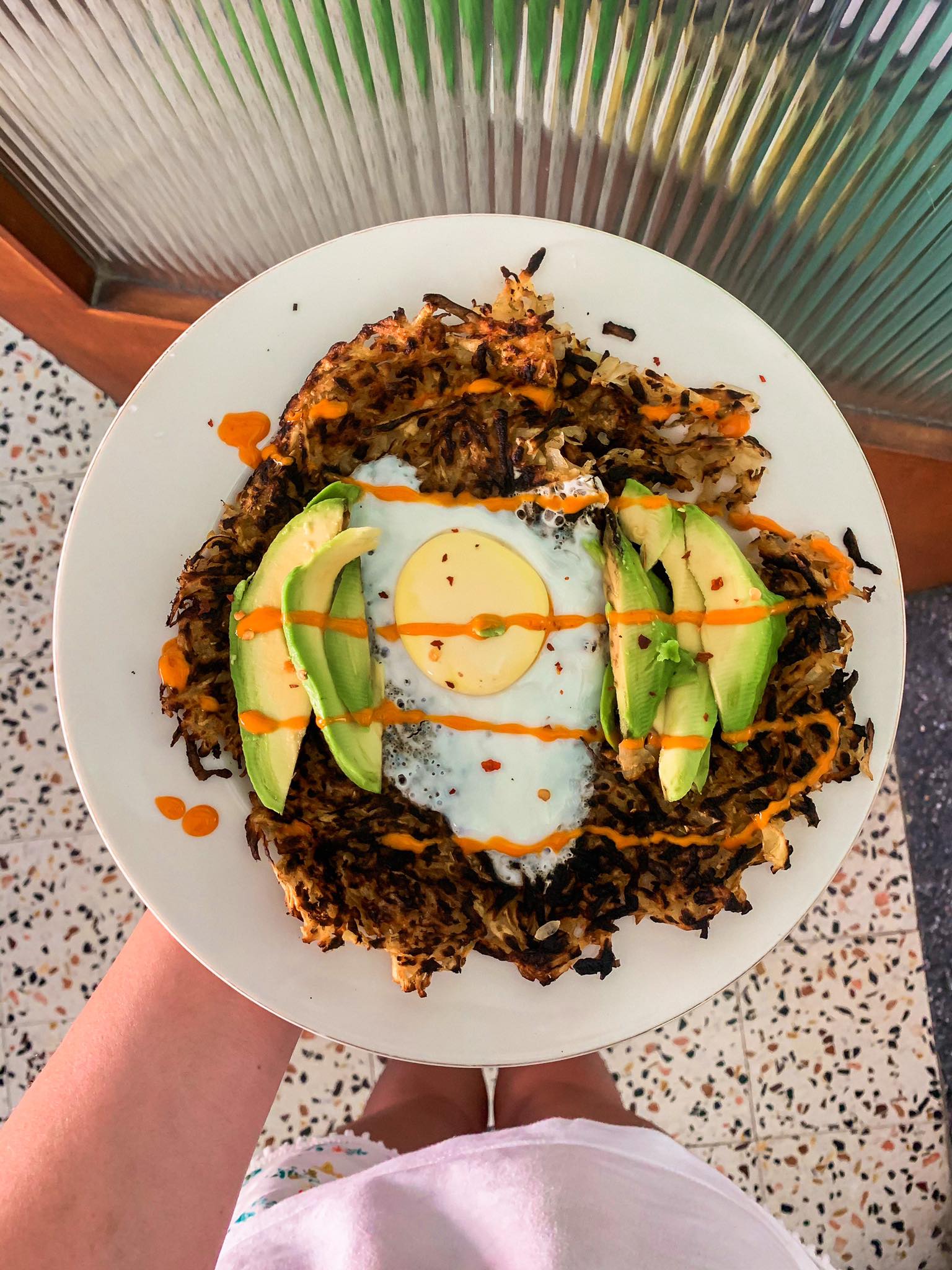 If you know me, you know that my love for potatoes is infinite. Mash 'em, fry 'em, boil them, bake them etc you can eat potatoes in any way and they're perfect. With Father's Day around the corner (21st June for those of you that forgot ?), this is the perfect way to surprise your Dad with an at-home brunch.
The below ingredients would make for either 2 small-to-medium pancakes or one big pancake:
1 potato (roughly 250g)
1/4 teaspoon Smoked Paprika
1/4 teaspoon Black Pepper
1/4 teaspoon Garlic Powder
1/4 teaspoon Onion Powder
1/4 teaspoon salt
1 egg (or vegan egg replacement of choice)
10g of your favourite butter
Equipment you will need:
Grater
Sieve
Dish Towel
Big bowl
Instructions:
Wash your potato.
Grate the potato into shreds directly into the sieve to make it easier to wash the starch out.
Once all the potato has been grated, run the potato shreds under water, till the water comes out clear.
Transfer shredded potatoes to a dish towel and squeeze all the water out – this is important so as to get a crispy pancake.
Transfer potato shreds into a bowl and add the following to the shreds: paprika, salt, black pepper, garlic powder and onion powder.
Add the egg or vegan replacement of choice to the bowl.
Either using your hands or a utensil combine all the ingredients.
In a big pan melt 10g of butter of your choice.
Transfer potato shred mixture to the pan and squish down.
Cook for 8 mins, covered, on med-high heat, flip and cook the other side for another 8 minutes.
Serve and Enjoy!
The above makes a delicious but plain pancake. Now it's time to jazz it up to your liking!
I made two versions of this dish:
 An egg, avocado and hot sauce version. You can cook your egg to your liking (poached, boiled, fried). I had mine sunny-side up with a runny yolk. Cut up some avocado and drizzle on some sriracha.
A more "fancy version" with mozzarella, pesto and tomato.
The following link shows you a step by step cooking tutorial on how to make the pancake: https://www.instagram.com/stories/highlights/17852318408085726/
If you do make this make sure to tag me on Instagram: @_nevena.aleksic_