These soft and super moist applesauce muffins are packed with wholesome ingredients.
Light and fluffy, with just 9 ingredients, it's everything you could ever hope for in a healthy snack!
These muffins have a delicate apple flavour which surely will be loved by everyone. Just perfect for Autumn!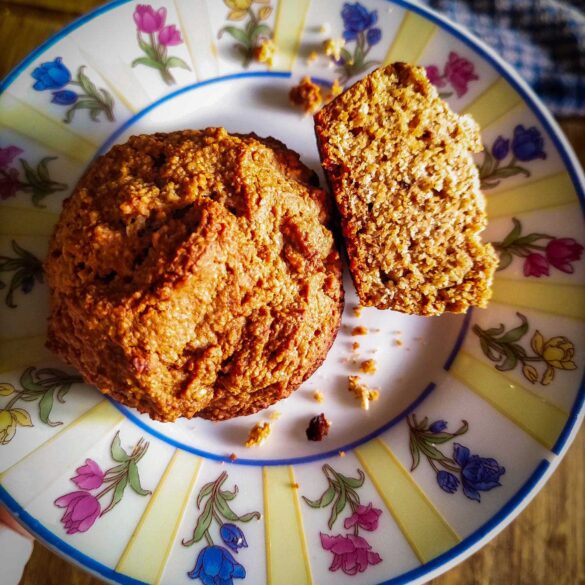 Ingredients
1/2 cup applesauce (if you don't have at hand, just boil and mash 2 apples into a puree)
1/2 cup water
3 tbsp coconut oil
2 tsp pure vanilla extract
1 tbsp white or apple cider vinegar
1 1/2 cups oat flour
1/3 cup sugar, unrefined if desired
3/4 tsp each: salt, baking powder, and baking soda
1/4 tsp cinnamon, and optional 1/4 tsp allspice
1/2 cup dried cranberries, chopped walnuts, or shredded coconut (optional but I highly recommend not skipping these)
Instructions
Preheat oven to 180 degrees C.
Whisk the first 4 liquid ingredients.
Add all remaining ingredients and gently mix to form a batter.
Fold in the optional cranberries, walnuts and shredded coconut.
Plop the batter into your greased muffin pan.
Bake 15-20 minutes on the oven's centre rack until golden. Insert a toothpick to check that they're all cooked though.
Let cool, then enjoy!
Notes
You can also do this recipe as a cake instead of muffins. Baking time may vary though (20-30 minutes). I highly recommend to let it cool before serving, and it will taste better the next day! Works great as a healthy snack, dessert or even as a breakfast option!