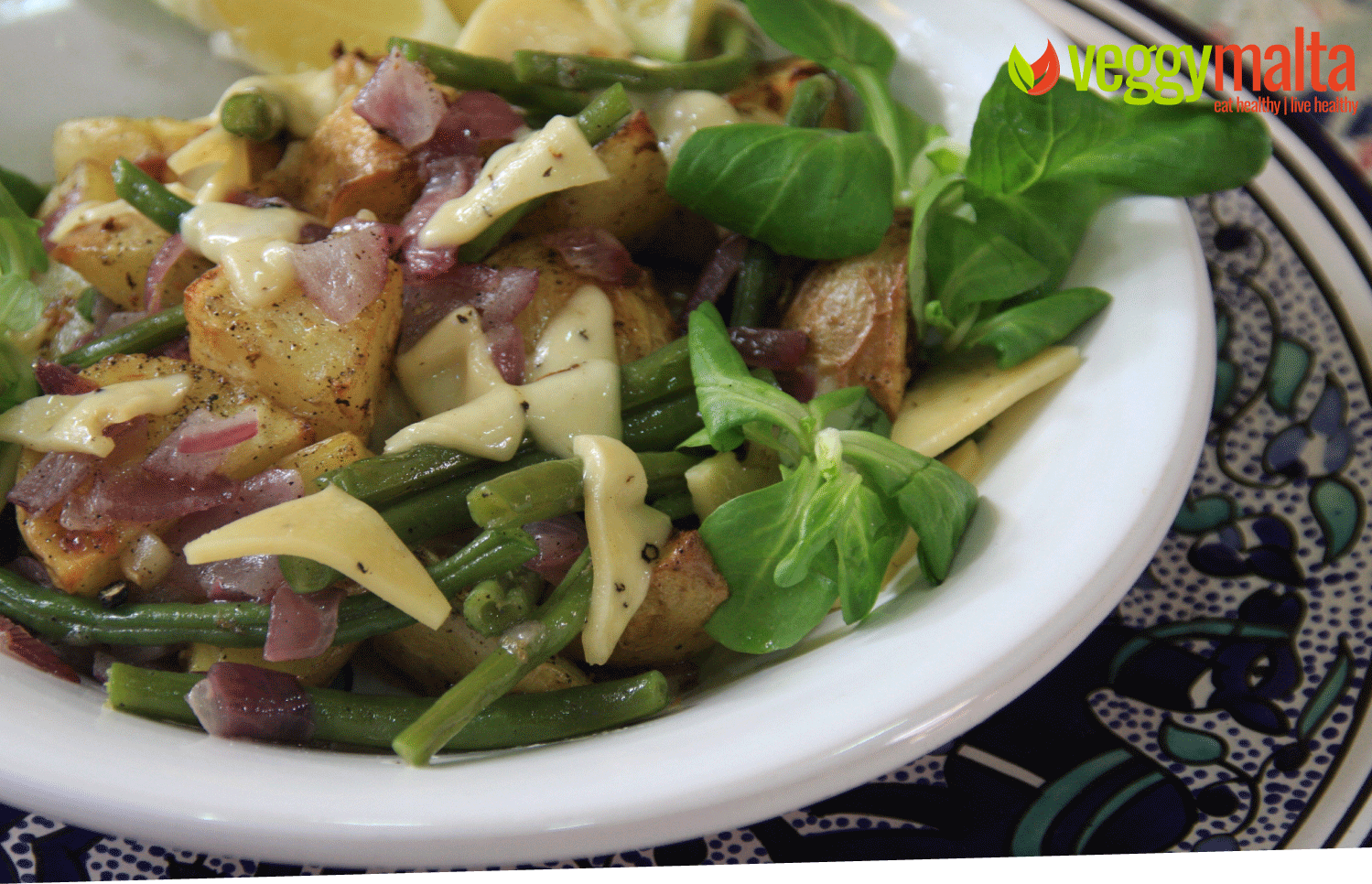 Veggy Malta tried out a simple yet delicious dish that is totally filling and absolutely tasty. This vegetarian recipe gets it's extra kick from the Fior di Vita Pepato cheese. You can also use this dish along with some vegan alternative meat.
Cooking instructions for the Baked potatoes and Green beans with Pepato cheese
Preheat the oven to 250. Cut the potatoes in quarters and drizzle with some olive oil. Put foil and place the potatoes on them. Add some salt and pepper on them. 
Leave them for 25-30 minutes or until they are crisp and tender inside.
Whilst the potatoes are baking add some oil to a pan and heat gently. Finely dice an onion and add it to the oil leaving it sweat for a minute or two. lower the heat and add the green beans. Season to taste. Remember that the cheese is both slightly salty and has pepper. Let them cook for around 5 minutes. Add some garlic and continue cooking for another 3 minutes until the beans are tender.
Add the roasted potatoes to the mix and toss them all around.
Plate the mix.
Take out two slices of Fior di Vita Pepato cheese and cut then in triangles and place on the vegetable mix. The cheese will slightly melt on the potatoes.
Add some cilantro leaves to the dish and a couple of lime wedges (to be squeezed just before eating).
Enjoy
Ingredients for the Baked potatoes and Green beans with Pepato cheese
Olive oil
Potatoes cut into wedges
salt & pepper
Half an onion
Garlic clove
Green beans
2 slices of Fior di Vita Pepato Cheese
Fresh lime
Cilantro leaves
Quality Foods (Marketing) Ltd. has declared that non-animal rennet is used in the production of Fior di Vita Pepato Cheese and is therefore suitable for vegetarians.