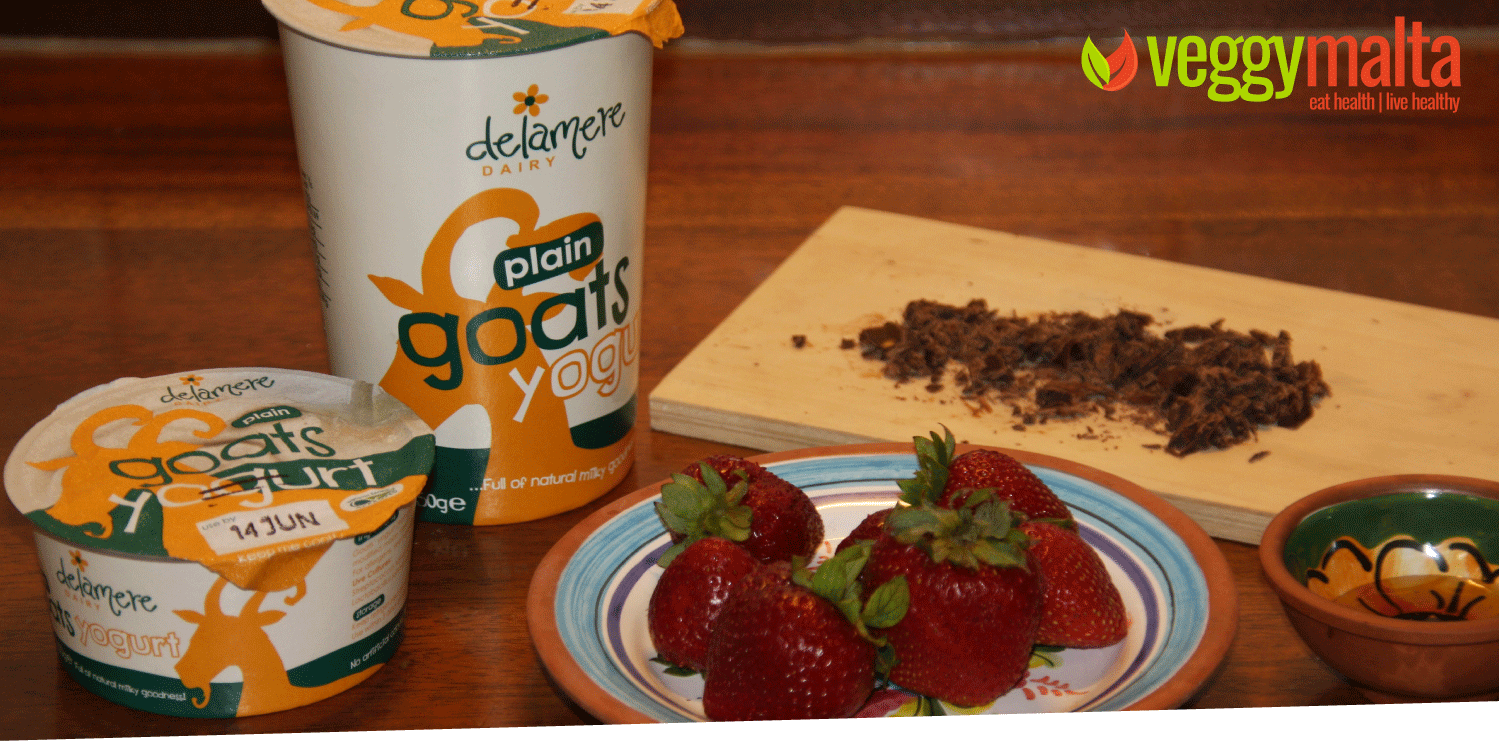 Summer is starting and so Veggy Malta is suggesting creative healthy foods that kids and adults can all enjoy. Using Delamere's plain goats yogurt, you can make strawberry & chocolate frozen bark in around 3 or 4 hours. This can be a healthy and nutritious and refreshing snack. Furthermore it is very easy to prepare. You can change the fruit, or add other fruit to create new tastes and flavours.
The main ingredient of this recipe is Delamere's plain goats yogurt.  Traditionally goats milk is easier to digest, causes less inflammation and has fewer allergenic proteins than cow's milk. Goats milk is also lower in lactose, or milk sugars, than cow milk. Whilst many people suffer from inflammation and IBS and other issues when consuming cow milk, they could not have the same symptoms when taking goats milk. [1] Interestingly Delamere's plain goats yogurt is also approved by the Vegetarian Society.
Cooking instructions for the Strawberry & Chocolate Frozen Delamere plain goats yoghurt Bark
Place the goats yogurt, local honey in a glass container
Add the few drops of vanilla
Mix the above well
Slice the fresh strawberries
Crush the chocolate into small pieces
Pour in a tray lined with cooking paper (so it doesn't stick to the tray when frozen)
Then place the fresh strawberries on top and then sprinkle the chocolate all over
Put in the freezer for 3 to 4 hours
Take out and cut into cubes and eat.
Ingredients Strawberry & Chocolate Frozen Delamere plain goats yogurt Bark
1 large tub of Delamere Dairy plain Goats yogurt
5  large strawberries
A bar of 100% cacoa (vegan chocolate)
Two tablespoons of local honey or maple syrup
A few drops of vanilla