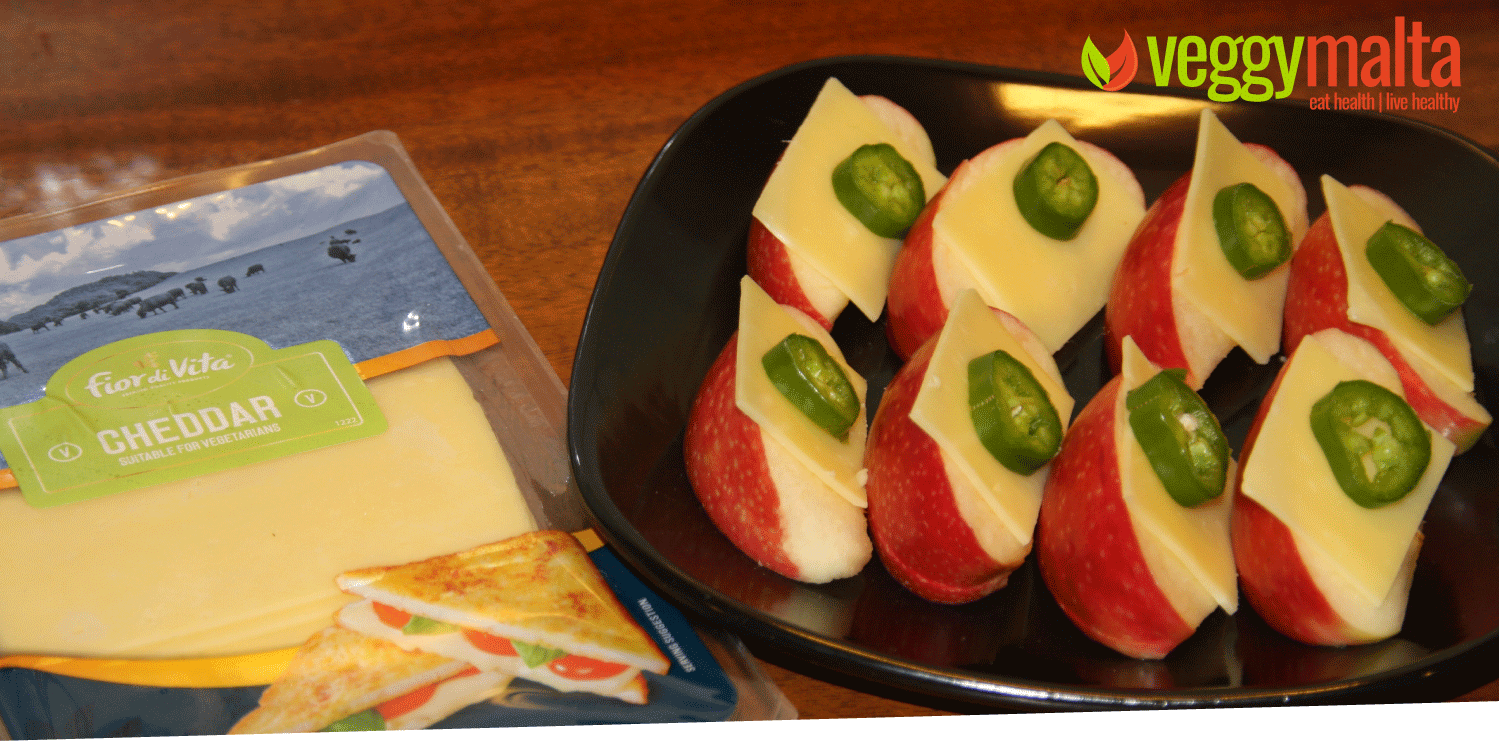 Veggy Malta tries out a typical American pairing; apples and cheddar.
It's not the thing you would normally find locally, (unless locally would be in Vermont USA). Yet these two pair off very well. In fact you can find many recipe ideas with apples and cheddar. Some melt the cheese on apple slices, or even make a sandwich with both inside. You can also find the two used together in toast, tortillas and salads.
Veggy Malta has tried out two variations with apple and cheese but you can also experiment and try out other additions. The first version is for the brave hearted. It includes apple wedges, a slice of cheese and a piece of jalapeño. For those who don't like or cannot muscle the spicy stuff, you can easily replace the jalapeño with a dash of honey. This is a very fast and simple recipe and can be prepared in around 5 minutes. It makes it ideal if you are pressed for time when friends are coming over or if you are looking for a quick afternoon snack. This recipe is suitable for vegetarians given that the Fior di Vita slices use microbial rennet.

Cooking instructions for the Apple & Fior di Vita Cheddar slices with Jalapeño or honey
Cut two apples in wedges. Each apple should be divided into eight pieces. Clean out the seeds and the core.
Cut the Fior di Vita cheddar slices into smaller pieces.
Cut thin slices of jalapeño (if you are doing this version).
Layer them all on top of each other.
If you are doing the honey version, add a dash of honey on top of the wedges.
Serve fresh.
Ingredients for the Apple & Fior di Vita Cheddar slices with Jalapeño or honey
2 apples
Fior di Vita cheddar slices
¼ jalapeño or
A dash of honey