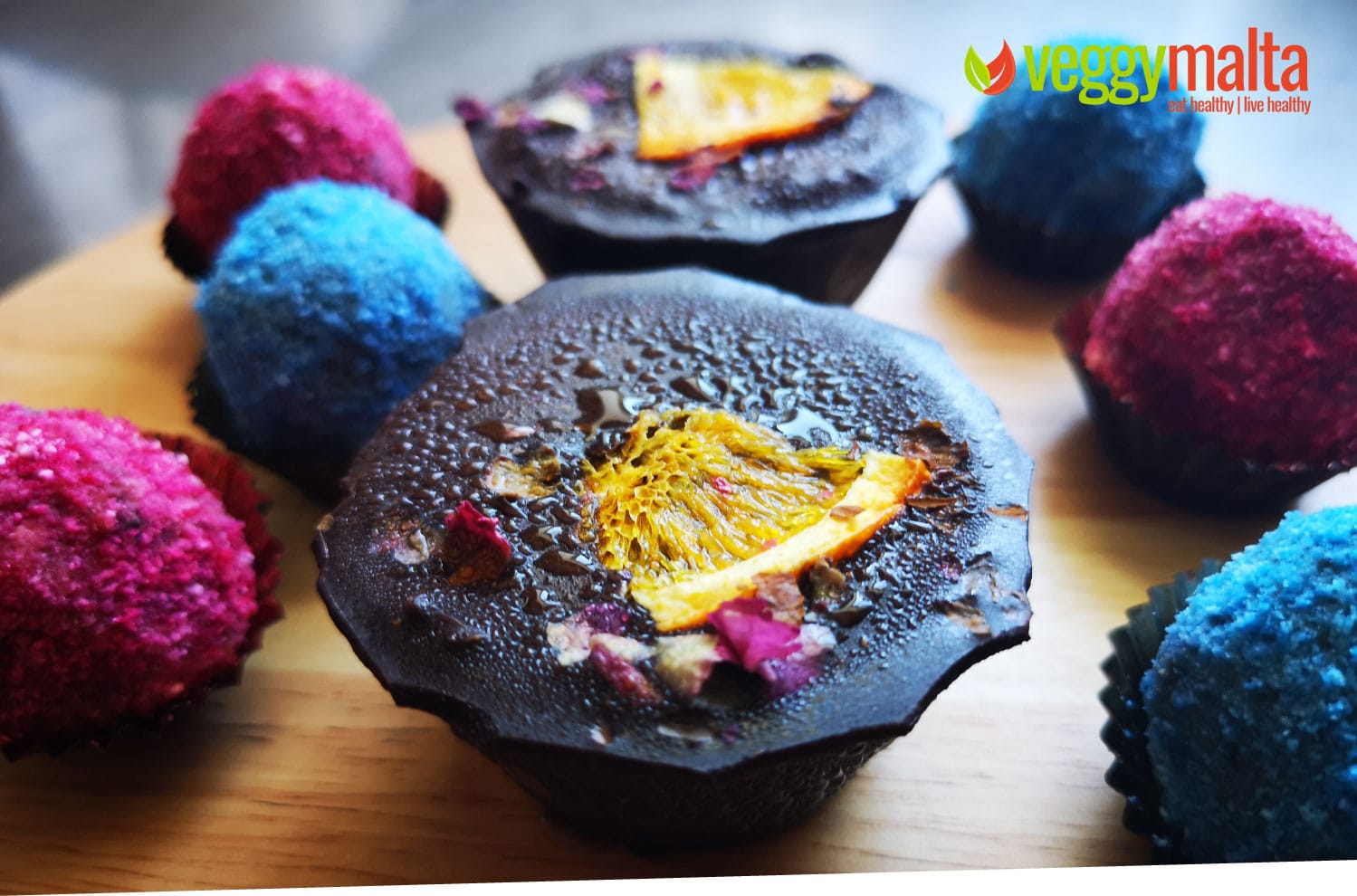 We caught up with Anurakti to see what their plans are for this year's Malta International Food Festival in Mdina happening between the 17th and 21st July. This year Anurakti is twinning up with Coffee Circus for the festival and one can visit their stand at the fair and taste and buy their collection.
A number of things have happened since we last spoke. They have launched their new website, which includes an online shop (so now you can keep your fridge always stocked). And they are offering packages for vegan weddings, parties and private events. Needless to say, Anurakti products are vegan, gluten free and contain no added sugar. As always Anurakti launch a number of new products in time for this event and Alan and Thea were happy to explain these new products.
Divina Tart & the Raw brownie
We start with the Divina Tart. An interesting note about this explosion of raw cacao flavour came about after a period of creative block for Alan. The result is a raw chocolate tart with a biscuit base filled with caramel and covered with dark chocolate. It is made from almonds, tiger-nuts, oranges, dates,  homemade peanut butter, Himalayan salt, plus coconut oil, cacao butter and raw cacao (of organic origin). This is a treat totally worth digging one's teeth into.
Anurakti didn't have a brownie in their collection so it was time to churn one up. This new creation by Thea is a raw fudge brownie that gives the full feeling of a traditional brownie.

Pink and Blue Moons
It certainly doesn't happen once in a blue moon to eat something delicious from Anurakti. Anurakti have launched two more raw energy balls, the Pink Moon and the Blue Moon. No secret what colours these are. The Pink Moon is made from Goji berries, oats (of organic origin), raisins, dates, cranberries, almonds, raspberries, beetroot and vanilla. The Blue Moon is made from ground almonds, hazelnuts, coconuts, blueberries, dates and blue spirulina (from organic origin).
The list of raw energy balls now includes Cacao & coconut, raw Detox, Ginger Defender, Green Bliss and the Pink and Blue Moons. Yet we are advised that more colours and flavours will be coming out soon.
Apple Cinnamon Loaf
Finally there is the Apple Cinnanom Loaf was created since Anurakti was receiving a number of requests for gluten free baked items. So it was decided to launch this new product, . The loaf is made from apples, cinnamon, raisins, rice flour, buckwheat flour, xanthan gum, dates, cashews, almonds, tiger nuts, coconut and pistachio. an ideal companion to your afternoon (vegan) tea.
We look forward to more vegan and gluten free creations by the Anurakti team.