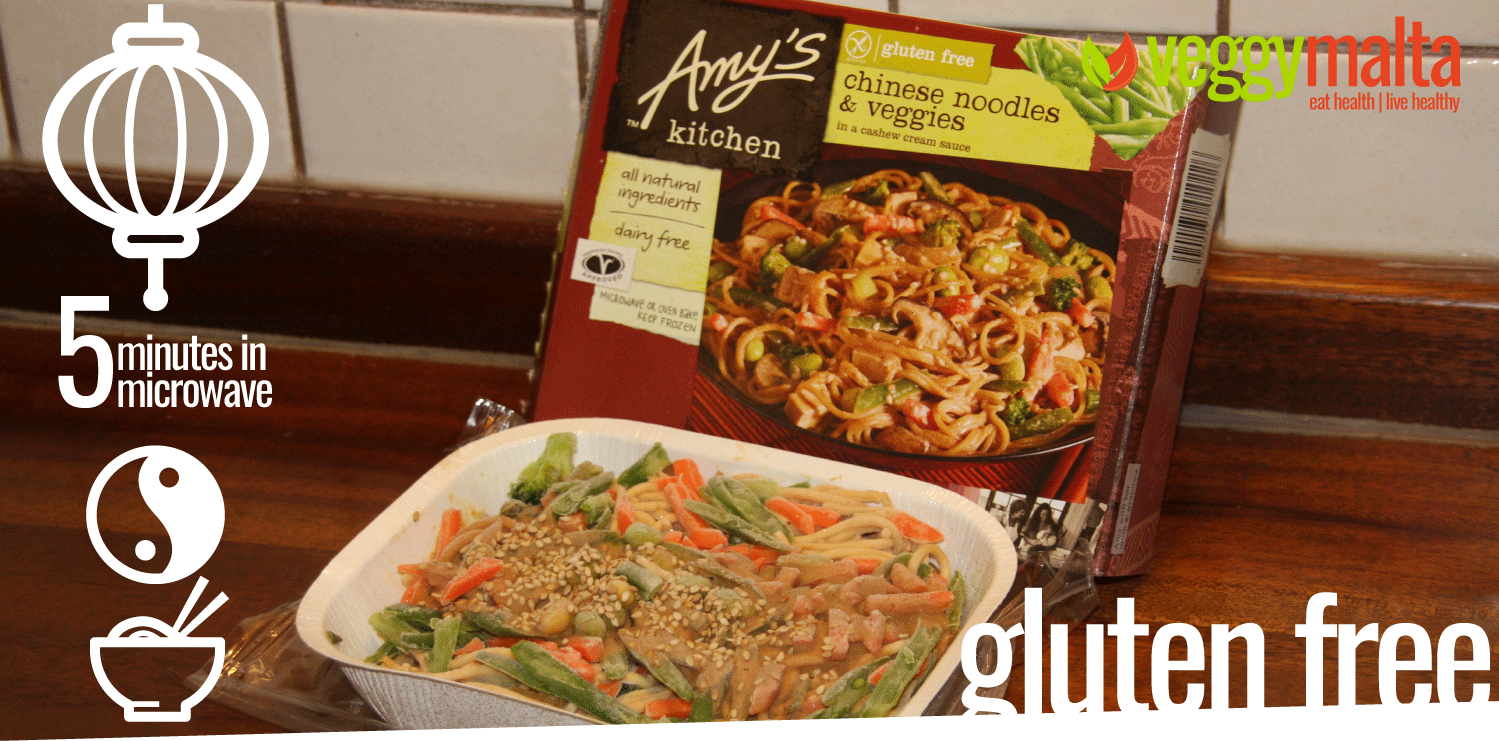 Veggy Malta tried out Amy's Kitchen Chinese noodles and veggies. This new brand which has recently arrived on the Malta shores all the way from California has an ample range of ready prepared foods to choose from.
First of all the Chinese noodles and veggies dish is gluten free, vegan, dairy free and lactose free. Having said this, it isn't free from taste. In addition it is sinfully easy to prepare. Just open the packet and remove the noodles from their wrapping. Leave everything in the baking tray. I chose to heat it up in the oven yet you can use the microwave if you are in a hurry (or if you only have a microwave available). I left it for under half an hour with the cooker on at 190° C, and fan switched on. Finally I put the heated noodles in a bowl (as they were camera shy in the tray) and dug in.
The Chinese noodles are actually rice noodles with baked tofu, shiitake mushrooms, broccoli, julienned carrots and other vegetables in a cashew cream sauce. Apart from giving taste to the dish shiitake mushrooms are know to be rich in vitamins, minerals and antioxidants. [1] There is a right balance between the noodles and the other ingredients. They add to the fun of the plate yet do not overpower it. Also a particular taste that springs out is that of the organic tofu.
Mentioning organic, 90% of the agricultural ingredients used are produced in accordance with the rules of organic production under US organic certification. In fact there are very few ingredients that are not labelled as organic.
This Vegetarian Society approved meal is good convenient food. Because of how simple it is to make, it is ideal for taking to the office with you. Furthermore this plate provides 16g of protein and only 480 kcal.
How much do the Chinese noodles and veggies cost?
A packet of Amy's Kitche Chinese noodles and veggies costs €5.95.
Amy's Kitchen is imported locally by Rimus Trading Agency.