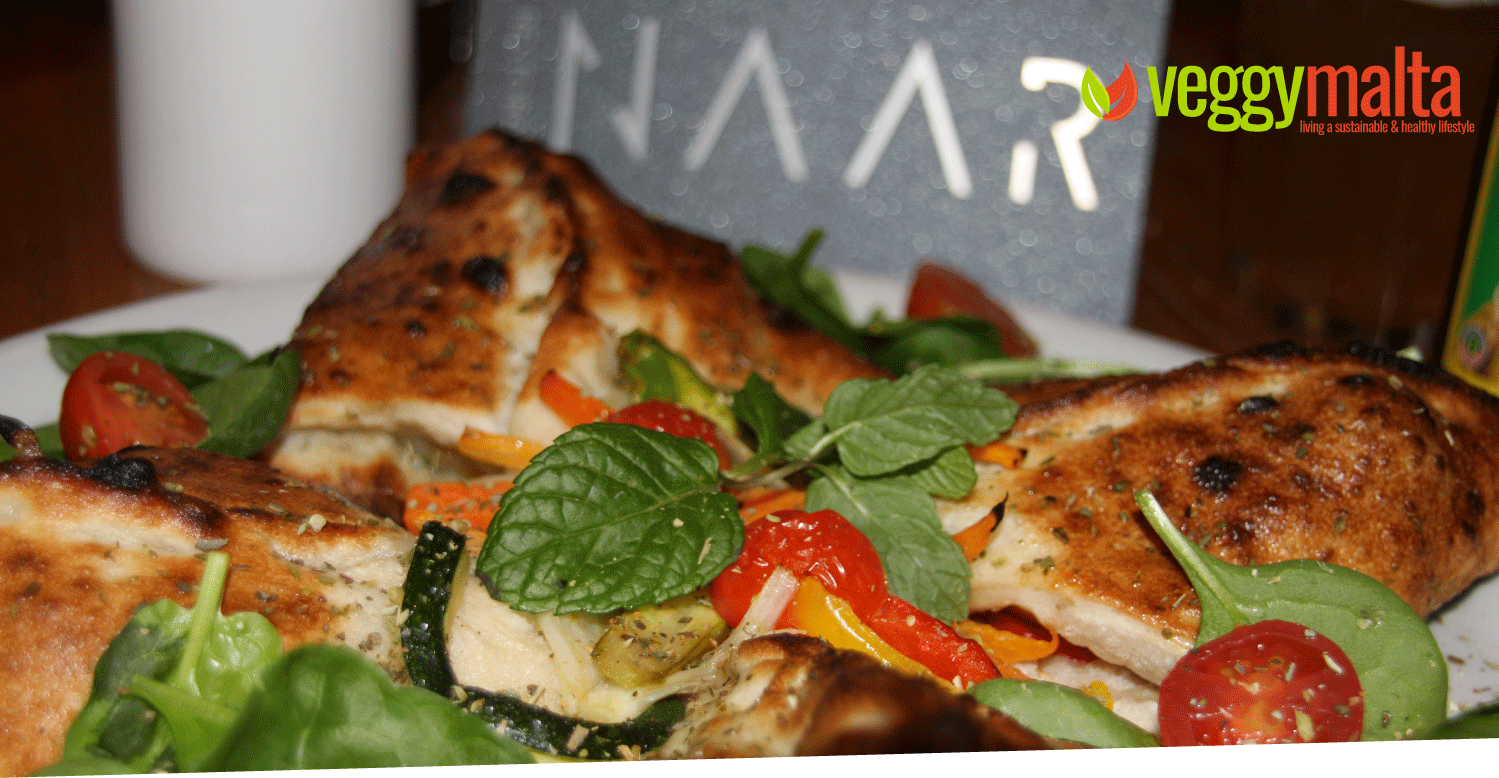 Veggy Malta went to Naar in St. Julians to try out their vegetarian and vegan range. The menu is 30% vegetarian / vegan. Plus, any dish on the menu can be made to be gluten free. Mel, the General Manager and Head Chef of Naar, told me that vegetarians and vegans are in for a positive surprise in the new upcoming menu!
I started with the Vegan Star Pizza. In fact I was curious. I wanted to see a pizza in the shape of a star! And a star it was, as you can well see in the pictures. The filling has tomato sauce, sweet peppers, marrows, carrots, onions, mint, oregano and mushrooms. Before being put inside the pizza, the vegetables are first roasted with chilli, ginger, and cardamom pods. Garlic oil is brushed on the pizza base to add taste and flavour. The base is cut and wrapped around the vegetables to form pockets which make the shape of the star.
Digging into the pizza, you can taste the mixture of flavours from the vegetables along with the spices. The pizza is very filling and I didn't manage to eat it all, so I took part of the star back home with me (much to my daughter's delight). Along with the pizza I drank a vegan beer, which was a nice plus to the meal.
Although I was quite full, I couldn't resist indulging myself in the Vegan Chocolate Fudge cake. The Vegan Chocolate Fudge is made from vegan cocoa powder, pistachios, unrefined sugar, baking powder, fresh vanilla, vegetable oil and vegan vinegar. Whilst the chocolate topping is made from soy milk, vegan cocoa powder and margarine. As a keen chocolate lover, the fudge cake wrapped the meal with a smile.
What would it cost you?
So the next question is what would the pizza and the cake cost to eat? The vegan pizza actually costs €10.95 whilst the vegan fudge is €4.50. The added plus is that there are ample other vegetarian and vegan choices on the menu. Naar is located at the Neptunes waterpolo pitch, at Balluta Bay. The restaurant is below street, and on the seaside of the road. Open from 10.00am till 10.00pm. You can find the map here. They have a facebook page and also a website.