Most of the people who live healthy know how hard can it be to maintain a healthy lifestyle on a busy day at work. And if you are not focused on healthy eating habits, you may tell yourself why to even start, you don't have time for this. It is so much harder to eat healthy food on a busy day, when most of the people just go to the closest pastizzeria because they do not have time to search for healthier options.
The secret is in prepping. Prepare your food in advance, so when you are ready to go you just pack everything up and head to work. No need to go to pastizzeria anymore 🙂 Here are some simple ideas and recipes for healthier eating during a day at work, or school.
Small tip: How to build up a perfect healthy meal? Your plate/ lunch box/ breakfast jar should consist of 50% carbohydrates, 25% protein and 25% fat. Ideally include micronutrients as well – fruit and vegetables. It is quite difficult to estimate it if you are new to it, but focus on this: you should have at least one item in the meal representing each of these groups. That is why I add protein everywhere – for vegetarians and vegans the most troubling of macros 😀
Breakfast
1. Porridge
1/2 cup rolled oats ( I blend half into flour but it is not necessary)
1 tsp chia seeds or flax seeds
1/2 scoop soy protein powder (optional)
Sweetener of choice (if using) – stevia, brown sugar…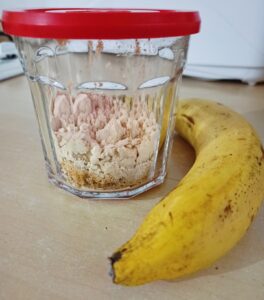 For different variations you can also add: Instant coffee or turmeric powder or cinnamon or peanut/almond flour
Fresh fruit or nuts
Preparation: Mix all the ingredients in a glass jar (see picture – this one is from top choice for 1,49€ but you can use any other jar for example from jam). In work, just boil water and top up the jar. Stir well – bottom too, so you don't have places with dry mixture left. Let sit covered for about 10 to 15 minutes, then stir again and top with some fruit (apple) or nuts.
Nutrition: 950kJ/ 227kcal 29g Carbs, 4g Fat, 19g Protein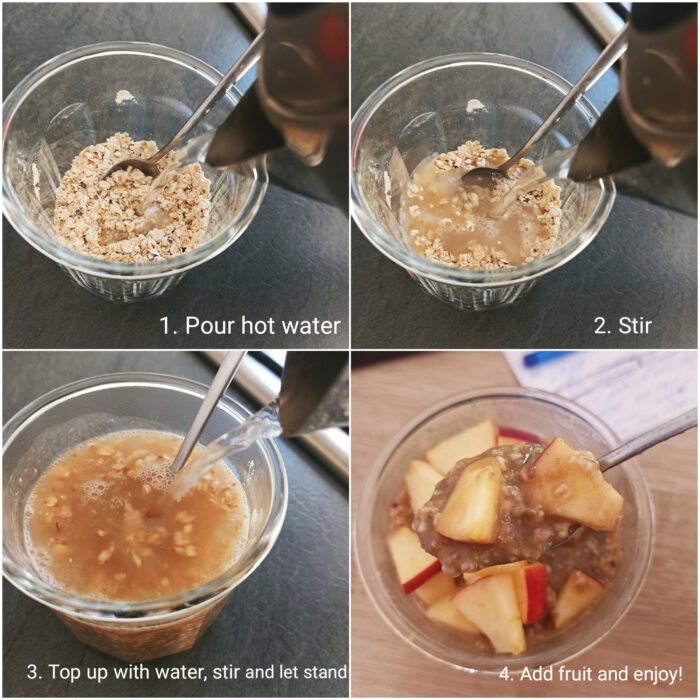 2. Overnight oats
1/2 cup rolled oats
1 tsp chia seeds
1/2 scoop vegan/soy protein powder (optional)
Cinnamon
1 tsp maple syrup or other sweetener (if using)
100g plant-based yogurt – I used alpro coconut
Splash of plant milk if needed
Fresh fruit or nuts/ nut butter/ shredded coconut
Preparation: Mix all the ingredients above in a glass jar. It should be runny consistency, because the oats will absorb most of the liquid over night. Therefore, it will thicken. Top according to your preference – mine has fresh strawberries and meridian foods smooth peanut butter.
Nutrition: 1251kJ/ 299kcal 36g Carbs, 7g Fat, 23g Protein
3. Yogurt and home made granola
1/2 cup home made granola
150g plant based yogurt (I used Alpro almond)
Fresh fruit of choice – nectarine/banana/apple
Preparation: Prep the yogurt and fruit in a glass jar. In the morning just add the granola. The reason I do not like to put it together the night before is, that the granola goes soft when it's not stored in a dry place. Therefore, it is better to add it in the morning to keep it crunchy.
Nutrition: 1054kJ/ 252kcal 30g Carbs, 9g Fat, 14g Protein
4. Avocado spread sandwich
1/2 ripe avocado
1/2 tbsp lemon juice
Salt, pepper, ground cumin, garlic powder
Sliced brown toast bread – I use Jasper's Wholemeal Country loaf
Optional: Tomatoes or olives or spring onion
Preparation: Mash the avocado in a bowl till smooth. Add the rest of the ingredients, mix well and spread on one slice of toast*, close off with another slice. Place in a plastic or glass container, enjoy in work.
*you can also add veggies such as cucumber or tomato slices in.
Nutrition: 1041kJ/ 249kcal 29g Carbs, 12g Fat, 10g Protein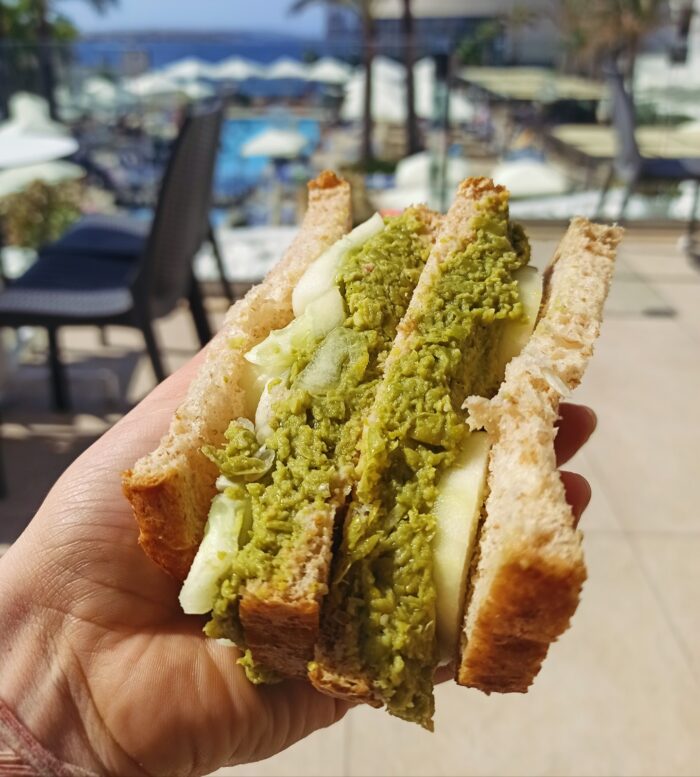 5. Veggies with hummus
1 can of chickpeas
Juice of 1/2 lemon
1 tbsp tahini
1 tsp olive oil
Salt and pepper
Optional: Fresh coriander or green olives or cooked beetroot
Vegetables of choice
Preparation: Drain the chickpeas and put in blender together with the rest of the ingredients (optional ones too, if using) except for veggies. Blend until smooth. Transfer to a glass jar or small container. Cut your vegetables into stripes – for example cucumber, carrot or bell pepper and place in a small container. When ready to eat, just dip the veggies in hummus. You can also eat it with some wholegrain crackers.
Nutrition: 1586kJ/ 379kcal 47g Carbs, 18g Fat, 18g Protein
Lunch
1. Pasta salad
Cooked pasta of choice – I used whole wheat
Vegetables of choice – carrot, cucumber, corn, chickpeas, tomato
Salt, pepper, garlic powder, chilli flakes
1/2 tbsp olive oil
1/2 tbsp soy sauce
Black sesame for garnish
Preparation: Cook pasta according to the packet instructions. Mix oil, soy sauce, salt, pepper, garlic powder and chilli flakes in a jar/glass. Cut the vegetables into cubes, mix with pasta and pour over with oil mixture. Combine and top with black sesame seeds.
Nutrition: 1648kJ/ 394kcal 64g Carbs, 11g Fat, 13g Protein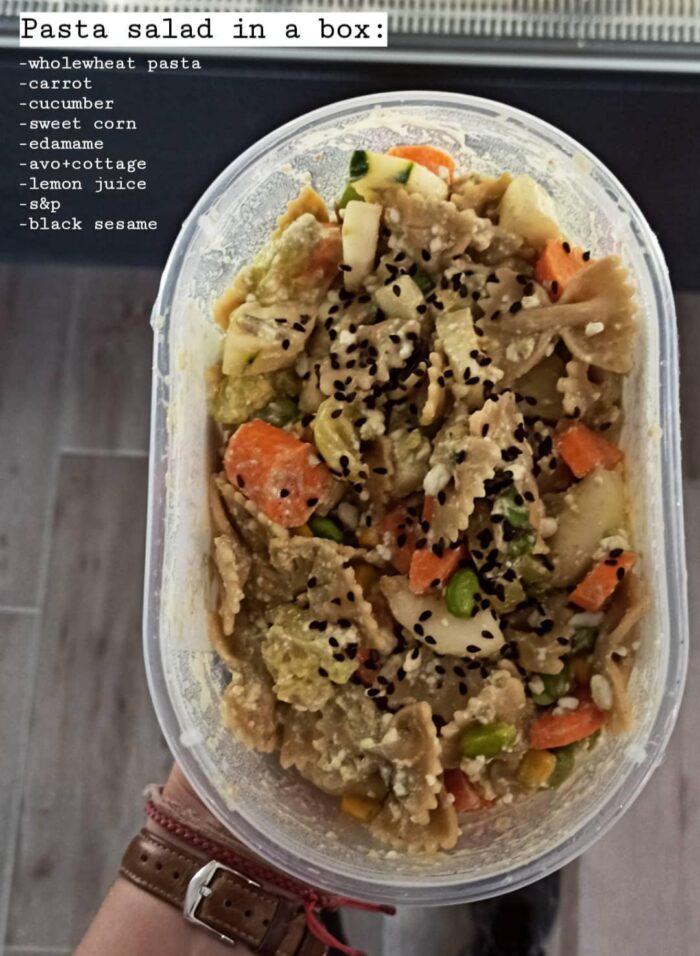 More pasta salad ideas: Pasta salad variations, balsamic roasted fusilli, rice noodle cup
2. Butter bean "tuna" sandwich
1 tin butter beans, drained
4 tbsp vegan mayo
1 tsp mustard
1/4 small red onion, diced
1 tsp maple syrup
1/4 tsp smoked paprika
salt and pepper
Other ingredients: 4 slices of bread, lettuce, cucumber, tomato (according to preference)
Preparation: The whole recipe with instructions on veggymalta.com
Nutrition: 1849kJ/ 442kcal 23g Fat, 50g Carbs, 13g Protein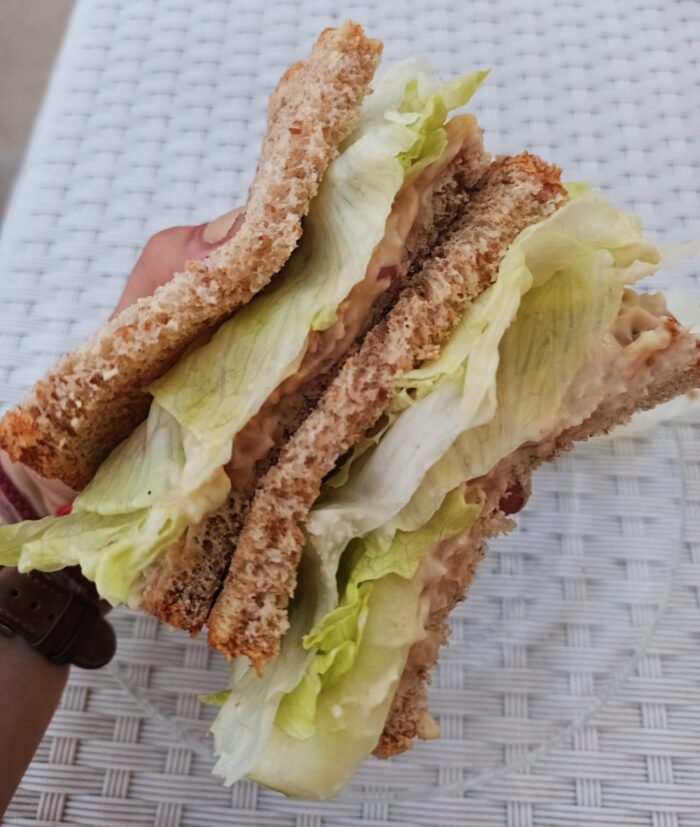 3. Potato salad with falafel
Potatoes boiled in water (cca 250g)
1/2 can white beans
1/2 tbsp mustard
1/2 tbsp lemon juice
Salt and pepper
Veggies of choice – onion, bell pepper, corn, pickles
Store-bought or home made falafel
Preparation: Blend the drained beans, mustard, lemon juice, salt and pepper together. Cut vegetables into small cubes, add to boiled and cooled potatoes and combine together with the white bean sauce. Defrost the falafel (if store-bougt), fry on the pan from all sides (or bake in the oven) and serve with the salad.
Nutrition: 2301kJ/ 550kcal 103g Carbs, 7g Fat, 21g Protein
4. Red lentil patties
150g red lentils
1 tsp olive oil
1 bigger carrot
30g wholewheat flour
1 small onion
2 cloves garlic
ground cumin, turmeric powder, paprika, salt and pepper
Preparation: Saute chopped onion on a pan with oil, after few minutes add minced garlic cloves. Then add all the spices, finally grated carrot and rinsed red lentils. Stir and cover with water so that the lentils are all covered. Cook till the lentils are soft and absorbed all water. Turn off the heat and add flour, salt and pepper. Spoon patties on a frying pan with oil and fry from both sides or bake in the oven (flip halfway through). You can serve them with salad, or use as a meatless burger patty.
Nutrition (1 serving out of 2): 1556kJ/ 372kcal 65g Carbs, 6g Fat, 23g Protein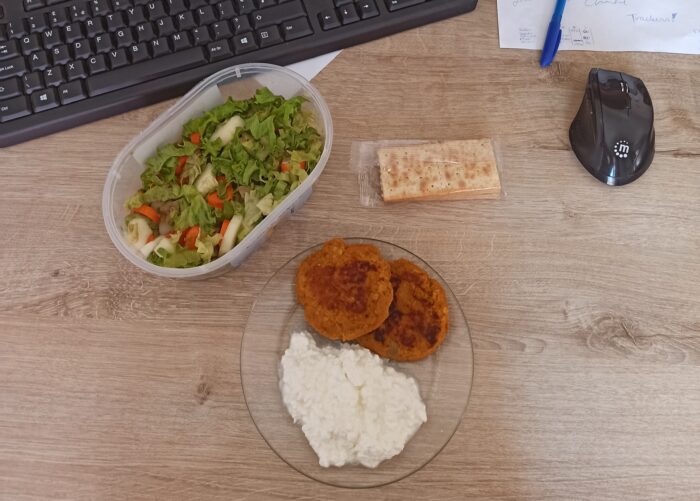 5. Veggie rice salad
1 cup cooked rice (1/3 uncooked) – I usually use jasmine
Vegetables of choice – lettuce, carrot, cucumber, tomato
Olive oil
Salt and pepper
Vegetarian sausages by Linda McCartney's
Preparation: Mix cooled rice with veggies, drizzle with oil and season with salt and pepper. Top with 2 fried vegetarian sausages.
Nutrition: 2192kJ/ 524kcal 70g Carbs, 16g Fat, 28g Protein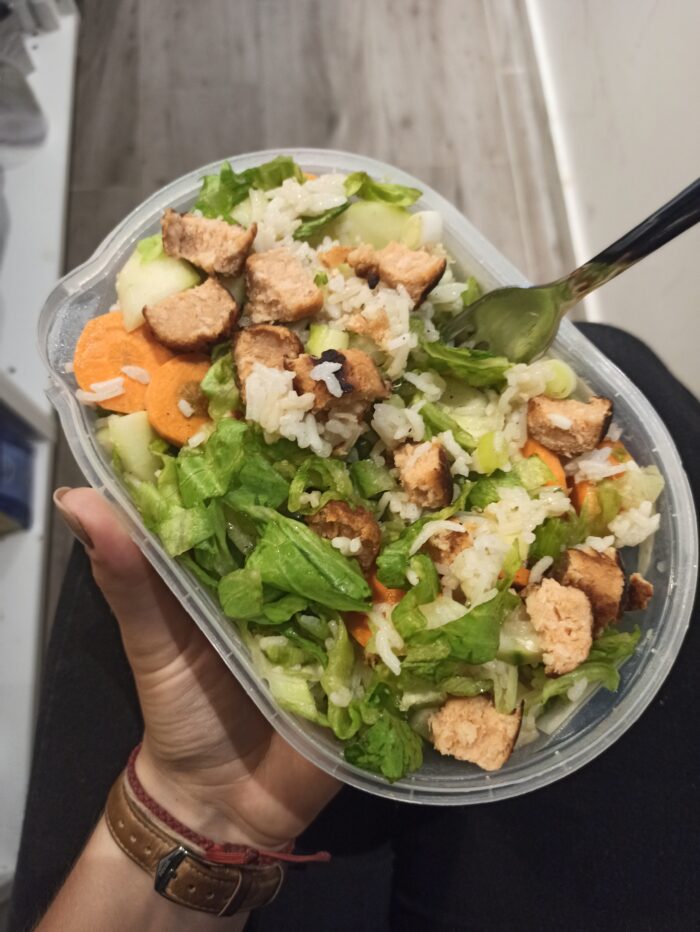 6. Quinoa bowl
1 cup cooked quinoa
Vegetables – cucumber, carrot, edamame beans, corn, avocado
Tofu/ tempeh (or other source of protein)
Black sesame seeds
Preparation: Just put everything to the bowl/container together. First cooked quinoa seasoned with salt, pepper and lemon juice, then veggies and your protein source cooked according to your preference. I would just fry my tofu on a pan with a bit of oil or bake it in the oven 🙂 Top with black sesame seeds.
Nutrition: 1882kJ/ 450kcal 56 Carbs, 15g Fat, 22g Protein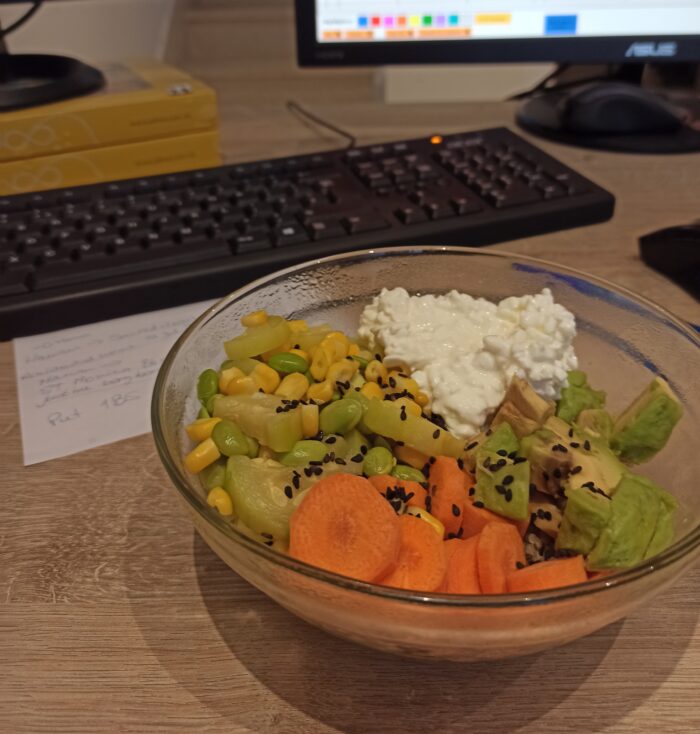 7. Bulghur wheat with sweet potato and zucchini
1/2 medium sweet potato
1 small zuccini
1/2 cup bulghur wheat
1 tsp olive oil
Salt, pepper, turmeric, garlic powder
Fresh basil
1 tbsp nutritional yeast
Preparation: Cube sweet potato and cook it on water. After few minutes add peeled and cut zucchini and bulghur, season with salt, pepper, turmeric and garlic and cover with water (you can also add plant-based cream). Cook till bulghur is almost done (about 10 minutes), turn the heat off, drizzle with olive oil and let stand covered 5 more minutes. Top with fresh basil and nutritional yeast.
Nutrition: 1448kJ/ 346kcal 65g Carbs, 7g Fat, 15g Protein
8. Leftovers upgraded
Just look inside your fridge and gather everything that you need to use up. For example, here I had some boiled potatoes and mushy peas from the day before. To that I just added one carrot and 1/4 avocado which was about to go bad and vegetarian sausage to add some protein.
Like this you can experiment with your food, explore new flavors and things you would never think of putting together. At the same time you will reduce your overall waste and save money 🙂
See picture below for how to build up a nutritional value lunch box using leftovers 🙂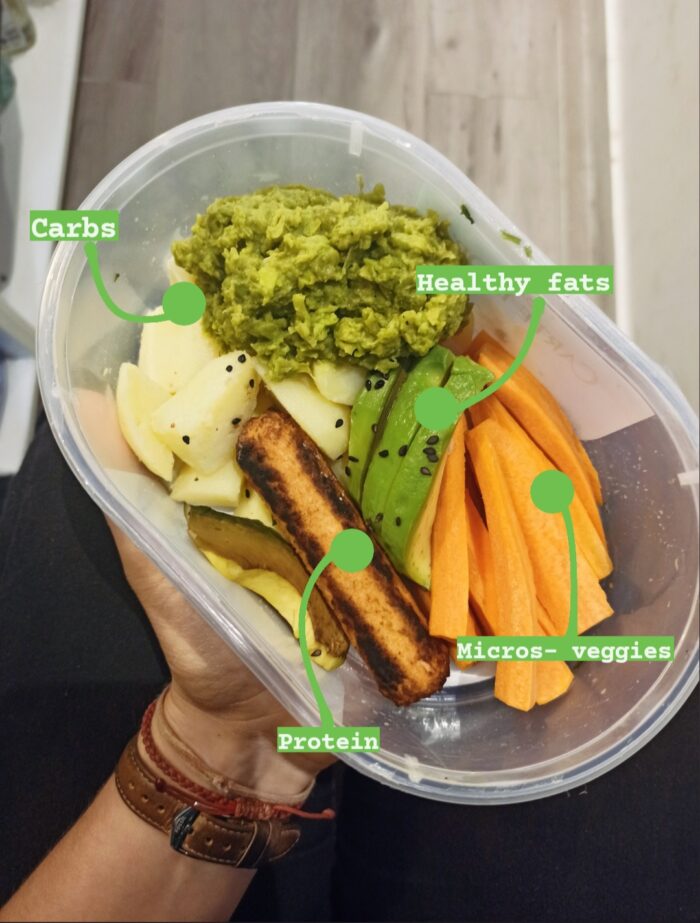 Snack
Always try to include some vitamins and healthy fats in form of fruit and nuts or opt for a protein bar – those are my favorite. Other things I like to snack on include my healthy cakes or cookies 🙂
1. Home made apricot cashew bars
3 fresh apricots
1/2 banana
20g agave syrup
90g oats – I used Good Earth
60g oat flour (oats blended into flour)
1 scoop vanilla soy protein – I used The Protein Works
1/2 tsp bicarbonate soda
1 tsp cinnamon
handful chopped cashew nuts
The whole recipe with instructions on veggymalta.com
Nutrition: 406kJ/97kcal 2g Fat, 15g Carbs, 5g Protein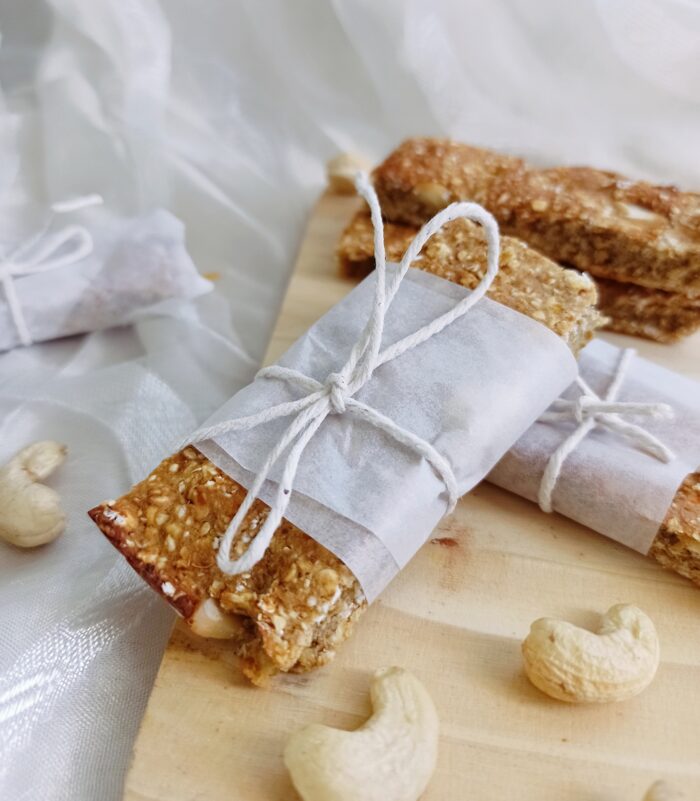 2. Lemon strawberry scones
2 cups self-raising flour
1/4 cup brown sugar
2 tbsp lemon juice
1/2 cup plant milk – I used Valsoia light soya milk
1/4 cup coconut oil, melted – I used Good Earth
1 tsp lemon zest
1/4 cup strawberries, cubed (fresh or frozen)
The whole recipe with instructions on veggymalta.com
Nutrition: 1205kJ/288 kcal 9g Fat, 46g Carbs, 6g Protein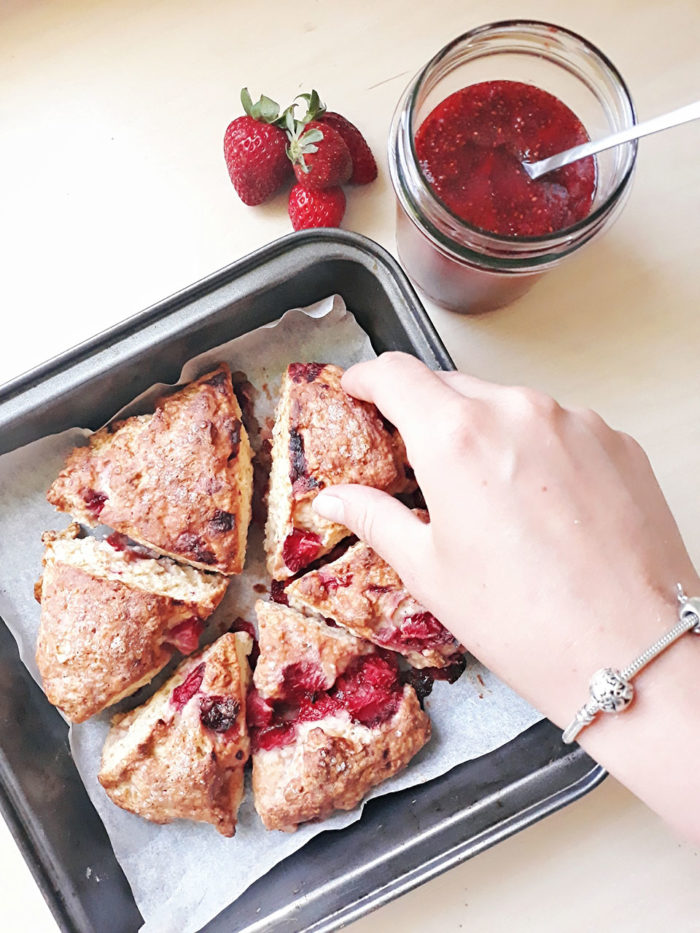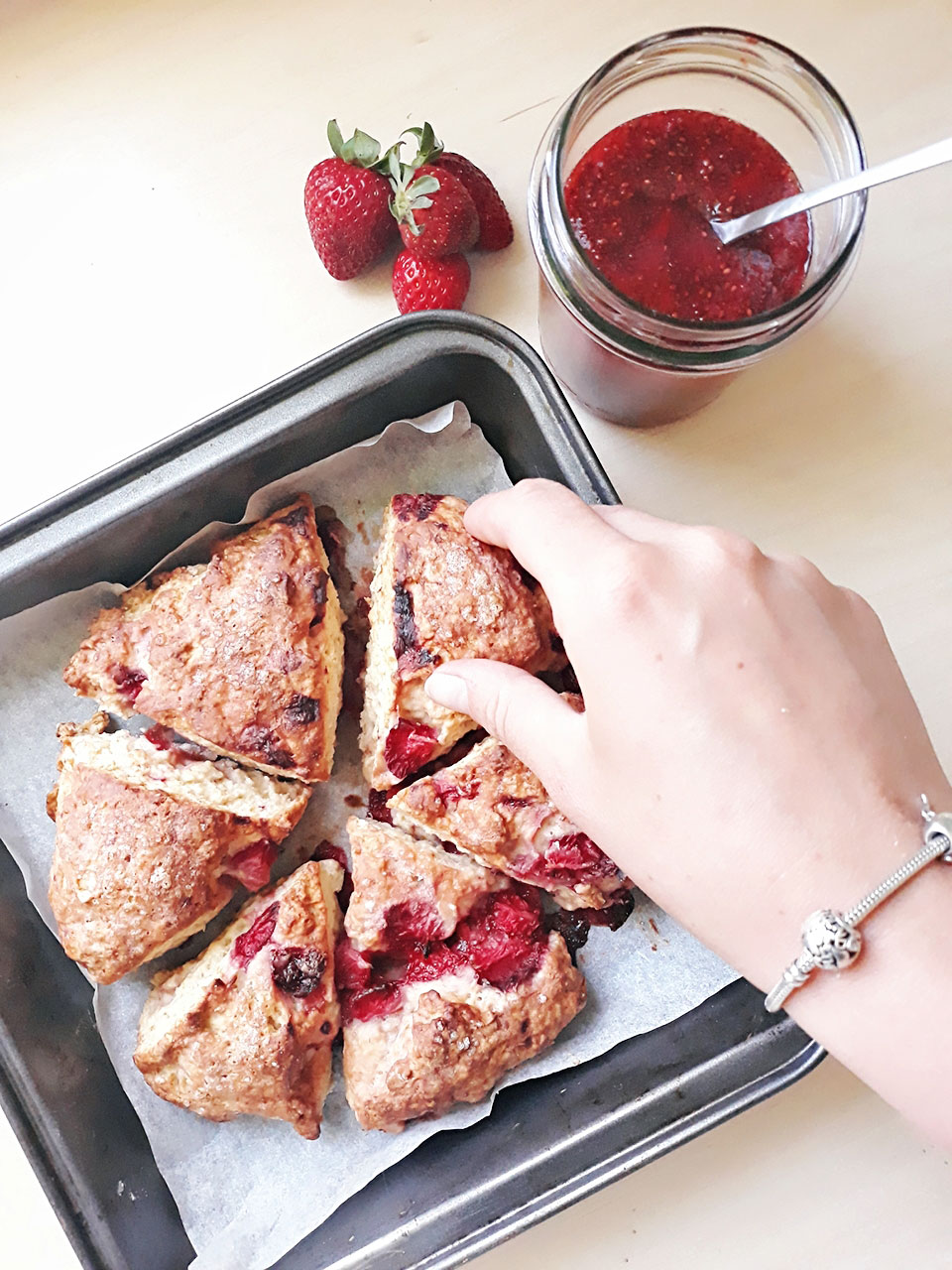 3. Protein custard dessert
1 packet of vanilla custard
1 scoop vanilla soy protein
500ml plant-based milk – I used soy milk
1 tbsp brown sugar
Oprional: ladyfingers, frozen fruit such as raspberries/ cherries
Preparation: Heat half of the milk in a medium saucepan with sugar. Place the other half of the milk in the shaker, add custard powder and protein and shake. When the milk is hot pour in the milk – custard mixture and cook stirring constantly till it thickens. Place ladyfingers and fruit in a jar and pour over with hot custard.
Nutrition: 1184kJ/ 283kcal 37g Carbs, 4g Fat, 20g Protein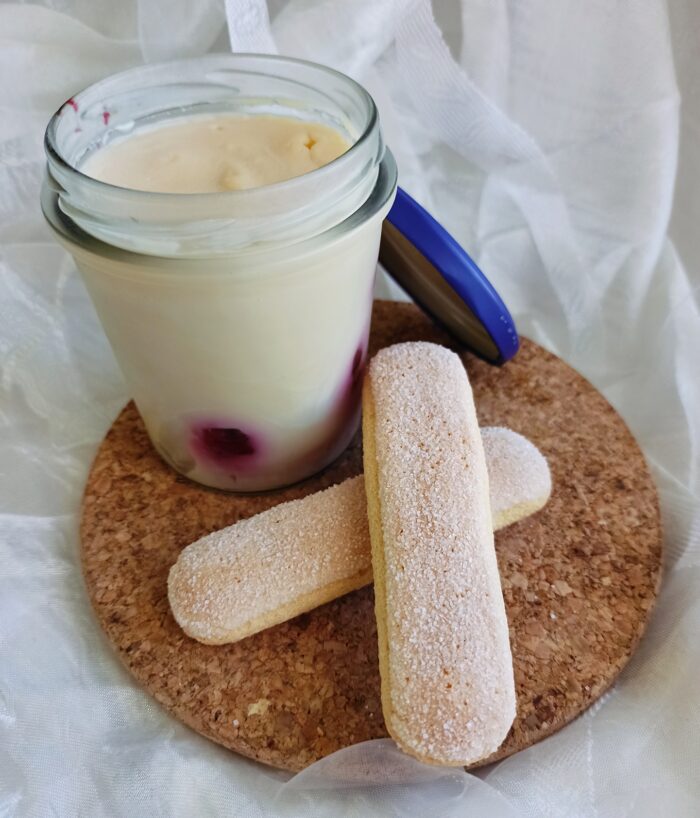 4. Easy oat cookies
1 and 1/2 cup oats
1/2 cup oat milk
2 tbsp oil (coconut or olive)
1 ripe banana
1/2 tsp baking soda
1 tsp vanilla extract
Vegan dark chocolate or raisins or nuts
Preparation: Mash banana in a large bowl and mix in the rest of the ingredients (chocolate and nuts should be chopped into small pieces). Spoon 10 cookies on a lined baking tray and bake at 180°C cca 12 minutes.
Nutrition (1 cookie): 89 kcal 13g Carbs, 3g Fat, 2g Protein
Store-bought snacks worth mentioning:
SnackaJack – caramel flavour (jumbo caramel rice cakes)
Price: 2.39€/ packet
Nutrition (per cake): 209kJ/ 50kcal 11g Carbs, 0.3g Fat, 0.7g Protein
Tom Oliver vegan protein bar – chocolate raspberry
Price: 2.50€/ bar
Nutrition: 806kJ/ 194kcal 20g Carbs, 7g Fat, 14g Protein
Eat Natural – Simply vegan
Price: 1.20€/ bar
Nutrition: 929kJ/ 223 kcal 18g Carbs, 14g Fat, 5g Protein