Summer is not the time to carry chocolate covered bars around in our bags. And let's face it, most of the snack bars are coated either in chocolate or yogurt…well, this one is not! That is why it is suitable for hot summer days as on-the-go snack. Take it to the beach, a city-break or hop-on hop-off bus trip. Filled with fruity flavor and protein packed, only for 97 calories a piece! It is important and a bit challenging, especially for vegans, to have sufficient protein intake. That is why protein bars are the best pick when it comes to snacks. And as I always say, the best food is the one you make at home and snack bars are no exception. Show me how they fit to your summer fun on instagram 🙂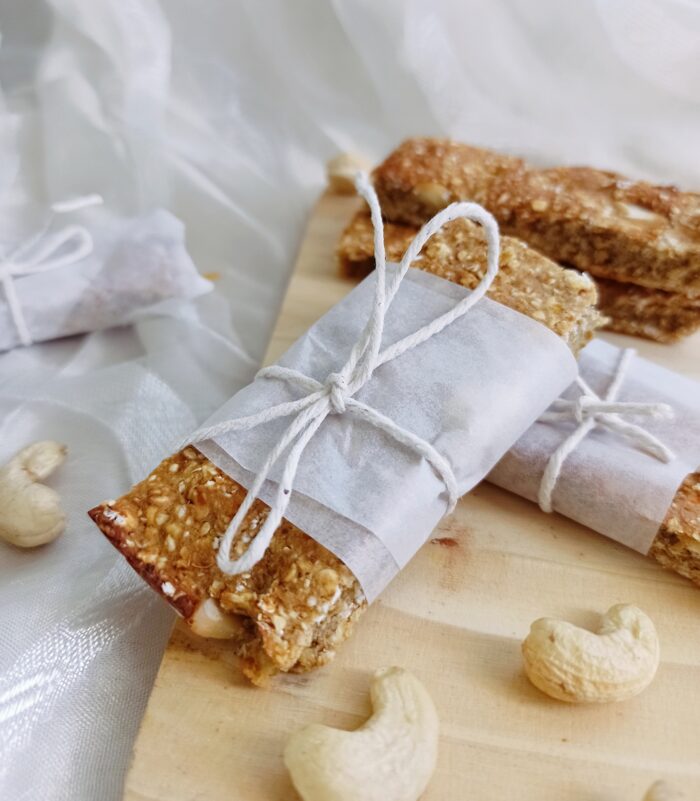 Ingredients:
3 fresh apricots
1/2 banana
20g agave syrup
90g oats – I used Good Earth
60g oat flour (oats blended into flour)
1 scoop vanilla soy protein – I used The Protein Works
1/2 tsp bicarbonate soda
1 tsp cinnamon
handful chopped cashew nuts
Directions:
Put 2 pitted apricots, banana and 1/4 cup of warm water into the blender and blend until smooth. Transfer into a medium bowl, add agave syrup and combine.
Mix in the rest of the ingredients and the third diced apricot. If you do not have protein powder, use more oat flour, although I highly recommend using protein because it is improving nutritional value.
Line a small square tin with baking paper, transfer the mixture in here and press it to the bottom creating an even layer.
Bake at 180°C till golden on top (about 25-30 min). Let cool and cut into 10 equal bars.
Nutritional information (1 bar out of 12):
406kJ/97kcal 2g Fat, 15g Carbs, 2g Fiber, 5g Protein
*You can use a baking paper as a wrapping material (see photos), or just store it in an airtight container. You can freeze them as well and take out whenever it's needed.