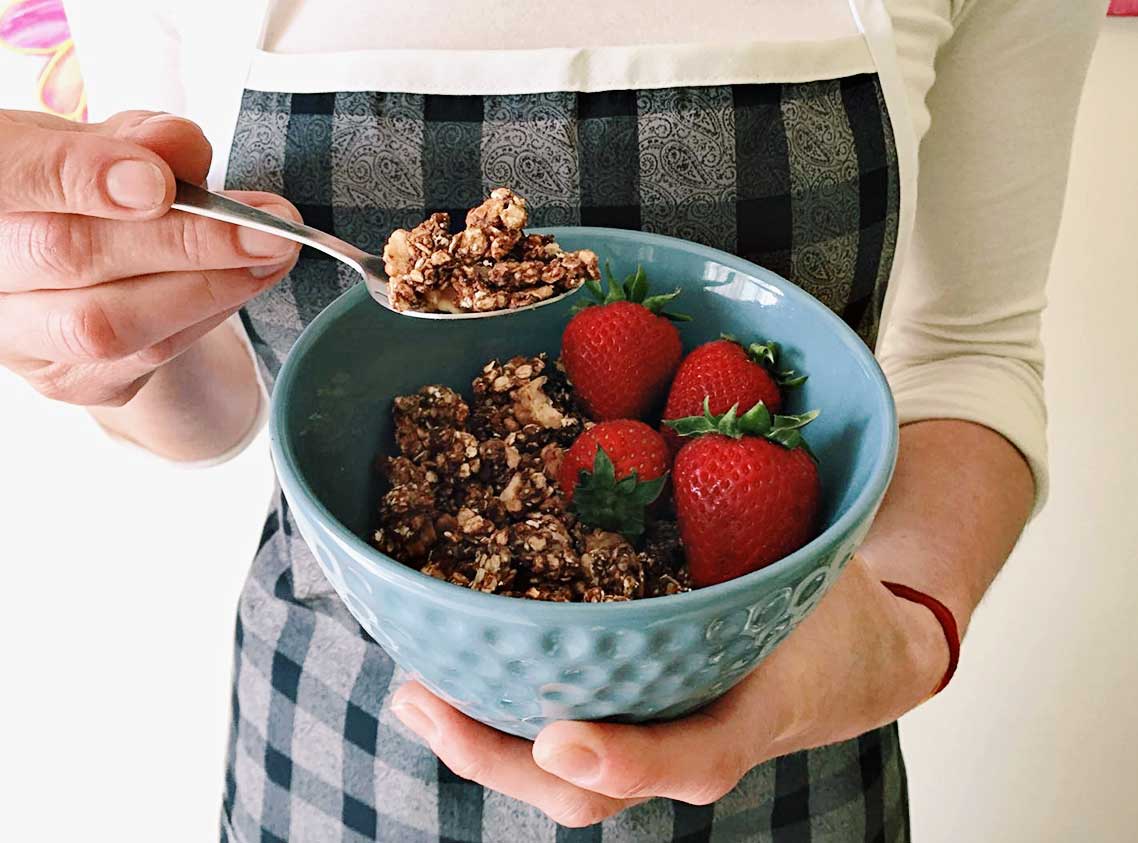 Store-bought granola and muesli are often packed with processed sugar and saturated fat. Using a lot of ingredients, additives and preservatives makes it not very healthy, even though lot of us think otherwise. If you are not used to reading nutritional labels, take a minute and check the ingredients in your 'healthy' cereal… Not happy? Don't worry! Home made granola is here to save the day. Using only few honest ingredients, with just a bit of time you can make your own, truly healthy snack full of minerals. And what's more, without oil and refined sugar!
Granola ingredients:
2 cups oats – I used Good Earth
1 tbsp cocoa powder
1/2 cup walnuts/other nuts, chopped – I used Emy walnuts
1 large spotty banana, mashed
3 tbsp honey/maple syrup
1,5 tbsp chia seeds
cinnamon, bit of salt
1/4 cup (vegan) sugar-free dark chocolate chips
1/4 cup raisins
Directions:
In a medium bowl mash the banana with fork and add honey/maple syrup.
Mix in oats, cocoa powder, chia seeds, chopped walnuts and cinnamon with a bit of salt. Make sure everything is fully combined and there are lumps of oats.
Transfer the mixture onto a baking tray lined with baking paper. Spread evenly, creating a thin layer.
Bake at 160°C for 20 minutes, than take out and mix. Return to the oven and continue baking for another 10-20 minutes. Keep checking, we don't want it to burn 🙂
Allow to cool completely and fold in the chocolate chips and raisins.
To make great breakfast/snack, I recommend eating your granola together with quality greek yogurt or alpro yogurt and fresh fruit on the side. You can also try it just poured over with some warm plant-based milk 🙂 It is convenient and portable too!
This chocolate granola recipe makes 10 servings – 1 serving is 50g.
Nutritional value (1 serving):
678 Kj/162 Kcal    Fat 7.1g (of which saturated 1.5g), Carbs 25g, Fibre 4g, Protein 4.3g