Finding Vegan
Just off the main square in Bugibba there is a little café with a sign that says 'Vegan Menu'. Choco Kebab Café. Don't let the name fool you. There is much more to this little café than meets the eye!
Jerry, the owner of Choco Kebab Café, greets us and tells us a little about the story behind the vegan menu at Choco Kebab Café. Jerry has always been a business owner, but the reason behind the vegan menu is personal. Jerry's daughter was born in the UK and she had always been intolerant to dairy products. Living in the UK there were always alternative options available for her, even when she became vegan later in life. The vegan menu at Choco Kebab is a combination of his daughter's knowledge about vegan food and his creativity.
I had already scouted their Facebook page, so I knew they had fresh jackfruit on the menu – a rare treat in Malta! Jerry tells me that it is not easy to source products like fresh jackfruit and wheat gluten, but his customer's satisfaction is worth the effort.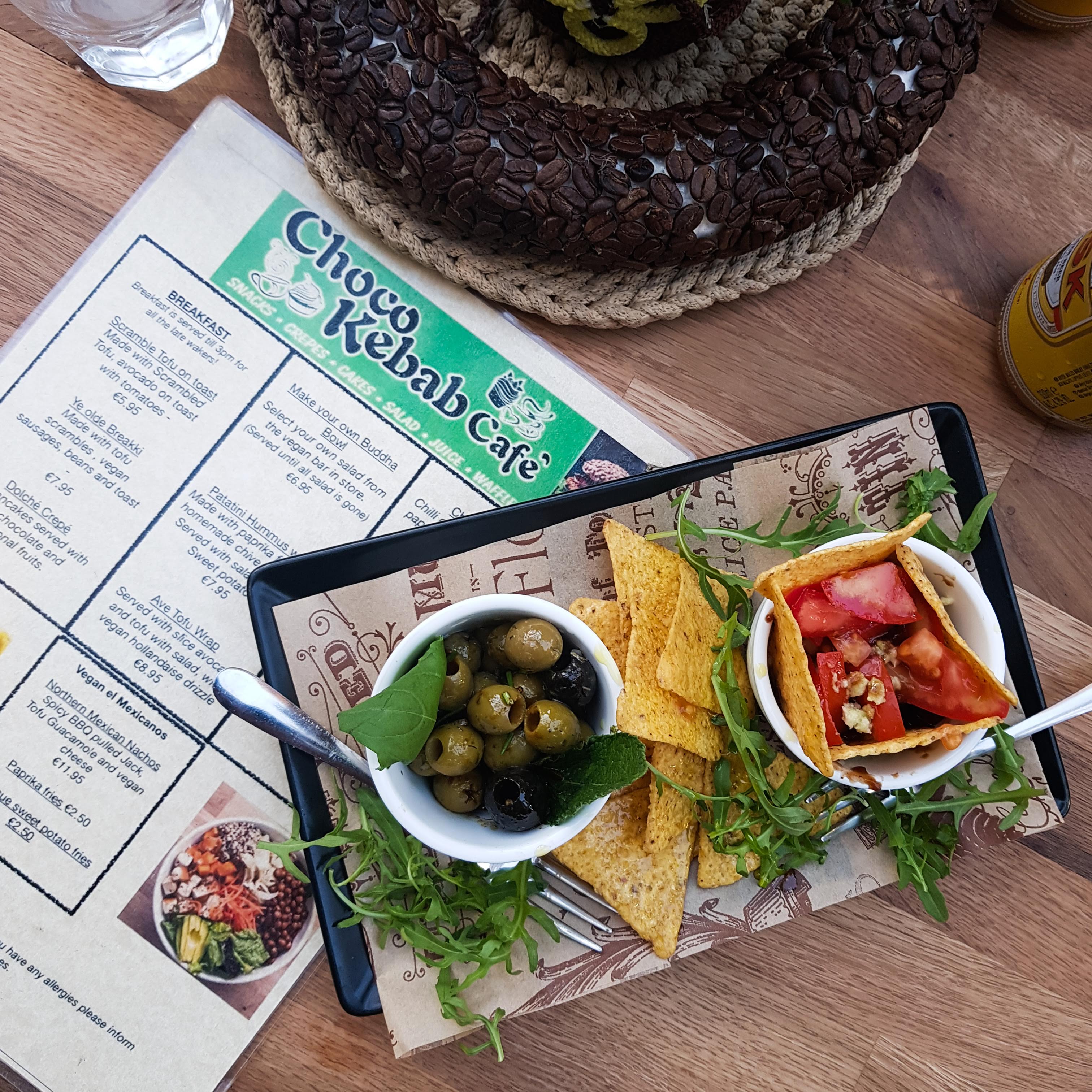 Jackfruit, vegan tuna and Volcanic burgers on the menu!
Before he takes our order, we are served a little appetizer to whet our appetite – Nachos, olives and a delicious home-made salsa. We are off to a great start it seems!
The specials available on the day we visit are really interesting – Vegan tuna ftira, vegan baked pasta with home-made vegan ricotta and vegan pulled chicken and pork. Although I have come across vegan cheese and 'pulled pork', I had never heard of Vegan tuna! What a treat indeed!
My partner orders a Volcanic Melt Burger (Euro 11.95) but I had my eyes on the jackfruit and I ask Jerry what he might recommend. He tells me that he's glad when his customers ask for things which are not on the menu. He always cooks up some new recipes and tries new ideas, so more often than not he has more to offer than what is just on the menu! So I leave the choice in his hands.
I am definitely not disappointed when I am served a savoury vegan crêpe with jackfruit and shredded oyster mushroom 'pulled pork'. The crêpe is light but the real star of the dish are the sweet jackfruit and the rich tasting pulled pork oyster mushroom. The dish is a perfect example of how vegan food can be creative, tasty and a far cry from boring! A real treat for anyone, vegan or not, to try something different that you will definitely not find on any other menu on the island.
From the pictures on their Facebook page I knew that their burgers were not to be missed. The Volcanic Melt burger is everything you want to taste in a vegan burger and it comes with a large side of sweet potato fries. The veggie patty is flavourful and is topped with heaps of vegan cheese. Everything on the plate is delicious and we have no problems finishing off both dishes.
Jerry definitely doesn't hold back on portion sizes but we cannot resist the dessert menu!

Saving the best for last
I do not have much of a sweet tooth, so by the time dessert orders are taken I normally pass, but Jerry convinces us to try his famous vegan waffle.
We get a vegan bubble waffle topped with fresh strawberries, forest fruits, vegan chocolate and strawberry sauce, and vegan ice cream. I was expecting this dessert to be very sweet and heavy to digest, but we are pleasantly surprised. The waffle is really the perfect ending to this delicious dinner. It has the right balance of sweetness and tartness from the forest fruits.  The waffle itself is so tasty that I have to ask Jerry what the secret to making the waffle taste so good is. He says that he uses vegan milk substitutes but also juices from the forest fruits to give the waffle an unforgettable flavour.
Making waves
I must say, I was truly impressed with Jerry's commitment to the vegan movement. I have a feeling that the Choco Kebab cafe is going to be making waves in vegan food scene in Malta – it has the right location and the right vision. He is also offering up something that Bugibba hasn't seen before – Full English breakfast – all vegan and scrumptious of course! I'll be returning soon to try out Jerry's latest inventions and he promises us that he has a lot of ideas in the pipeline. Perhaps a vegan steak is next?!