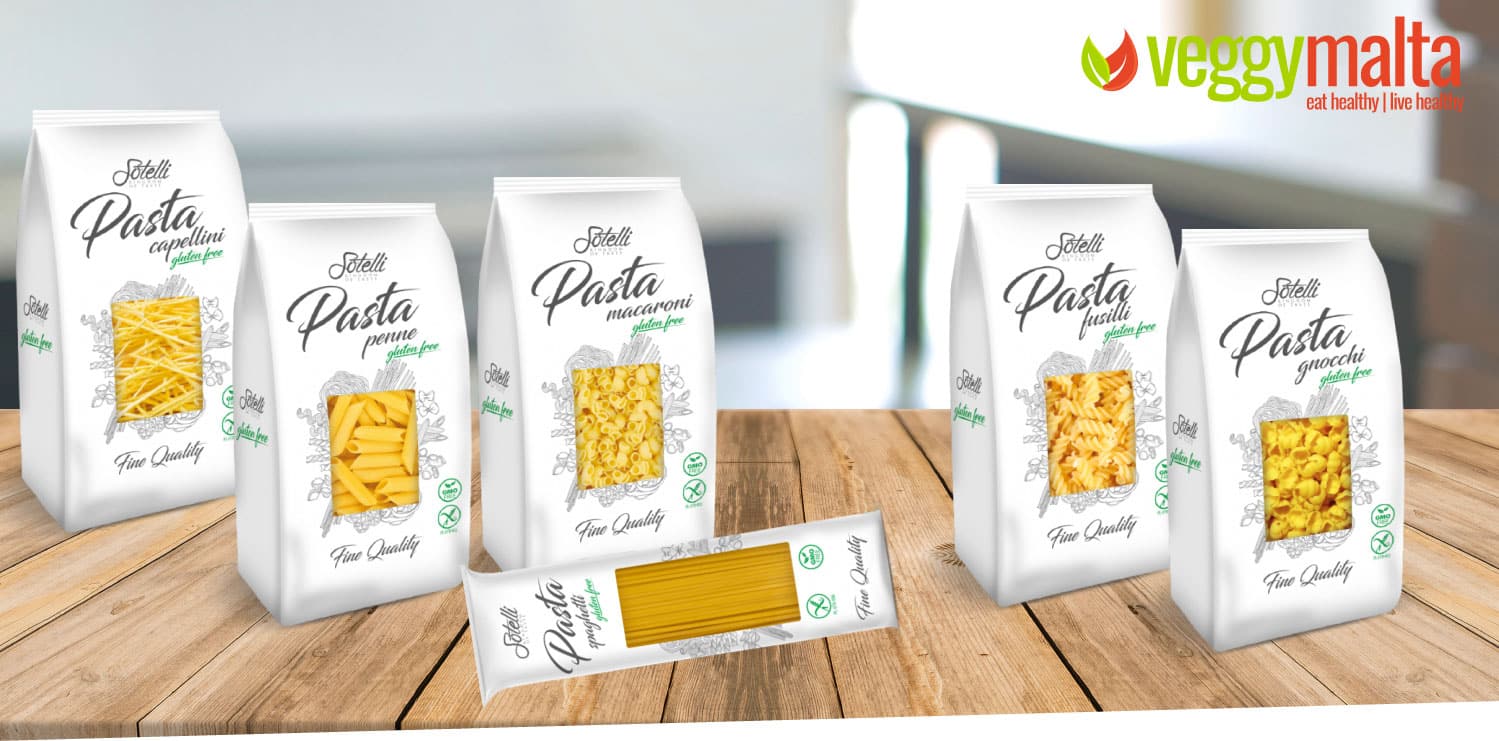 Veggy Malta has a look at Sotelli, a gluten free pasta brand that is making great inroads on the island. Sotelli pasta is made from corn and is gluten free, vegan and also GMO free.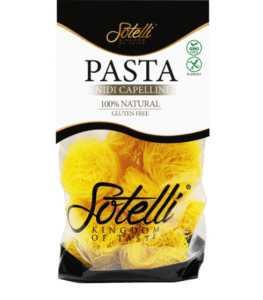 I spoke to Ryan Camilleri who imports Sotelli in Malta a bit about the brand and what distinguishes it from others on the market.  His first reaction was, "It's the only brand with gluten free tarja." Now we all know how much we love our tarja! But that's not all to the brand. The brand has a full range of pasta at very affordable prices from traditional fusilli, penne, capellini, macaroni, spaghetti and gnocchi (selling at €2.40).
An interesting range of pasta is one with added vegetables, where if you want just cook and add some oil (with no sauce). There are five flavours being pumpkin, beetroot, tomato, spinach and carrot. Another interesting product range is the kids range with pasta in the shape of alphabet, animals or stars. Furthermore, after using the pasta you can give the box to your kids as it has some activity printing on the inside.
Ryan wanted to emphasise that the cooking time is as normal pasta (8-10 minutes) but most importantly "when you put the pasta in the water, the water remains mostly clear and furthermore it remains al dente!"
The brand has recently launched a range of (oat-free) muesli also totally gluten free. The range has three flavours and comes in a convenient single dose, just add milk, water or yogurt and can be a quick breakfast or snack. One of the three contains milk powder without lactose so it is not suitable for vegans whilst the other two are totally vegan.
Sotelli is available in an always increasing number of outlets in Malta and Gozo. You can find it at:
Anglu Store – Mtarfa | Alfons Ent Ltd. – Hamrun | Aalaiah's Stop & Shop – Mellieha | Frank's Tavern – St. Paul's Bay | The Hive Confectionery – St Julians | B C Confectionery – B'Bugia | Bambinella Fruit & Veg – M'Skala | Corner Country – Naxxar | C Town – Nadur | Convenience Shop  – Rabat | Convenience Shop – Safi | Deanil Grocer – Qormi | Daily Fresh – Xewkija | Food Stores Ltd – Attard | Food Spot 20 – Swieqi | Holland & Barrett | Gary's Discount Store – Rabat | Gigi Store – Valletta | Greens Supermarket – Ibragg | Health Vortex – M'Skala | Gig Central Services – St Julians | Gzira J & M Self Service – Gzira | J & B Supermarket – Qala | Livwell – Naxxar | Mannarinu – Hamrun | United – Mgarr | Navarino Confectionery – Swatar | Nutrition Empire – Zabbar | Naturally Healthy Store – Hamrun | Nutreez – Naxxar | Orion Self Service – Sliema | Park Towers – Sta Venera / St Julians | Peprit – St Juliams | Roberta's Self Service – Mellieha | RCG Confectionery – Qawra | Rabat Daily Needs – Rabat | Sacco Green Grocer – Dingli | Step N Shop – Zurrieq | The Food Shop – Qawra | The Land Life – Rabat | The Healthy Pantry – Zurrieq | Victoria Self Service – Naxxar | PAVI Supermarket – Qormi | PAMA Supermarket – Mosta | Smart Supermarket – B'Kara