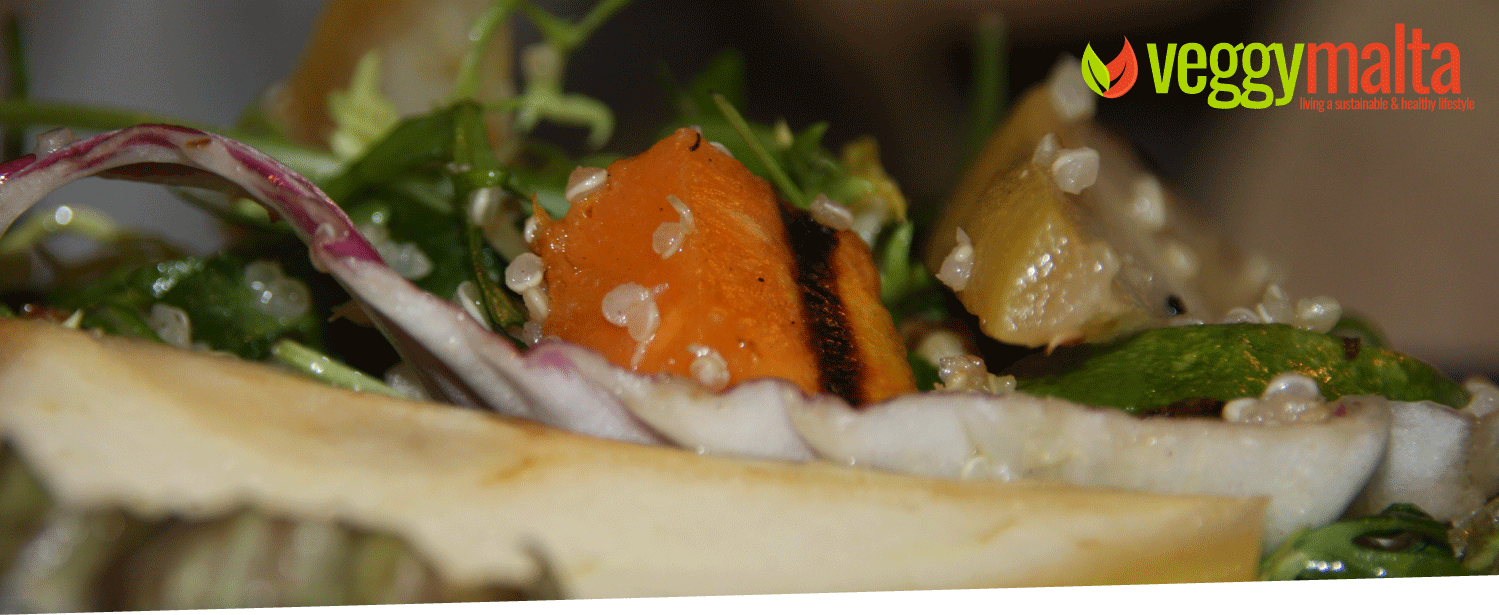 Veggy Malta went to Le Bistro restaurant at Radisson Blu in San Giljan. Le Bistro have actually made the effort in creating a separate menu just for vegetarians and vegans. I would say that this is a win!
There I met up with Ramon Muscat the Culinary Director. Ramon explained how 3 years ago the restaurant adopted a farm to fork philosophy which meant using fresh local and seasonal products as much as possible. Furthermore, this season, also thanks to an increase in demand ?, they are emphasising their vegetarian and vegan menu. Talking with Ramon, I was very pleased to see how aware he is on vegetarian and vegan food, and how conscious he is on how many foods hide animals products.
The three plates I tried out are all vegan, yet there is a full choice of vegan and vegetarian plates, and there is the option to convert a vegetarian plate into a vegan one.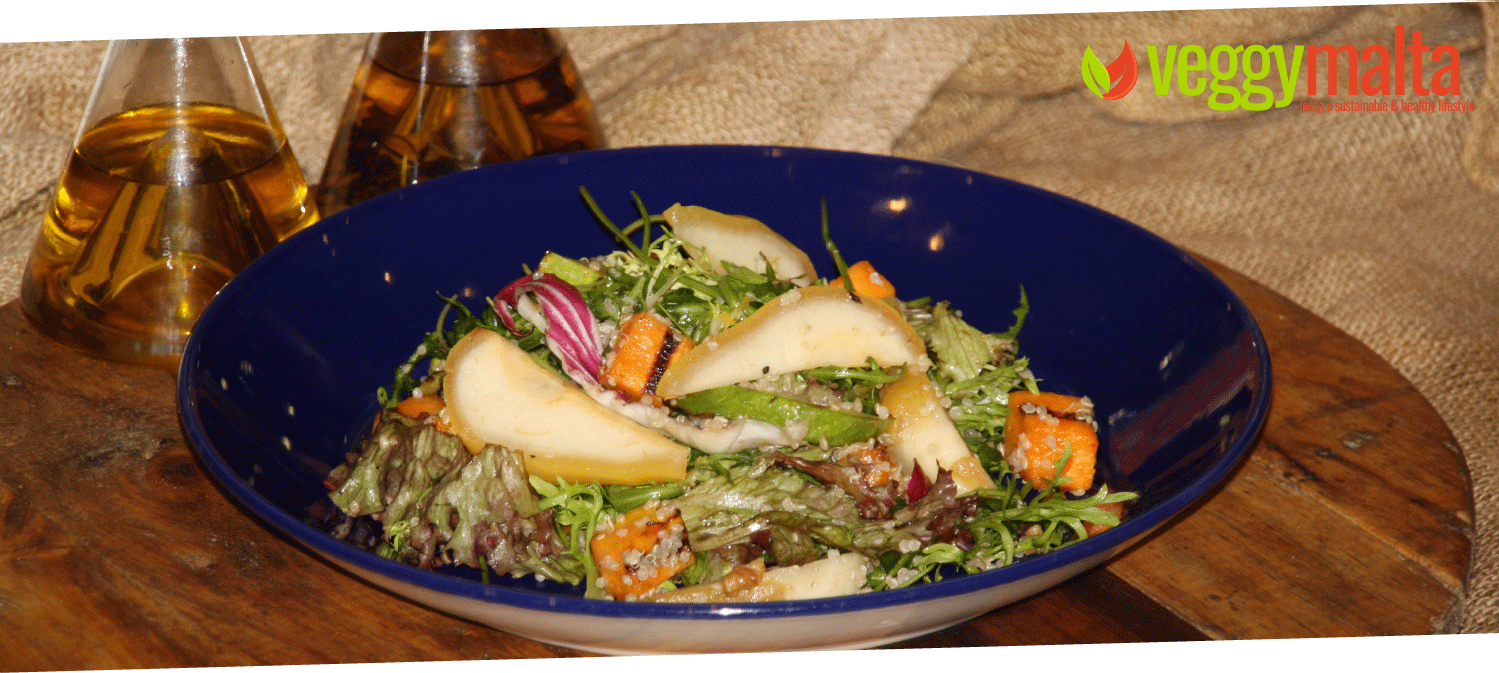 Quinoa & Bambinella salad
The Quinoa & Bambinella salad immediately looks appetising. Although a substantial plate, this seasonal dish is actually very light and not at all heavy on the system. It contains quinoa, bambinella, rucola, butternut squash, zucchini, walnuts, fresh basil and dressed with garlic oil.
This plate is high in protein thanks to both the quinoa and the walnuts. The rucola, bambinella and butternut squash then add a boost of vitamins to the plate. Though let's not let this distract from the taste. There is a mix of crunchy and soft. The butternut squash and the bambinella add a degree of sweetness to the plate, whilst the walnuts add a smooth savoury taste.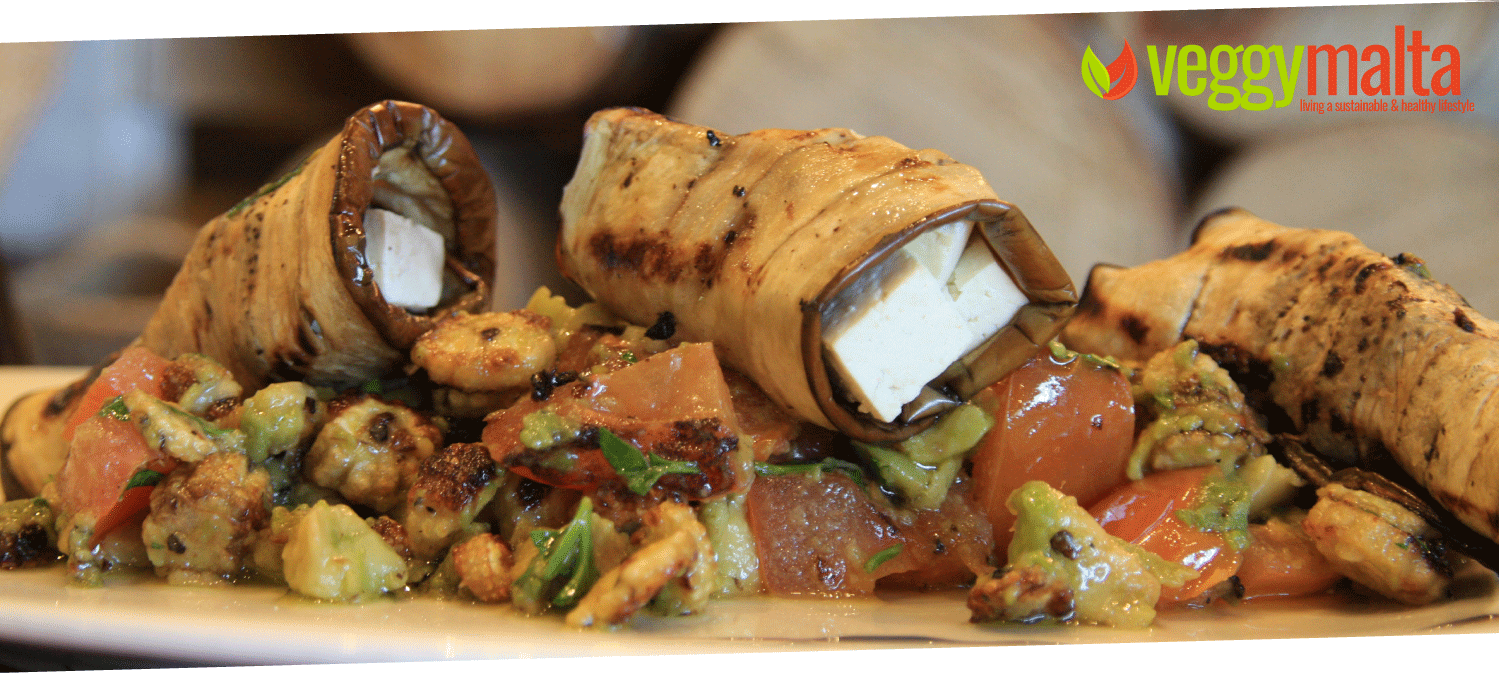 Grilled aubergine Involtini
This Grilled Aubergine Involtini is another nicely balanced plate. To be honest, I only recently acquired the taste for aubergines. Until now, I only liked them in my norma. Yet individual tastes evolve. Along with the aubergines, this plate includes pan-fried caramelized corn, avocado, tofu, chunky plum tomatoes and olive oil.
The sliced grilled aubergines are filled with tofu and seasoned with olive oil. These are complimented with the fresh avocado which adds a creamy texture, and the caramelised baby corn which give a crunch feel.  This plate is also rich in protein thanks to content of tofu whilst the fresh avocado and aubergines gives a doze of vitamins to the plate.
Crispy Apricot and Blueberry Delight
The desert is always the best part of any meal (if you are a sweet tooth). The delight is topped with a coconut sorbet. Digging in, one passes from the top layer made from oats and under that there is the base made from a fruit stew of apricot and blueberries. The oat crust is mixed with vegan butter making this a lactose free option as well. There is a diversity of flavours when eating through this, ranging from the sorbet, to the oats to the fruit.

Where do I find Le Bistro?
You can find Le Bistro restaurant following this map link.
What do they cost?
Some info on costs. The Quinoa & Bambinella salad costs €12.50, the Grilled Aubergine Involtini costs €17.25 and the Crispy Apricot and Blueberry Delight costs €4.95. Le Bistro restaurant have their own website, and there as well the vegetarian and vegan menu has been separated from the rest. They also have a facebook page.