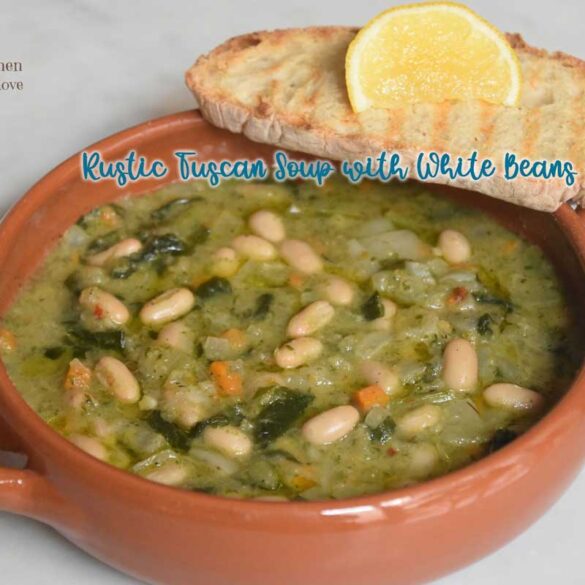 Ingredients
sunflower oil
soffritto: 2 medium yellow onions, 2 medium carrots and 1 celery stick all finely diced
4 garlic cloves, minced
1/2 tsp chilli flakes (to your liking, avoid if making soup for children)
500ml hot water or vegetable broth
1 can white beans (cannellini), approx 250g
200g fresh or frozen kale (chopped into small pieces)
1 bay leaf
fresh or dried thyme
toasted bread slices
lemon wedges
1 fresh rosemary sprig
Salt and pepper
vegan grated cheese-alternative (I use Parveggio)
extra-virgin olive oil for serving
Instructions
sauté the soffritto ingredients in sunflower oil and add the garlic cloves
season with thyme, rosemary and bay leaf to infuse the flavours
add the beans and mix gently without breaking them
add in the water or vegetable broth and simmer for 10mins
season to taste with salt, pepper and chilli flakes (optional)
remove the bay leaf and rosemary sprig
transfer a few ladles of the soup into a blender and whizz for a thick and smooth consistency (you can also do this with a hand blender in a separate container)
transfer the thick soup back into the pot, add the chopped kale and mix well until wilted. Taste again and season further if necessary
Plate the soup in bowls, drizzle with extra virgin olive oil and serve with toasted Maltese or rustic bread.
The secret ingredient is serving the soup with a wedge of lemon - make sure to squeeze it over the soup before eating. It adds a wonderful layer of flavour.
ENJOY!