EcoMarket Malta is organising a weekend event packed with fun and educational activities for all the family for Earth Day and the weekend following it. The event will take place between Friday 22 and Sunday 24 at the beautiful outdoor grounds of Il-Majjistral Nature & History Park and The Farmoury in Manikata.
The visitors centre of Il-Majjistral Park will be transformed into an Activity Zone where several talks and workshops will be held, and where guests will have the opportunity to learn from experts and find out new solutions to their daily challenges. This includes workshops on subjects like 'Balcony Gardening'.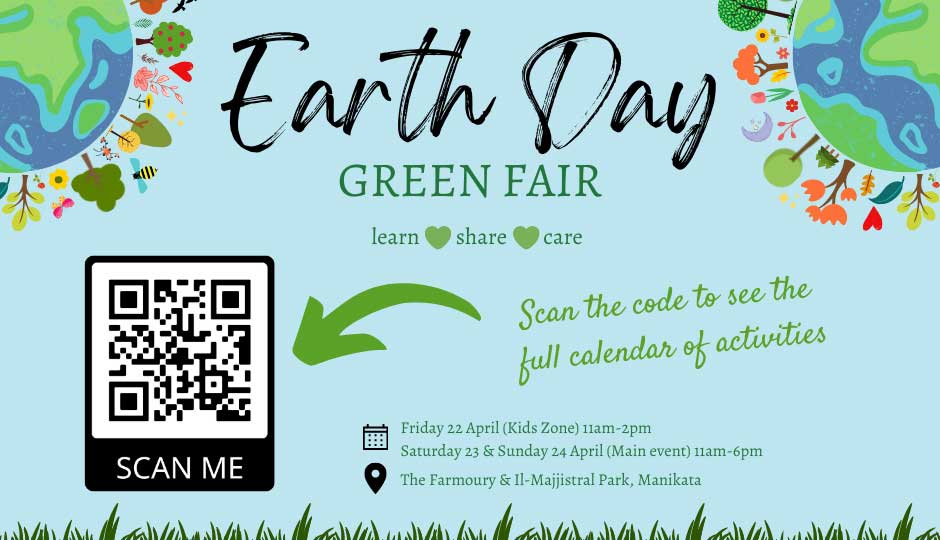 EcoMarket Malta states that "Environmental education in children is extremely important as the fate of the planet is in their hands. It is therefore imperative for them to learn practices and abilities to fight climate change and to live in harmony with the Earth." During the even there will be two separate Kids Zones. Original, fun activities for children of all ages to help them broaden their knowledge and understand more about the Earth's natural resources such as energy, air, water, soil and wildlife. There will also the popular Kids 4 Kids Market, sponsored by the Malta HSBC Foundation, where children will experience becoming a vendor for a day selling their home-made or second-hand items. Earth Day Green Fair will also include a Food Zone with healthy, international food, pesticide-free veggie market, and free drinking water stations. The event runs on a zero single use plastic policy. Bring your own bags, cups and containers for a discount and surprise gifts!
Entrance to the event is FREE, as are most of the activities conducted by grassroots organisations, activists, innovators and eco-entrepreneurs. Check out the Calendar for a full list of activities.
Friday 22 April – Kids Zone only from 11am to 2pm
Saturday 23 and Sunday 24 April – Main event from 11am to 6pm.