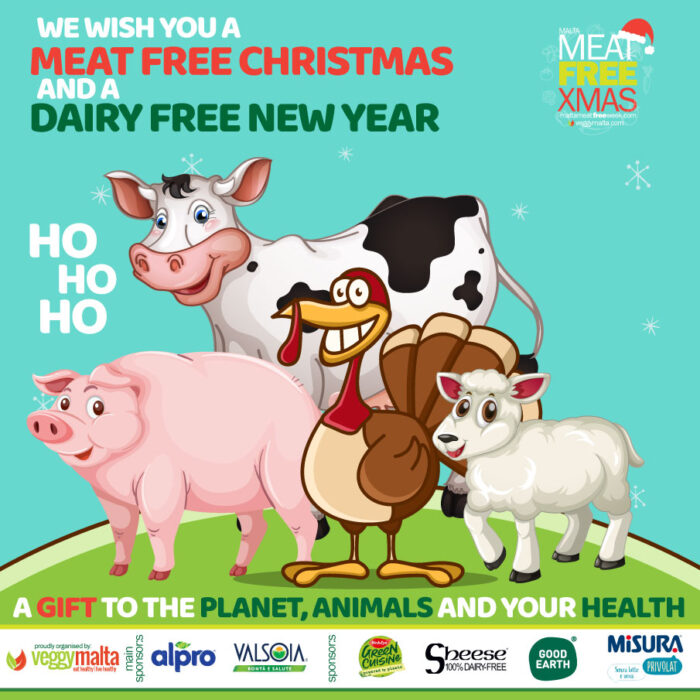 Christmas is round the corner and we are launching our Malta Meat Free Xmas (Christmas) campaign.
We understand that because of COVID-19 many of you will not be having their usual Christmas lunch with family and friends. In many cases this will be a smaller and reduced lunch, possibly at home. So let's take the opportunity and make an added change to this year's Christmas lunch and go meat-free this Christmas. Let's enjoy the birth of Christ by saving an animal's life and help save our planet.
Christmas is a time of joy, and we clearly need some this year. So make your Christmas lunch an occasion to feel energised by the fact that you can make a difference for the planet, for animals (and even for your health) by choosing a meat free Christmas meal. There is no doubt that positiveness from this action will make you and those sharing the meal feel better.
Thanks to the wide choice of meat alternatives products and also milk and dairy alternatives, you can prepare a wonderful Christmas meal will all the bells and whistles we are accustomed to. And if you are lost for ideas, feel free to have a look at our vegan recipe section where we have around 150 recipes from which to get inspiration. In the next few days we will also be sharing a Vegmas meat free selection.
Feel free to send us your ideas, photos and also share them on the Facebook group Plant Based Malta. Share our campaign on social media and ask others to take up this initiative. Let's start the New Year in a better, kinder, healthier, fairer and more sustainable way. It's time for change!
So this year we wish you a Meat Free Christmas and a Dairy Free New Year.