Are you as thrilled that Christmas is coming as me? Now, I still haven't made myself to bake traditional gingerbread cookies, but there's still enough time for that since they would not last till Christmas for sure. Today, I prepared this vegan gingerbread cake recipe for you. It is soft and fluffy, a great treat to take with your coffee or tea 🙂 Video recipe is also available on veggymalta facebook page (add link).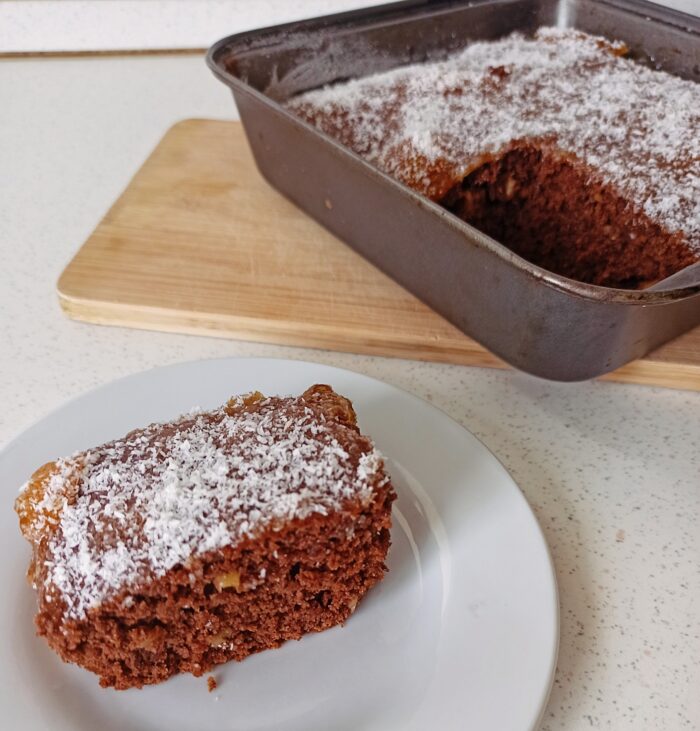 Ingredients:
1/4 cup coconut oil (melted)
1/4 cup brown sugar
2 cups flour ( I used 1 cup plain and 1 cup wholemeal)
1 cup Scotti oat milk (or other)
2 tsp baking powder
2 tbsp cocoa
1 heaping tsp mixed spice
2-3 tbsp rum
1/4 cup walnuts
Apricot jam ( works with other too)
Shredded coconut
Directions:
Beat melted coconut oil with sugar using electric mixer. Add milk and mix.
To this mix add flour, baking powder, mixed spice, and cocoa. Combine and pour rum in, mixing carefully. The batter should be a bit runny so you may have to add some more milk or water.
Chop your walnuts and fold them into the batter.
Transfer into a small square baking tray, greased and tossed with flour.
Bake at 180°C about 45 minutes or till the toothpick comes out clean. Let cool.
Spread jam on the top of the cake and top with shredded coconut*.
*note: You may try it with (vegan) dark chocolate too 🙂 Just melt 50g of dark chocolate with a tsp of coconut oil or a tbsp of oat milk and spread onto the jam layer.
Nutritional information (1/9):
933kJ/ 223kcal 30g Carbs – 3g Fiber, 10g Fat, 4g Protein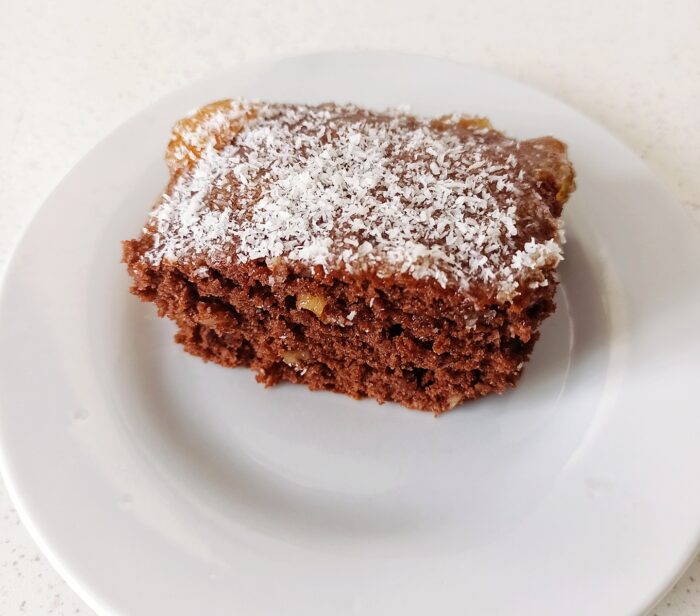 Try this christmas recipe out and tag me on instagram.