Christmas is finally here. And with it, I decided to prepare something traditional, yet in not that traditional way. Many maltese families prepare this Christmas dessert, but have you ever tried making it vegan? If you didn't, well, here is the recipe which you can try this year ?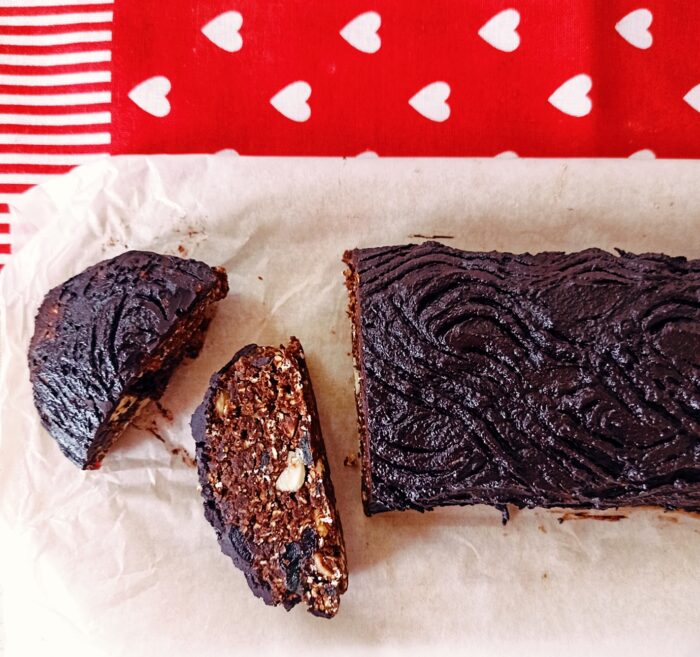 Ingredients:
100g vegan biscuits
100g oats
3 tbsp cocoa powder
100g whole hazelnuts
1 tsp cinnamon
1/2 tsp ginger powder
1/4 tsp ground nutmeg and ground cloves
1 tsp vanilla extract
4 tbsp rum
250g pitted dates
50g glazed cherries
Vegan chocolate ganache:
1 tbsp coconut oil
1 tbsp maple syrup
3 tbsp cocoa powder
1/2 tsp vanilla extract
Pinch salt
Directions:
Soak the dates in hot water for 15 minutes.
In the meantime, blend the biscuits* and oats in a blender and cut the hazelnuts and cherries in half.
When the dates are soaked put them into the blender as well and blend until you are left with a smooth paste (you can add 5-7 tbsp of water in which you soaked them as well).
In a large bowl combine the date paste, blended biscuits and oats, cocoa powder, seasonings, rum, cherries and hazelnuts. Combine with your hands into a non sticky dough.
Shape into a log, cover in baking paper and let rest in the fridge for one hour.
To prepare the chocolate ganache, melt the coconut oil and add maple syrup, vanilla extract, salt and cocoa. Mix well.
Remove the log from the fridge, top with your vegan melted chocolate, take a fork and decorate as seen on the picture. Return to fridge for additional 15 minutes and serve.
*You can use sugar-free biscuits or gluten free biscuits/oats if you are gluten intolerant.