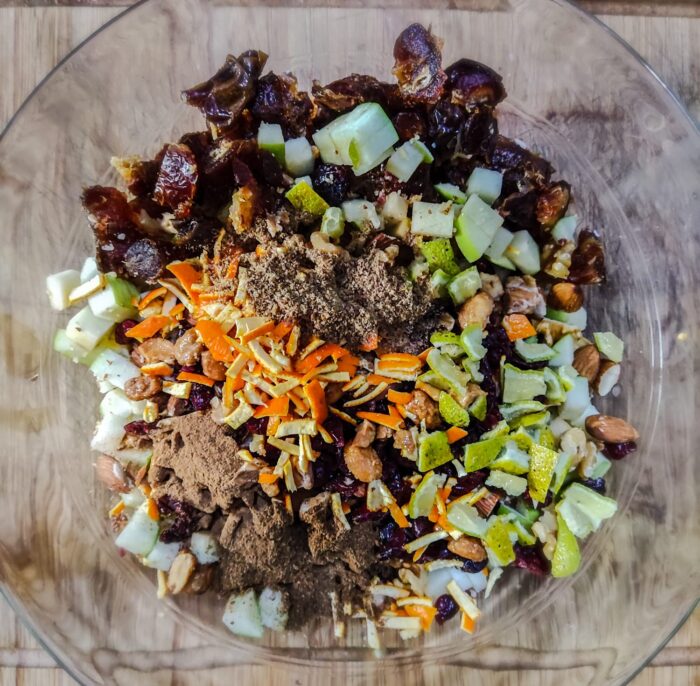 'tis the season to bake mince pies fa la la la laaa la la la laaa…
This year, we will be making a healthier version of this seasonal treat. Even though this treat (like all treats) should be enjoyed responsibly, you can enjoy these mince pies without feeling too guilty of eating more than one (or five!)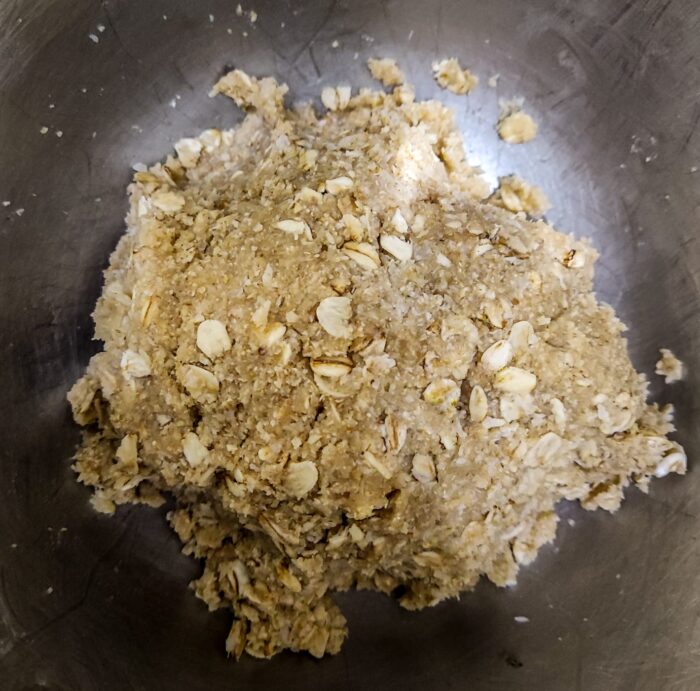 Ingredients
For the Fruit Filling
2 large apples, finely diced
100g dried cranberries
100g raisins
2-3 dates
100g mixed nuts finely chopped
zest of 1/2 an orange
zest of 1/2 a lemon
1/2 teaspoon ground cinnamon
1/4 teaspoon ground nutmeg
1/4 teaspoon ground ginger
200ml orange juice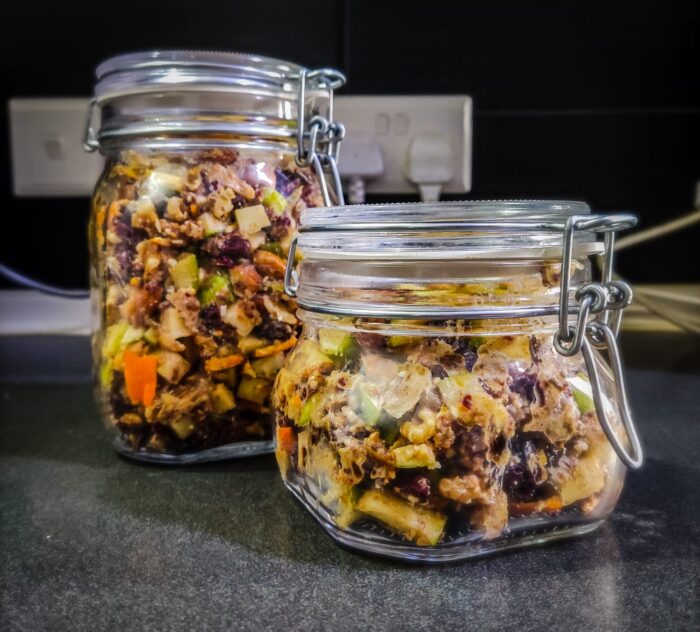 For the Oatmeal Crust
100g oat flour
75g oat flakes
40g desiccated coconut
60g ground almonds
2 1/2 tablespoons olive oil or coconut oil, melted
2 tablespoons agave syrup or maple syrup
1 teaspoon vanilla extract
water to mix the dough, if needed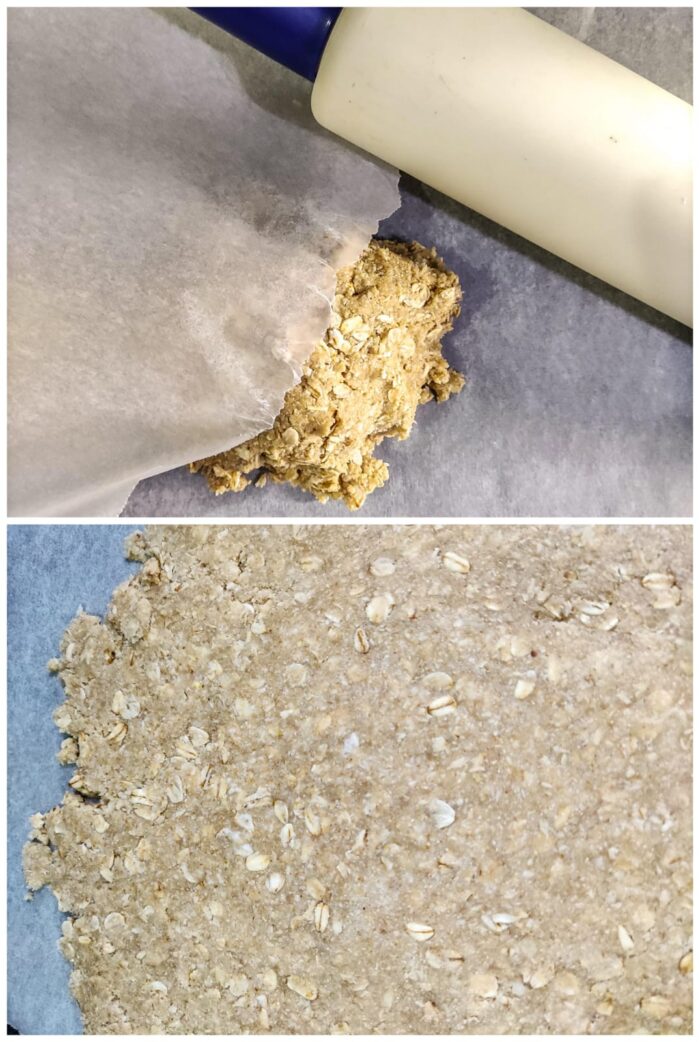 Directions
For the Fruit Filling
Combine the diced apples, raisins, cranberries, dates and nuts into a bowl.
Add the orange juice, cinnamon, nutmeg, ginger, vanilla and the zest from the orange and the lemon.
Mix well and set aside.
For the Oatmeal Crust
Prepare your cupcake tray or cups with a light coat of oil or butter, followed by a dusting of coconut or ground almonds to prevent sticking.
Combine oats, coconut and ground almonds in a large bowl.
Add the oil, agave syrup and vanilla.
Mix by hand until you form a soft dough.
Add the water and mix again. The addition of water will help the crust mixture stick together.
Roll out between 2 sheets of baking paper and cut into circles, large enough to cover the base and sides of your shells.
Assembling the Mince Pies
Preheat oven at 150 C.
Fill shells with 1-2 tablespoons of the fruit mince.
Roll out rest of the pastry and cut out in the shape of stars.
Arrange stars over the top of the mince pies.
Bake for 30 minutes or until golden.
Cool completely before eating and enjoy.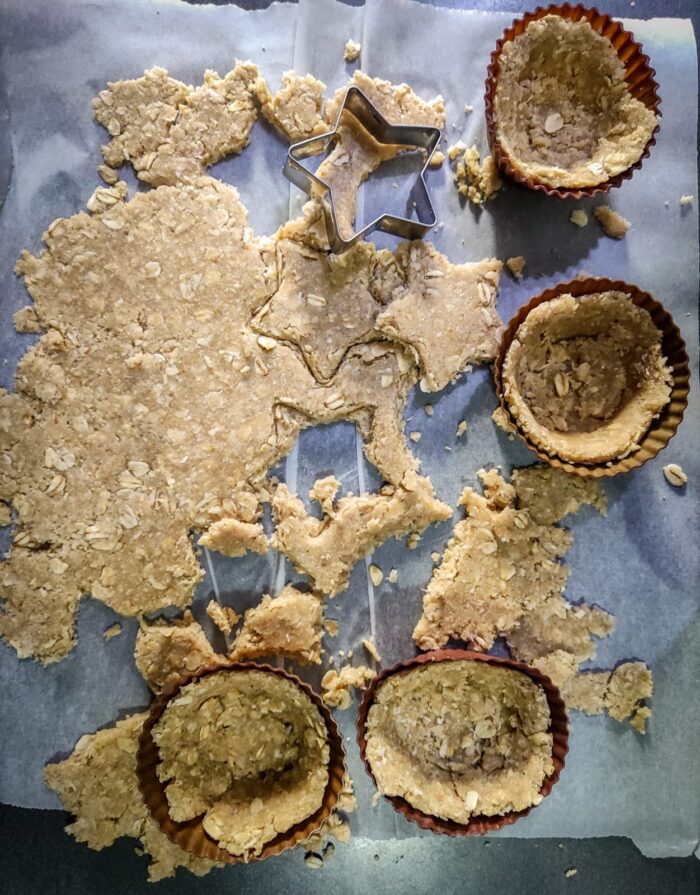 Side Note
It best that the fruit mince is made in advance for the flavours to marinade and the dried fruit to absorb the juices and plump up. Make sure that you store the fruit mix in a clean sealable glass jar and stored in the fridge – otherwise, it will go bad.
You can also use whatever dried fruit and nuts you have in your pantry: dried apricots, figs, dates, sultanas, currents, almonds, hazelnuts etc. These will all work wonderfully in your mixture, and will add some texture to your pies.
Be gentle and careful with the pastry. It may not be as flexible as the traditional one, and if it breaks when placing it in the casing, no worries. Wet your fingers with water and gently press the dough in place.
You can also add a generous splash of brandy, spiced whiskey or any kind of festive alcohol you like for an extra festive cheer!