Breakfast time – once again. This recipe is not for those rushed mornings, because it requires some time to prepare it. It is not very good to make ahead either, so take your time here, when you don't have to go to work/ school and make this restaurant-like delicious breakfast. Best served right after removed from the pan. You can also play with the taste here, the topping options are huge, so pick what you feel like at the moment. So many satisfying variations! If you create an unusual combo, tag me on instagram @fit_mysena 🙂 I would love to get inspired by you!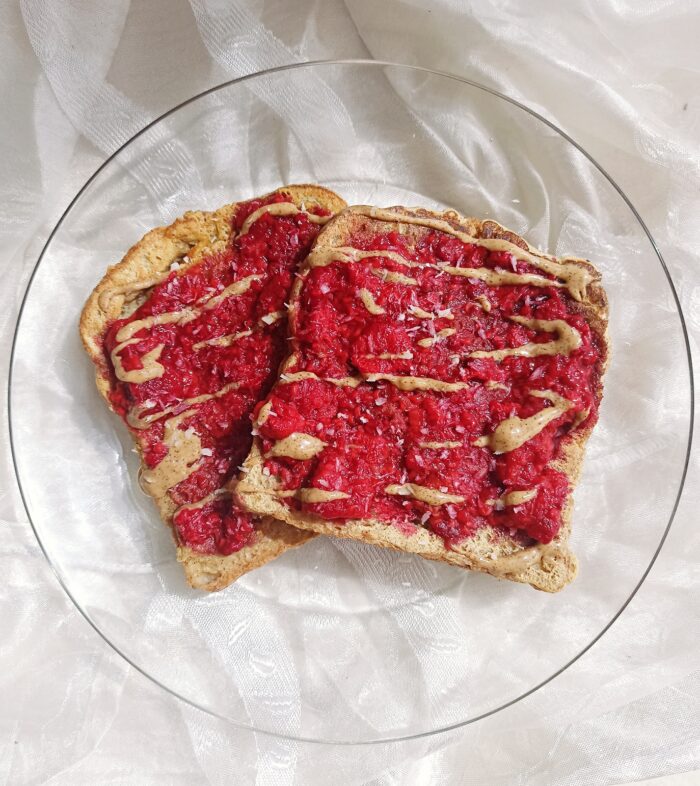 Ingredients:
1/3 cup chickpea flour (you can also find it under the name Indian Gram Flour)
1 tbsp brown sugar
1/2 cup plant-based milk ( I used almond by alpro)
1 tsp vanilla extract
cinnamon, nutmeg, pinch of salt
Coconut (or other) oil for frying
More you'll need: 2 slices of bread (sourdough or gluten-free), fresh/frozen fruit, peanut butter, shredded coconut or check further topping ideas below
Directions:
Mix dry ingredients first. Add wet and stir until smooth batter forms – do not taste it before it is cooked, it is not very tasty 😀 .
Warm up a skillet with few drops of coconut (or other) oil. Dip a slice of bread in the mixture from each side, let soak for about 5-10 sec.
Transfer to a skillet and fry about 3-5 minutes, then flip and fry some more.
Top with your preferred fruit – I used hot raspberries, peanut butter and coconut*.
Enjoy!
*Further toppings ideas:
Peanut butter and banana
Fresh fruit and maple
Vegan chocolate spread and coconut
Strawberries and soy cream
Nutritional information (without toppings):
1560kJ/ 373kcal 54g Carbs, 10g Fat, 14g Protein