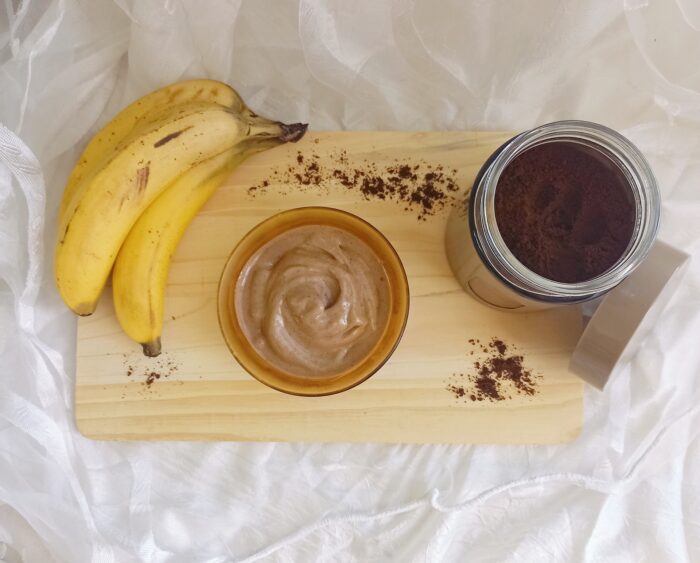 Any ice cream lovers out there? Recently, my granddad had offered me a popsicle as an evening snack (he loves ice cream too) whereas my grandma made a comment calling him 'an ice cream king' 😀 Which would probably make me an ice cream princess 😀 Therefore, the ice cream princess have prepared an easy-peasy nice cream recipe which will satisfy not only ice cream eaters, but also vegans and coffee admirers. It is super easy, all you need is 3 ingredients and not even 5 minutes of time.
Ingredients:
2 frozen bananas
1/8 cup chilled strong coffee
1 tsp peanut butter
1/2 scoop vanilla soy protein powder (optional)
Equipment:
Blender or hand (stick) blender
Directions:
Put frozen bananas into a blender together with the rest of the ingredients. Blend till smooth, scrape everything out and serve immediately, or freeze for later * 🙂
You can also top it with your favorite toppings, for example, I chose my home made granola 🙂
Nutritional information:
1280kJ/ 306kcal 4g Fat, 55g Carbs, 7g Fiber, 18g Protein
*Note: If you are freezing your nice cream, take it out to soften approx. 10 mins before consuming.