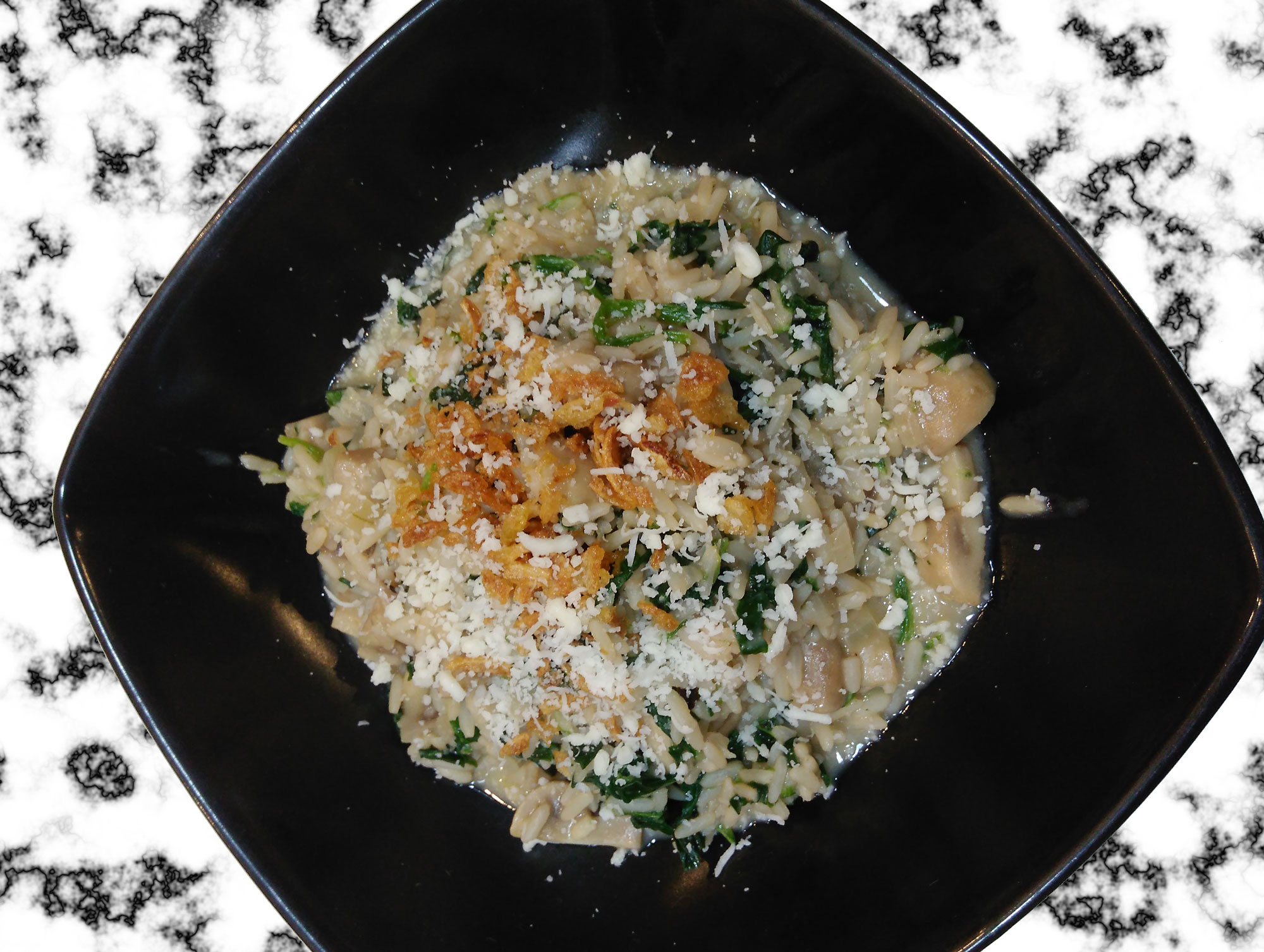 I love risotto, but until some time ago I only ate it in restaurants as I always thought it was very difficult to cook. Traditionally the rice to use in your risotto would be arborio or carnaroli. When I used these types of rice I found that it took a long time to cook, and sometimes ended with it still being too firm for my liking.  So I started experimenting with parboiled rice. This rice cooks quicker, so it was easier for me to prepare even on busy weekdays. Risotto is a very hearty dish for cold winter days and there are endless variations if you use your favourite vegetables. You can make a different one every week. My most recent was a mushroom and spinach risotto.
You will always need the basic ingredients ( for 2 servings):
2 cloves garlic, minced
1 small onion, finely chopped
1 tablespoon olive oil
2 cups warm vegetable stock (preferably, home made)
1 cup rice
1/2 cup white wine
200g button mushrooms, quartered
a bunch of fresh spinach, leaves only, shredded ( I sometimes also use frozen. Just defrost a couple of cubes slightly and chop.)
Cooking instructions
Start by warming the oil in a shallow pan, then cooking the garlic and onion gently until they are soft, but not browned. Add the rice and stir well for about a minute to mix and coat  slightly with the oil. Add the wine and leave to evaporate on low heat without mixing. At this stage add the mushrooms (or any raw vegetables that you are using such as thinly sliced zucchini, broccoli florets, diced peppers etc). Stir for another minute, then start adding the warm stock, a ladle at a time and stirring often. Season and continue until all the stock is used up and rice is cooked to your liking. Now add the spinach (both raw or frozen, or any other cooked vegetables you might be using like artichoke quarters, peas, etc). If you like you can finish off with some cream, I prefer to use rice or soya. Stir to incorporate and warm up the spinach as well.  I garnished mine with some fried onions and vegan grated cheese.