Plants and Protein
'But… if you don't eat meat, where do you get your protein from?'
This is a question I got asked all the time when I first started moving towards a plant-based diet. This was around 7 years ago and I did not have all the answers.  Going plant-based was new to me, something I was doing because it made me feel good and it felt like the natural way to go as I started exploring clean living.
"You're going to make yourself sick! You need iron and protein etc."
As soon as I mentioned that I was cutting meat out of my diet, well-meaning relatives, close friends, and (to my horror), sometimes complete strangers would tell me that I needed protein and I was making myself sick.
At first, I got so frustrated at them for even assuming they could tell me what to do or what my diet should be (yes, I am a rebel at heart). But, as time went by I found that the best defence was to educate myself on this new lifestyle, because yes, it is a change of lifestyle. As I read books, articles and spoke to others around me that were knowledgeable about the subject, I started to learn about the benefits of a plant-based diet. I also starting getting more and more interested in the nutritional value and quality of the food I was eating.
What's the deal with protein?
As I educated myself about protein, I learned about amino acids and how these are the building blocks of protein. The human body is capable of producing part of the amino acids that it needs, but there are other amino acids which the body cannot produce itself, and therefore needs to consume. These are called essential amino acids. There are 9 essential amino acids, and together they make what is called a complete protein, and which are normally found in animal meat, fish, cheese and dairy. After reading up on the subject I found that yes, it is possible to get all the 9 essential amino acids from a plant-based diet, because nature, in its magnificence has provided grains, beans, legumes, nuts, fruits and vegetables that contain all the protein humans need. And, NEWS FLASH, apart from getting all the protein we need from plants we also get plenty of antioxidants, nutrients, minerals and vitamins that keep us healthy and strong.
Now I had the perfect response to those questions. I also noticed that once I started talking about this topic, people saw how passionate I was about it and started to get curious and interested in my new lifestyle instead of showing concern or criticising my choice.
The recipe
Today's recipe is an ode to the plant-based protein. These are 'vegan meatballs' because the 2 main ingredients that go into the recipe – brown rice and lentils, when combined, contain all the 9 essential amino acids that make a complete protein – isn't that cool?! Bonus: They are delicious and are full of fibre.
It is good to note that is not necessary to combine foods together to make a complete protein as long as you are eating a varied plant-based diet, your body will get the amino acids you need!
Let me know what you think of this recipe in the comments section!
Vegan Meatballs and Tomato Sauce
Makes 16 "meatballs"
Vegan meatballs:
100 grams brown lentils, soaked for 4-8 hours
100 grams parboiled brown rice
2 cloves of garlic, peeled
A handful of parsley and basil
50 grams vegan parmesan style cheese
Salt and pepper to taste
Tomato sauce:
1 can of chopped tomatoes/polpa
200 ml of water
One tablespoon of tomato paste (kunserva)
1 clove of garlic, crushed
A small onion, chopped
1 bay leaf
Salt and pepper to taste
1 tablespoon olive oil
Basil to garnish with and some vegan cheese to serve
Cooking instructions:
Start by cooking the lentils and rice in separate pans, by covering them in water and bringing the water to boil. Let them simmer until cooked. If you have soaked the lentils they should only take about 15 minutes to cook. Cook the rice according to packet instructions. Once cooked, drain the rice and lentils and put them to the side.
Heat the olive in a saucepan on a medium flame. Add the onion and cook until onions start turning translucent.
Add the garlic and then add the tomato paste. Sauté for a minute and then add the polpa (chopped tomatoes).
Stir the sauce and add the water, salt, pepper, and bay leaf.
Lower the heat and leave the sauce to cook while you prepare the vegan meatballs.
In a food processor add the basil, parsley, and garlic. Blend until the ingredients are chopped quite well.
Add in the lentils, rice, vegan cheese, salt, and pepper. Continue blending until the mixture starts to come together and resemble a dough.
Scoop 1 tablespoon of the mixture and form into a ball. Continue until you have formed all the meatballs.
Heat some oil in a frying pan and start to sauté the vegan meatballs, turning them every minute or so, so that they get browned on all sides. If you'd rather not fry them you can cook these in the oven. I would suggest cooking in a fan oven and then leaving them under the grill for a few minutes to get a nice seal on them.
After cooking the meatballs thoroughly (this should take about 10 minutes), gently place the vegan meatballs into the tomato sauce and simmer for 2 minutes, then take the vegan meatballs and sauce off the heat. Do not let the meatballs cook for too long in the sauce, otherwise, they might start to fall apart.
Serve with some wholemeal spaghetti and a chunk of Maltese bread.
Notes:
If you are not vegan you can use Parmigiano Reggiano, Grana Padano or any other grated hard cheese of your choice.
To make this lower in calories or gluten-free, you can serve the vegan meatballs with roasted spaghetti squash. To make roasted spaghetti squash: cut the spaghetti squash in half and drizzle with some olive oil. Season with salt and pepper, then roast in the oven for about 30 -40 minutes or until it is cooked.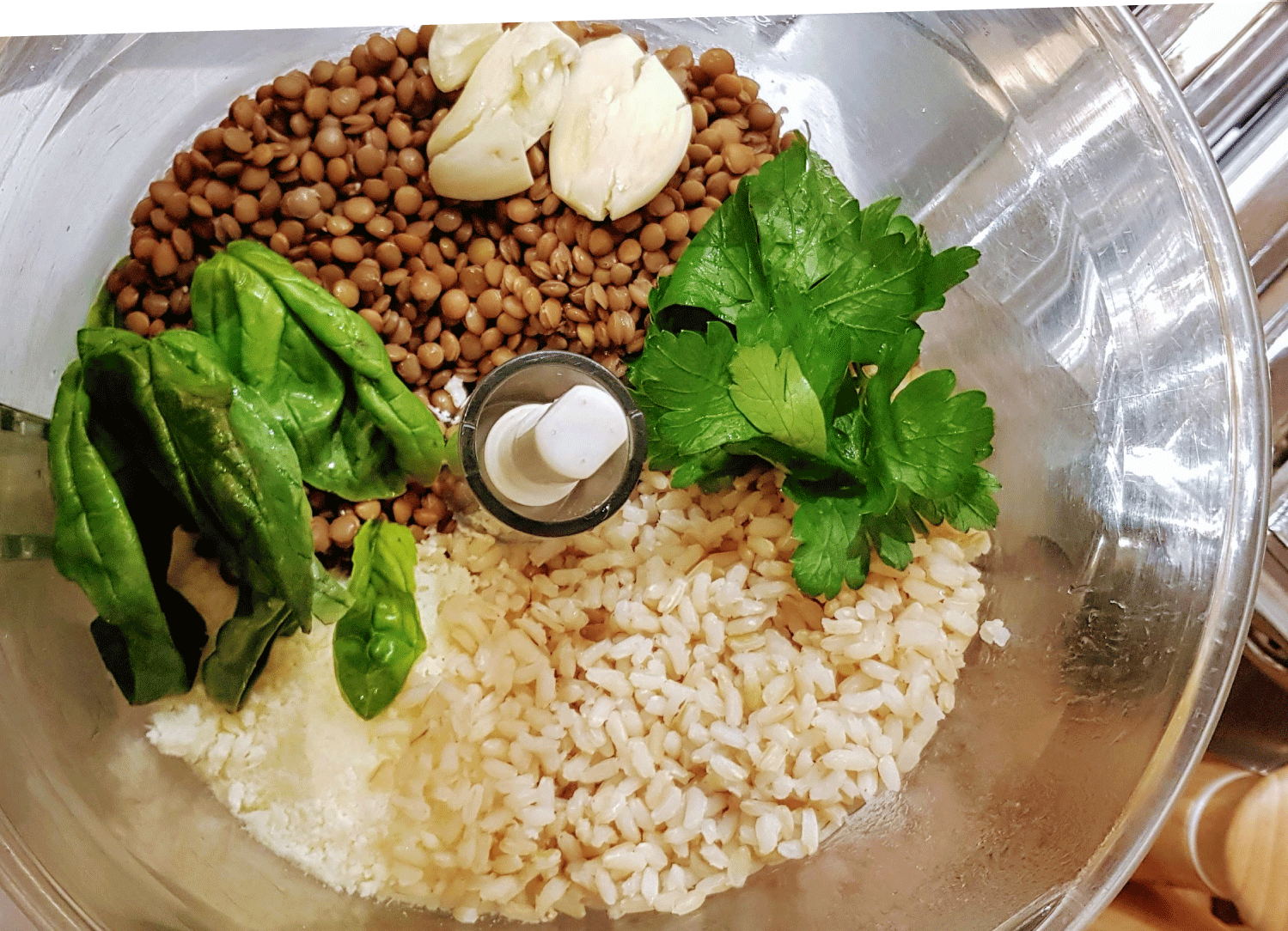 Disclaimer: The information and content on this site is intended to be of general informational use. It is not intended to constitute medical advice, medical diagnosis, or medical treatment. and must never be used or considered as such. The content is no way a substitute for qualified medical advise. You should always consult your doctor or other health care professional before making any changes in your diet, exercise pattern or lifestyle. We, including the author, accept no responsibility or liability whatsoever for any injury, loss or damage in any shape or form incurred in part or in whole, as a direct or in-direct result of any use or reliance upon the information and material provided here.