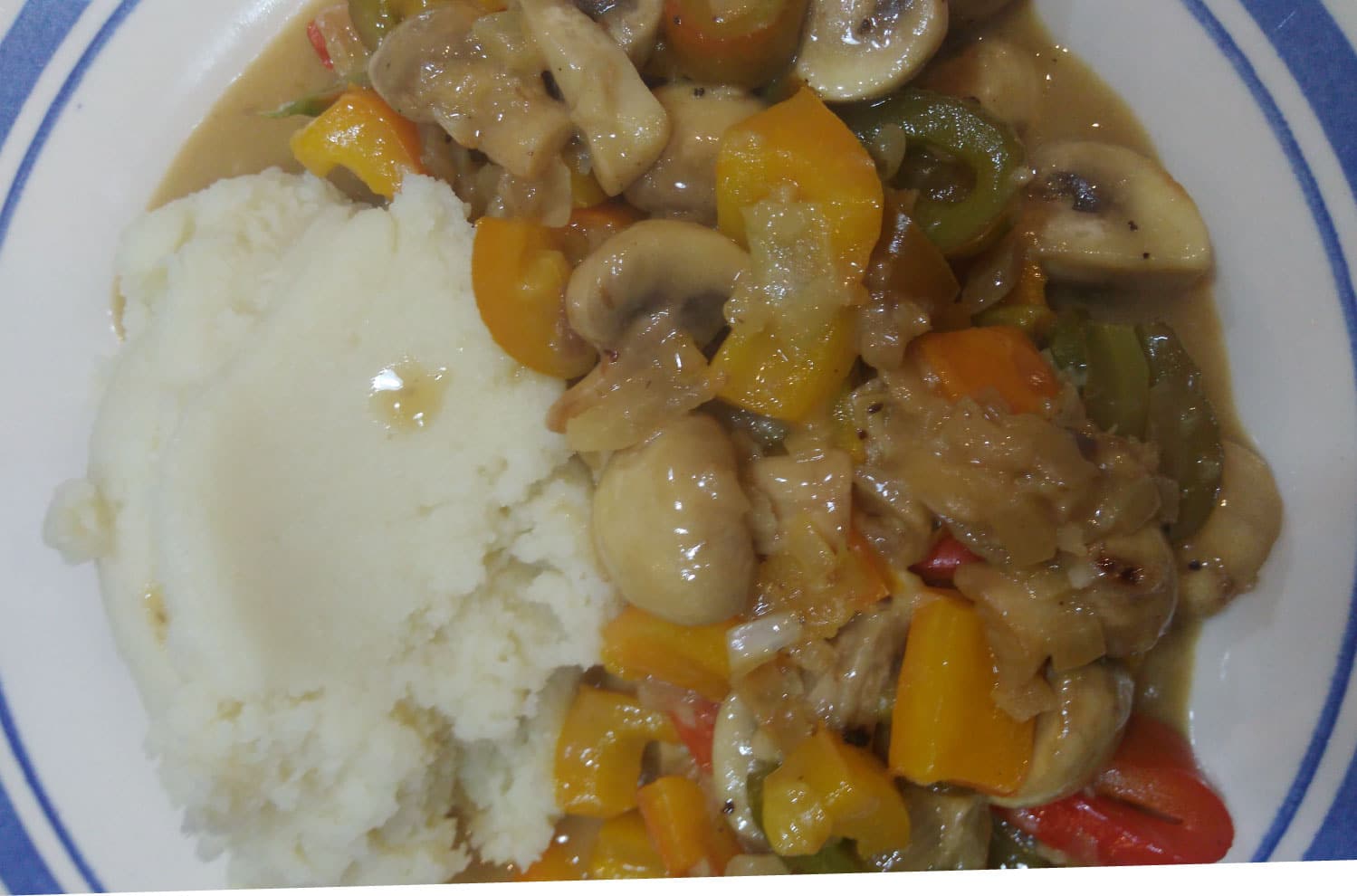 It is not difficult to make sure we are eating healthily when I have plenty of time to prepare meals. However, this proves a bit more difficult when I get home in the evening after a day's work and have to start preparing a meal from scratch. However, I have found a way around this,  I think.
This is what helps me most.
I shop for the vegetables we like in the beginning of the week and then make sure I incorporate them in the evening meals as I go along. The secret is to have ingredients at hand, otherwise it is difficult to make meals if your fridge and cupboards are bare. I always keep staples like pasta, noodles, rice and even some instant mashed potato. These make good side servings for all my vegetable dishes. The following is an example of a very quick meal, takes 30 minutes tops to prepare and is tasty and nutritious.
Mushroom and Pepper Stroganoff.  serves 2 generous portions.
2 tablespoons sunflower oil
2 cloves garlic, minced
1 white onion, finely chopped
about 250 g mushrooms, quartered
half of each red, yellow and green pepper, diced
1 mushroom stock pot or cube
rice or soy cream
See how quick and easy it is to prepare.
Warm the oil in a deep frying pan and add the garlic and onion. Stir often until softened but not browned. In the meantime you can start preparing your side of choice. This dish is great with some boiled rice, pasta such as fusilli or some mashed potatoes. These will cook while you are cooking the stroganoff. Now add the peppers and again stir often until they start to soften. You still want them to have some bite, though. When done, add the mushrooms and keep cooking. Season with salt and pepper. If using the stock pot, just add to the pan and stir to dissolve, if using the stock cube dissolve in a little hot water and add to the pan. Lastly, add the rice cream to give you a nice smooth sauce.
And there is one quick weekday dinner.