Mama's Cake or Gâteau Marie is no-bake dessert which is very popular in the Maltese islands, usually served during Sunday lunch. This decadent treat features coffee-soaked biscuits layered with melted chocolate and cream.
I gave this recipe an easy vegan twist. The only 'cooking' part this recipe has is melting the chocolate bars – other than that, it only needs layering and assembling the ingredients together.
It is best if the gâteau is done a day before so it sets in the fridge and the biscuits absorb all the flavours.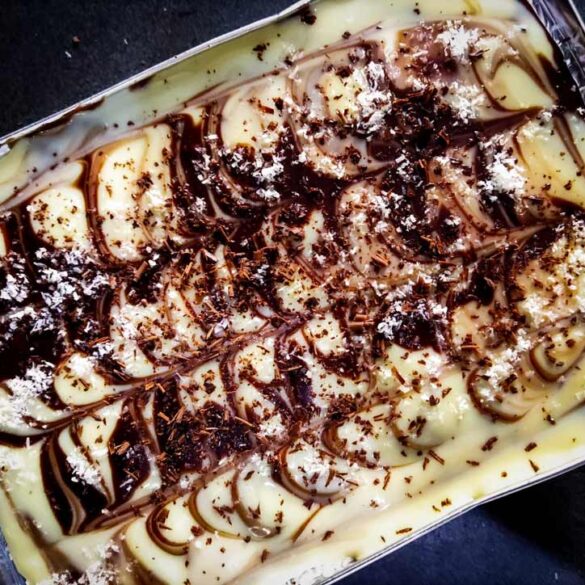 Ingredients
500 ml instant black coffee
400g Plain Marie Biscuits
2 cartons Alpro Plant-Based Vanilla Custard
So Free No Added Sugar Finest Dark Chocolate 72% Cocoa
2 So Free FT & Organic Milk Chocolate Alternative
Soy Milk (to melt the chocolate with)
Good Earth Desiccated Coconut for garnish
Instructions
Prepare your coffee by adding 2 teaspoons (or more if you want a stronger flavour)of coffee 500ml of water. Let cool.

Melt the chocolate with a couple of splashes of soy milk in the microwave or on a double-boiler.

Dip the biscuits into the coffee and cover the bottom of the dish.

Spoon the creamy chocolate mixture onto the soaked biscuit layer and smoothen with a spatula.

Plop the vanilla custard and evenly spread onto the chocolate mixture. You can also add some desiccated coconut at this point.

Repeat the steps above until you have 3 layers of biscuits and 3 layers of chocolate and custard.

Decorate to your liking by using any remaining crushed biscuits, crushed nuts or desiccated coconut.

Set in the fridge to set, overnight.
Notes
In this recipe I used a mixture of dark and milk chocolate as the dark chocolate complements the coffee and the milk chocolate counteracts the bitterness of the coffee and dark chocolate. Feel free to experiment as you wish with your favourite chocolate and toppings you like! You can also sprinkle some coffee liqueur in your melted chocolate for an extra boozy kick. Enjoy!