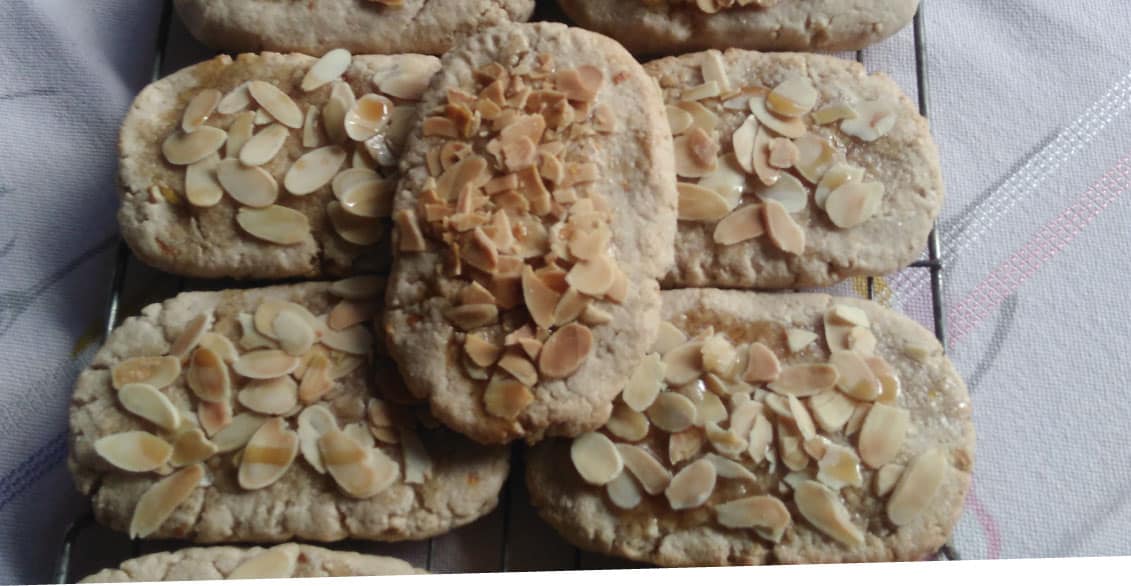 I strive to eat as healthily as possible, however that doesn't mean that I do not indulge in a treat occasionally. Since I became vegan, these are usually things I bake myself. This week I made some kwarezimal to enjoy with my afternoon cup of tea. Since this sweet was traditionally made during Lent, it does not contain any eggs or fats so it is practically vegan. All I do is replace the honey for the glaze. Try this, it is very easy to make and quite tasty. Lots of the shop bought ones contain cacao powder I think, because they are quite dark, but I cannot imagine traditionally it was included since it was meant as a lenten sweet. It is up to you. I also have it on good authority that rice flour was traditionally used to make them because it is lighter than ordinary flour, so that is what I used.
Accidentally vegan Kwarezimal.
200g ground almonds
200g flour
200g light brown sugar
1 teaspoon cinnamon
1 teaspoon orange blossom water (ilma zahar), or more if you like a stronger taste
grated rind of 1 lemon, orange and tangerine
some chopped or flaked almonds to decorate with ( I toast these in the oven for 5 mins while kwarezimal is baking)
golden syrup or maple syrup to spread
Start by mixing all the dry ingredients together. Then add the grated rinds, and orange blossom water. Then form into a stiff paste by adding about 125ml water.  Warm the oven to 180C and line a baking sheet with baking paper. Form into oblong shapes of your desired size. I like to weigh 100g pieces of dough and then shaping it to get even sized ones. Bake for 20 minutes, no more. They should still be soft when you take them out, otherwise they will harden too much when cool.  While still warm, spread with some syrup and top with the almonds.