This sweet treat is a better option (and better tasting) than store-bought. It has less sugar, requires minimal ingredients and is less processed with unpronounceable ingredients. All of this without sacrificing taste!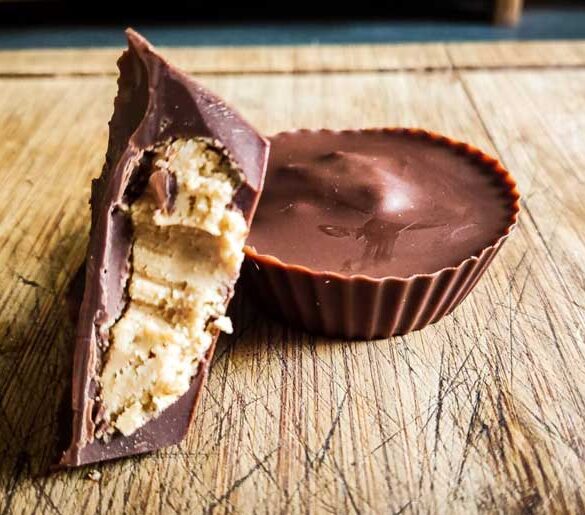 Ingredients
160g Plamil So Free FT & Organic Milk Chocolate Alternative
11/2 tablespoons Good Earth Organic Extra Virgin Coconut Oil
2 tablespoons Whole Earth 100% Smooth Organic Peanut Butter
2 teaspoons Good Earth Ground Almonds
pinch of pink Himalayan salt (optional)
Instructions
In a microwaveable bowl, cut the dairy-free chocolate into small pieces and together with the coconut oil, melt the chocolate until smooth. Best if you do this in 20-30 second intervals so that the chocolate doesn't burn. Alternatively, you can melt the chocolate and the coconut oil on a double boiler (banjumarija).
In a separate bowl, mix together the peanut butter, ground almonds and salt. If your peanut butter already has salt mixed in, you can omit the step. The peanut butter mixture should look like a sticky dough.
Using cupcake silicon mould, spoon one table spoon of the chocolate mixture.
Scoop a generous teaspoon of the peanut butter mixture, and using your fingers, shape the mixture into a flattened ball and gently place in the mould on top of the melted chocolate.
Layer another spoonful of melted chocolate on top of everything.
Repeat this process until all mixtures are used. I managed to get around 5 generous cups.
Put in the refrigerator or freezer until set.
Enjoy!
Notes
- You can also put your cups into the fridge for a couple of minutes right after the first spoonful of melted chocolate. This will set the chocolate and will make the layering of the peanut butter much easier. - If your peanut butter mixture is too sticky to form by hand, you can also put it in the fridge to harden a bit before moulding it on top of the chocolate layer. - Please note that even though this recipe is much better for you than the store-bought ones, you should still be mindful of your consumption 😉 These cups literally melt in your mouth making them irresistible!!