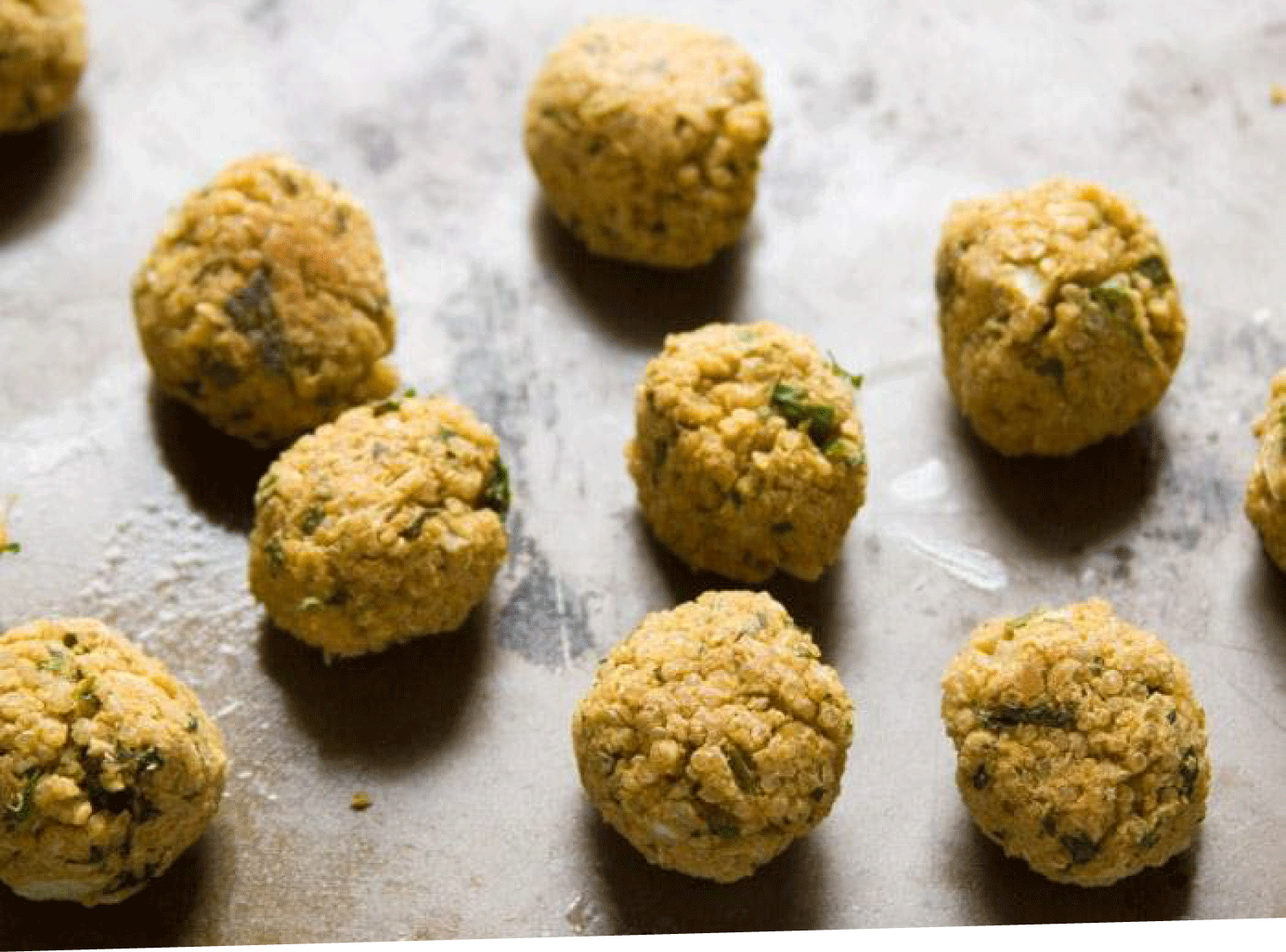 Try out my Baked Quinoa Falafel balls. A simple recipe to make using quinoa as a base ingredient. Quinoa is naturally gluten free and rich in protein and is one of the few plant foods that contains all nice essential amino acids. Plus rich in fibre, minerals and vitamins. [1]
Ingredients for the Baked Quinoa Falafel 
1/3  cup quinoa
½ cup vegetable broth
1 teaspoon dried parsley 
 ¼ cup chopped fresh cilantro
1 teaspoon dried basil   
2/3 cup cooked chickpeas, drained
1 small onion, diced
1 tablespoon ground cumin 
2 garlic cloves
1 teaspoon ground coriander
1½ tablespoons lemon juice  
½ teaspoon Sweet Paprika &, Salt and pepper to taste 
1 tablespoon olive oil, plus a little extra for brushing
Cooking instructions for the Baked Quinoa Falafel 
Start the process by rinsing the quinoa well. After that place the quinoa in a small saucepan, and add the vegetable broth.
Next switch on the cooker and place the saucepan over high heat and bring the liquid to start bubbling. Now lower the heat and leave it simmer for about 15 minutes, or until all of the liquid is absorbed.
Leave the quinoa to cool down in the saucepan for another 5 minutes.
Switch on the oven and put it at around 200°C. Remember to ideally put some foil or baking sheet.
Get 2/3 cup of cooked quinoa and mix it with the other ingredients (except the salt and pepper) in a blender/food processor. Mix well. Then season to taste with salt and pepper.
Use the mixture to create 1 inch balls (by rolling them into balls). Place them on the foil / baking sheet and slightly brush with a bit of olive oil.
Place in the pre-heated oven for around 35 minutes. Turn them around a few times to ensure an even bake.
Follow Paula Attard – Green Kitchen also on Instagram | Facebook