It's Malta Meat Free Week
 during which I will be sharing 1 plant-based recipe a day to promote clean, healthy and planet-friendly food. Today is Monday so I'm starting with .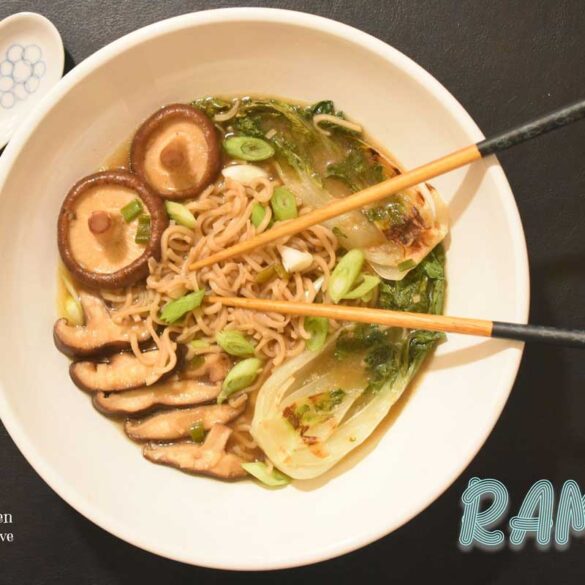 Ingredients
Buckwheat noodles
2 spring onions (chopped)
1 tablespoon sunflower oil
2 tablespoons of ginger
Garlic paste
Low-sodium soy sauce
1 cup vegetable stock
Whole shiitake mushrooms
Bok/pak choi
Miso paste
Instructions
1. Bring a pot of water to the boil and add your favourite noodles but drain them whilst still slightly undercooked. I chose buckwheat noodles which are ideal for gluten intolerant persons.
2. In a wok, stir fry 2 spring onions (chopped) in 1 tablespoon sunflower oil and 2 tablespoons of ginger & garlic paste (I buy a ready-made jar which is really convenient).
3. Add a splash of low-sodium soy sauce and top with 1 cup vegetable stock. 
4. Add sliced and whole shiitake mushrooms (you can buy fresh or dry, I chose fresh), allow to cook for a few minutes
5. Meanwhile grill halved bok/pak choi (this will be more tasty if you slather miso paste over it)
6. Continue to build the broth by adding more vegetable stock (alternatively you can replace with miso soup for a stronger umami flavour)
7. Add the cooked noodles to the broth and transfer into serving bowls. 
8. Decorate with grilled bok/pak choi and mushrooms and top with chopped fresh spring onions and enjoy!